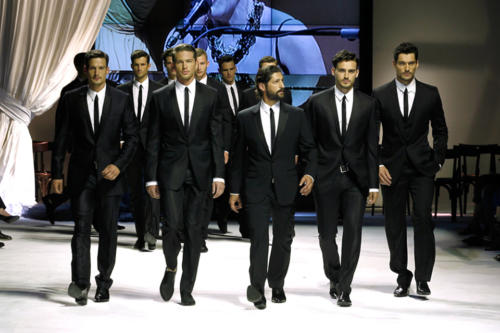 I have a friend that loves black suits. Can't get enough of them. For him, a black suit and a white shirt are the chicest things a man can wear. He is a big fan of Reservoir Dogs, so that might have influence him somewhat, but he still has a point – black and white is the combination of choice for Hollywood stars and fashion designers, everyone from Karl Lagerfeld to Simon Cowell.
Yet I hate black suits. Can't stand them. When a graduate turns up at an interview in a black suit and a white shirt, no matter what the tie, he looks immature. The outfit looks cheap.
Black suits almost no one. (Sorry for the pun.) Most men's complexions are washed out by it. They are not high enough contrast. Blue and grey are much kinder, with mid-grey probably being the easiest of all.
And black can look cheap. That's why navy blue is the smartest option for a suit, and why some men wear midnight blue for evening wear. It looks blacker than black.
So why does black look great on Dolce & Gabbana? Well, for a start they and their Hollywood peers tend to be more tanned or darker skinned, so are better able to pull off the high contrast. But more importantly, those people are often photographed at glamorous occasions.
Usually in the evening, these occasions are about dark backgrounds and bright lights, velvet drapes and sparkling jewellery. They are about high contrast, and the outfits are planned to match. The women just as much as the men would look gaudy and cheap if they wore those outfits in the middle of the day.
This is the foundation behind black tie, traditional men's evening wear. It is about monotone, contrast and variation only in texture. Subtle changes in colour are lost in those situations, so tone is kept simple and the adventure is in texture – silk and satin, velvet and patent.
Even when designers or film stars are not at an evening function, they are associated with glamour. Indeed, the very fact that you have seen them probably means they have been photographed – and long-range photography isn't much good at picking up the subtleties of Glen check or harmonised colours.
Black suits with white shirts look cool because of their associations. And they can look good on you at an evening event – as a cocktail suit, for example. (Mohair suits similarly.) Just don't wear them for business.