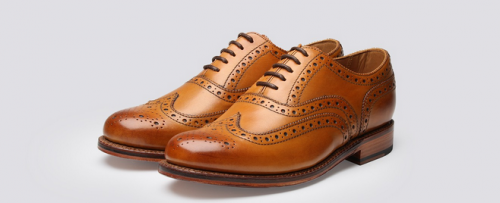 Dear Simon,
As with your other readers who write, let me say how much I enjoy your posts, columns, etc. They are fun to read and informative. All your posts on shoes, and brown shoes in particular, have been very useful, and I am slowly building a shoe collection. I am now thinking of getting a pair of tan shoes, such as the Grensons pictured above.
However, one line from your 29 July 2009 post "How to wear brown shoes" haunts me a bit. After making the observation that shoes should be darker than the trousers, you write: 'If tan shoes are being worn more casually, there is some leeway there.'
But what exactly does that mean – what is the "leeway"?
I dress casually for work (blazers, sweaters, etc) and am not in danger of wearing tan shoes with a suit or with charcoal, and I thought a pair of tan shoes might add some nice colour and diversity to my collection. But I want to make sure they can still be worn with a range of clothes and colours – where is the limit, would you say?
Best,
Joel


Hi Joel,
It's a great question, and one I don't think I've ever really addressed before. As you say, the rule-of-thumb with formal wear is that your shoes should be darker than your trousers – hence black usually with charcoal, brown with mid-grey, and tan shoes only with very pale grey or cream. (They are particularly popular with white trousers, as above.)
The reason we pay attention to such tone-matching in formal clothing (suits, business attire etc) is that the overall effect should be one of clean, simple elegance – an easy harmony that reflects the importance of the occasion. We don't deal that much in strong colours or deliberate clashes.
It sounds like you know all this, but it bears repeating. For that that 'leeway' you refer to is a question of assessing this formality in the rest of the outfit. If you're wearing a grey-cashmere crewneck sweater, for example, and nice denim, then there's nothing wrong with tan shoes. Indeed, tan goes particularly well with denim, which is one reason for its popularity. The contrast between indigo denim and tan leather, however, would not be suited to a smart outfit. The strength and clash of colour could not be considered formal enough.
Denim is obviously a casual cloth, given its roughness and body, but when it comes to assessing other trousers you might own – chinos, moleskins, corduroys – you have to use your own judgement. Things to consider include the smoothness of the cloth, the finish or 'wash', and the addition of extraneous details such as patch pockets. For example, my Albam chinos are definitely less formal than those from Incotex. The former are rougher, washed to be faded in places, and use contrast details such as white rubber buttons.
The blazers you mention are more likely to be on the formal end of the spectrum, but then if they are cotton, washed and loose, like Boglioli, they move down a few notches. Anything workwear-inspired (including many at Albam) similarly.
I hope that helps. It is impossible to give an exhaustive guide to formality, but I think you have enough tools to make a good stab at it. And if the outfit is informal enough, tan shoes certainly go with a range of clothes and colours – so no fear there.
Simon