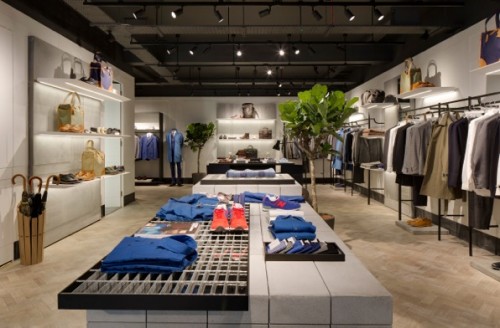 Over the next few months there is going to be a plethora of ready-to-wear shops opening that are in some way inspired by tailoring. Hardy Amies has just opened; then there's E Tautz; Kilgour will have a full collection soon; Thom Sweeney are opening their RTW and MTM shop.
Readers will be rightly cynical about some of these. Although associated with tailoring brands, they don't necessarily have anything to do with the bespoke operations on which they were founded. You could argue Hardy Amies did a lot to push men's ready-made fashion, and that connects him to the modern RTW offering. But it hardly matters. No one's pretending that RTW is bespoke, and all four also continue to produce bespoke clothing – which in itself should be applauded.
The point is that we have four new, re-born or expanded offerings of menswear, all with enough awareness of tailoring to drag them away from the luxury sportswear and the bargain-bucket high street.
Of the four, it looks like Hardy Amies will be the most casual. The current range – designed by Mehmet Ali – includes boots and grained-leather shoes; bright knitwear and outerwear; and curated items from other brands including Cherchbi bags and Brooks saddles.
Tailoring-inspired pieces include double-breasted cardigans that would make a good substitute for a jacket in a casual office. There are also shawl-collared waistcoats, in both flannel and chunky knits, that will be rather dressier versions of the ever-popular gilet. And there are a few reversible pieces of outerwear, with the inner layer showing up as the revers (appropriately) on the DB lapel.
This will not be suited to the formal reader – the jackets are too short and the aesthetic too rugged. But for a younger guy looking for interesting casual/formal crossover, it's worth a look. And there are also interesting things coming in Hardy Amies's bespoke tailoring. While much of my conversation with Mehmet was about raw denim, we also had an in-depth discussion about the perception of bespoke, the way to communicate it to younger guys, and the potential for finding a better alternative to made-to-measure. Watch this space.