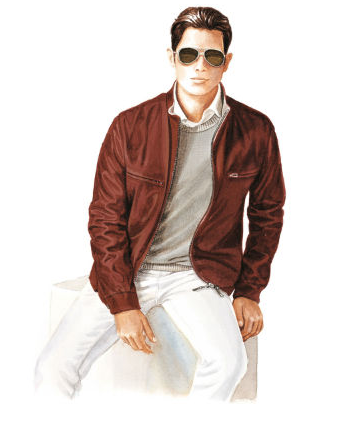 I've been pleased to see that suede has enjoyed something of a renaissance in recent years. Italians like Loro Piana have always done it well – often in a classic Italian mix of brown suede and grey cashmere – but others such as Berluti, Dunhill and Gieves & Hawkes have embraced it recently.
At any price point, suede is a sophisticated material for casual jackets. It feels younger than tweed, corduroy or other cloths, and is more subtle than the obvious alternative, leather. (Though, perhaps, worn without white trousers.)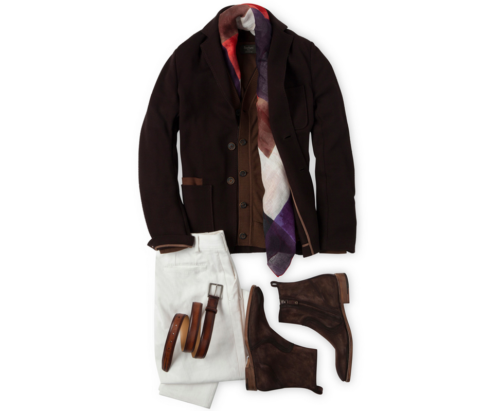 I wrote a feature for the upcoming issue of The Rake on suede, which touched on these style points, as well as historical and technical ones.
Starting with the last – good suede is normally the reverse of the skin, but it can be a split skin as well (where a thicker skin is split and kept the right way up). This tends to be weaker, as it doesn't have the leather surface on the back. It's one reason shoemakers might say they use 'reverse calf' rather than just suede.
Historically, I found it interesting that the processes necessary for making suede often meant that it was often seen as a luxury material. The fact that it was so susceptible to the elements contributed to the same impression. (Berluti, more than anyone, is innovating in this area, but more on that another time.)

In terms of style, most interviewees drew on the subtlety and sophistication of suede, highlighting the fine nap that absorbs light rather than reflecting it (like leather). But they also pointed out the great way that suede takes colour, making it a good option for spring and summer. (Gieves in particular has some lovely sugary tones.)
My favourite suede jacket is a dark-brown blouson I bought from Kilgour the first time Carlo was at the helm. Simple and unlined, it is the perfect weekend jacket – with jeans, flannels or linen. I also recommend the classic Louis W Ferris model from APC, the J Crew suede bombers, and anything from Loro Piana (some slimmer styles coming in this season, which is great to see).
I am having a suede jacket made by Lorenzo Cifonelli at the moment. We're hoping to have it ready for Autumn. Interestingly, the French tailors do more in suede than others, because they usually have leather workers in-house. Leather work requires special needles, not to say expertise, and when others use leather (as Gieves did for me) they have to use outworkers.
Keep an eye out for the Rake piece.