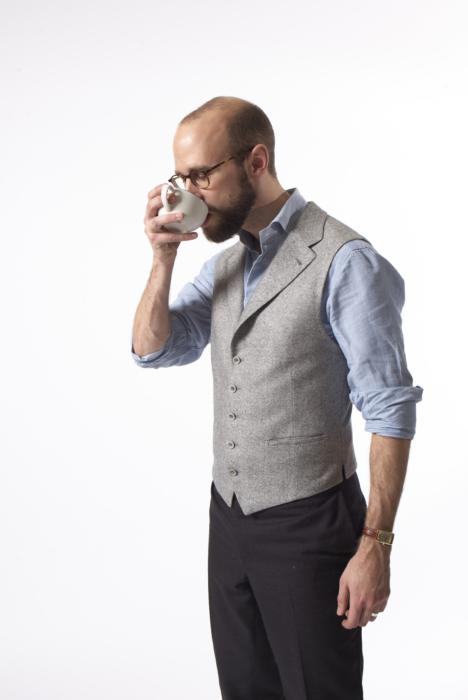 You're more likely to see odd waistcoats being worn badly than well.
Because they usually don't fit, and nothing is less forgiving than a waistcoat. Because they are often, bizarrely, worn in bright patterns and colours. And because, essentially, men see them as unusual tailoring items – when they are more akin to knitwear.
This is particularly true when the waistcoat is designed to be worn on its own, as this grey cashmere one is, from Spanish tailors Calvo de Mora. The paleness of the colour and the texture of the material both have more in common with a nice V-neck sweater than with tailoring.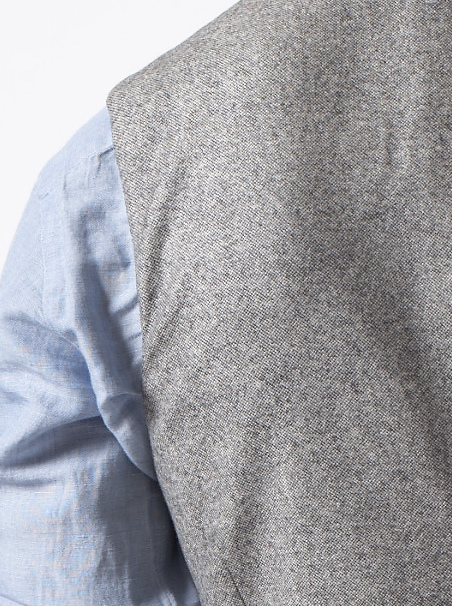 Of course, the parallel works particularly well as the waistcoat has a cloth back – rather than silk or similar synthetic. This is a style I particularly like – it makes the waistcoat immediately more casual, and easier to wear without a jacket.
The waistcoat of the Chittleborough & Morgan suit I had made last year also had a cloth back, which makes it easier to wear with the trousers alone. There's something about that expanse of shiny material which is immediately formal and dressy, particularly in an environment (such as most offices) where not everyone is wearing a suit.
If you do go down that route, I suggest thinking carefully about the position and depth of the waistcoat pockets. It's helpful if they can hold a mobile phone and a slim card holder. The C&M one even had an in-breast pocket, which is handy.


The fit from Calvo de Mora is good, if not perfect. It fits well through the body and hips; it could be a touch tighter on the neck; and the same applies to the shoulder line. But these are all small points – and this is 9oz cashmere.
Worn here, for a photo shoot that also included the Gieves pea coat and Calvo de Mora sports jacket, with charcoal trousers from Chittleborough and a linen shirt from Luca Avitabile.
More on Calvo de Mora, who are a great value Spanish tailor, here. A couple of images from the first fitting in Madrid, below.


Photography: Julian Anderson