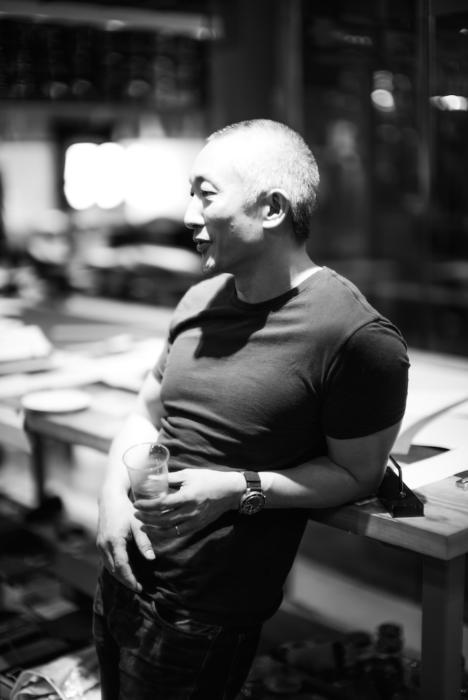 Jonathan is perhaps my perfect interviewee. He knows his craft, he knows bespoke, and given his job, he's very interested in the crossover between tailoring and more casual clothing.
–
PS: Can you run through your background quickly for us?
JC: Sure. I studied fashion at Kingston University under a wonderful woman called Daphne Brooker. I got a job with Franco Moschino straight out of university – I finished and I was straight off to Milan, which was rather scary. I'd answer the phone and it would be this Como silk producer asking me questions in Italian…
When Franco passed away I started my own design agency, working with Iceberg jeans. Then I moved back to London, worked for brands such as Baracuta, and ended up landing a job at Armani through someone I met for a day in Hong Kong. He was leaving Armani to head RRL in New York, and recommended me to replace him.
I was there for five years, but when that same contact moved to Levi's, he brought me with him to Amsterdam, in 2009. I've been at Levi's ever since – on Made & Crafted, on merchandising, and now design.
Apart from the Levi's bespoke service, what parallels do you see between what you do and more traditional, crafted menswear?
I think most of the parallels are emotional – the passion that people feel for product, no matter what they're making, and the care that therefore goes into it. You can see that in many things: an artisan belt made in Mexico, or some hand-dyed indigo silk from southern China. Even though a lot of those products won't be surrounded by the trappings of luxury, the emotional connection is the same.
I was at Cone Mills recently and was speaking to Brad Johnson, who's the plant manager and been there 26 years. When I asked why he had been there so long, he said he remembered as a student seeing some cloth, and wondering how a fluffy ball of cotton was turned into that. He determined to find out, and has been involved with it ever since. I think that's got a lot in common with the connection that tailors on Savile Row have with their product.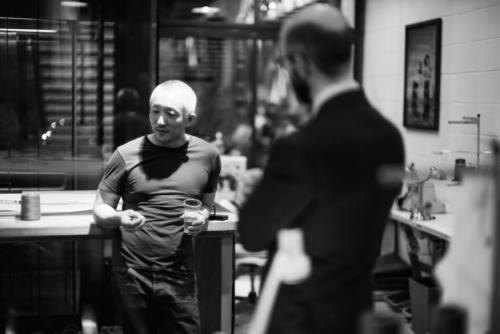 Does tailoring have anything specific in common with denim?
Well there's the partnership that founded Levi's: Levi Strauss and Jacob Davis, who was a tailor. When you look through the archive there are a lot of tailoring cues all the way through.
But there's also a personal connection with both denim and tailoring. Both adapt and shape to you as a person, and you develop a very close relationship with them. Jeans aren't usually made to you personally, but they show the way you wear them, in the whiskering, the wears and tears.
That's why I've always found tailoring so interesting – and in particular the bespoke project we're doing here with Lizzie [Radcliffe] in London. In fact we're pushing that a bit further and she's making me a denim suit [pictured] so we'll see how that turns out.
How's the suit being constructed? Tailors often seem to go to one extreme or the other – full canvas and padding, or nothing at all, with the latter often so it can be washed to get a more worn look.
It has a shoulder pad and canvas, but the pad is thin and the canvas quite light. I know Lizzie had originally thought about a heavier construction, given her Edward Sexton background, but I look rather Bryan Ferry 1975 with big pads.
There are patch pockets, imitating the Levi's back pocket, and we'll be able to see the selvedge on the inside.


I know you're a fan of the blog. Have you always followed tailoring?
I've been following the blog for a while now, for a couple of years before we met in fact. I find it interesting how you investigate tailoring houses, and then sort of float above them, giving your view and then a guide to ordinary people that buy tailoring, or aspire to it.
In fact, if you don't mind I'd like to ask you about your favourite tailors. Often you'll bring up people that aren't on my immediate radar, and it's interesting to know how they compare. Do you have a favourite? Or is it more like, today I want Italian food, and tomorrow it might be Chinese?
That's a good analogy actually. Styles of tailoring suit different moods, but also different people and different situations. So I'd always pick three or four – one Neapolitan, one English and one Parisian, and perhaps another Italian.
For what different styles?
Neapolitan for casual wear – probably the only one I'd wear with jeans. Cifonelli in Paris probably for a suit or overcoat. Always one Anderson & Sheppard, and perhaps something more dramatic for black tie or an evening suit – Edward Sexton perhaps.
Those are the two I've always thought I'd have. Anderson & Sheppard I love, particularly the double breasteds, and Edward Sexton. I like the client list with Sexton – Mick Jagger, Bianca Jagger, Abbey Road, and then me! And with Anderson & Sheppard it always appealed that they were the civil tailor, and the history behind it of course, clients such as Fred Astaire.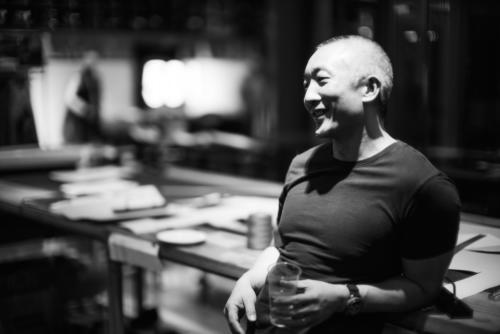 I notice you're wearing a pair of Edward Greens with your denim. Do you often wear dressy shoes with jeans?
I think there are a whole range of things you can wear great jeans with – from the traditional workwear boots, to youth culture shoes like Stan Smiths, to a nice pair of Northampton shoes.
A lot of those shoe companies have succeeded by making the same thing for a very long time. How do you reconcile the Levi's heritage with the pressures of being a fashion brand?
It's tough – we all value where Levi's has come from and we always want to retain it. People want to buy from a company that has an identity, rather than just a bland copycat. But companies have to evolve as well – we'll see a great Italian company doing technical clothing, and want to do something with them. I guess it's about changing at the right speed, and never forgetting your past.