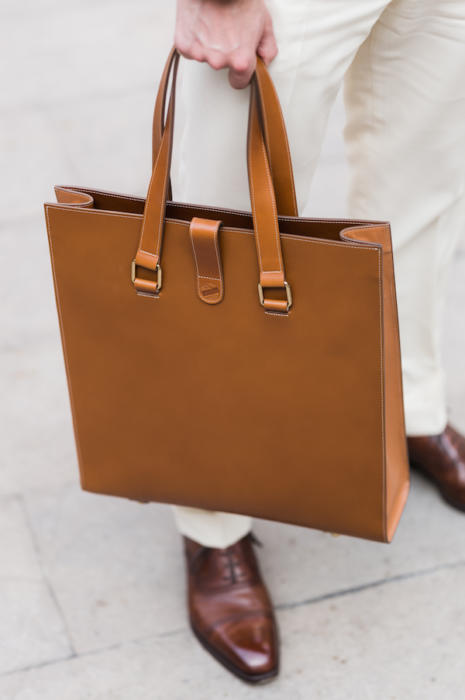 UPDATE: Thanks for sales so far. A handful are left, and sales will close September 9th
Our one-piece leather tote bag, made by Globe-Trotter in Hertfordshire, England, is now available to order. This run will be limited to 20 pieces.
Dimensions are 40cm tall x 37cm wide x 10cm deep

I was really impressed when I went to see the new leather facility at Globe-Trotter last year. The materials and the workmanship are first class. In some areas such as the inking, I don't think there's another facility in England that can produce the same quality.
We were inspired that day to design something together, and I decided on a tote bag. This was partly because it was quite simple (always a good idea when starting on something from scratch) and partly because I have never seen a slim tote I like.
Designer versions are usually a bit over-designed, or a bit flash. This would be simple, classic, practical and made to the highest standards.
Key points:
Made in England
One piece of veg-tanned leather
Exceptional level of inking and finishing
£745 + VAT
Available to preview at Trunk
Reserve by emailing

[email protected]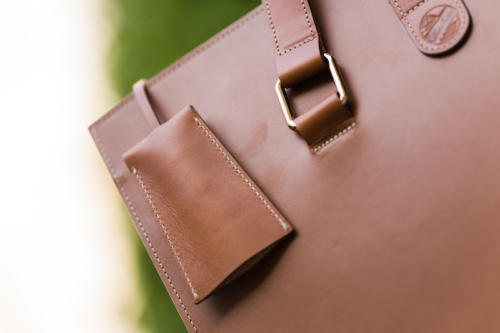 Key to the aesthetic of the Globe-Trotter facility is this beautiful leather. Vegetable-tanned – in class English tan – it is thick and natural, with the odd stretch mark across the body.
If you like leather and the way it ages, there is nothing like a big, wide piece of tan leather.
We deliberately made it out of one piece of the leather, so there is no seam on the bottom. This makes the bag more expensive, and certainly no cheaper manufacturers would ever bother to do it. But I feel it's the kind of thing Permanent Style readers appreciate.
There is a nice external 'cloche', pictured above, which has key rings inside to put keys on, and which then loops around the handles. There is also a separate metal loop inside, in case you want to loop up anything else and be able to recover it easily from the bottom of the bag.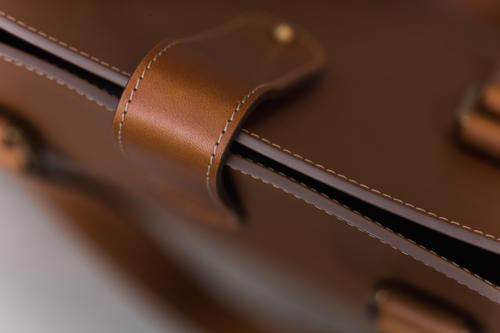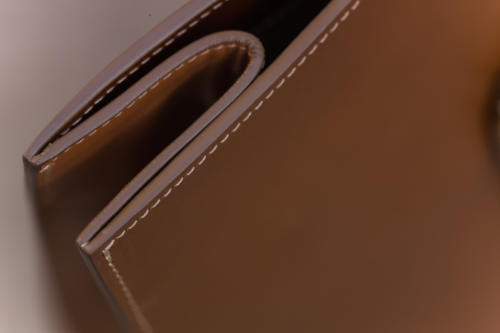 As mentioned, I was impressed by the high level of finishing at Globe-Trotter. The inking on the edges – shown above – is thick and waxy, created by building up six layers on top of each other.
The importance of good inking is something I have emphasised in lots of pieces, from my articles on Hermes to the guide to buying bags. Cheap inking often has a line down the middle, still showing the two pieces of the leather that have been joined together. It is untidy and will inevitably crack and pull apart.
The lining of the bag is another thing that attracted me to the Globe-Trotter work. Made from a herringbone cotton, it has none of the stiffness of a synthetic-mix lining, but has a thin surface treatment to make it stain- and water-resistant.
The aesthetic of the cream lining and neat white stitching, against the veg tan leather, I find particularly appealing (perhaps a little redolent of Hermes).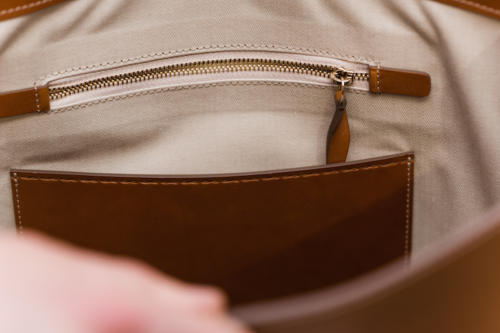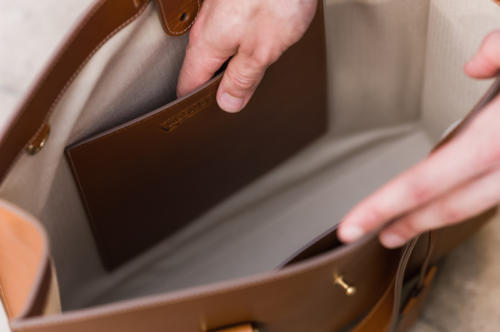 Other features include:
Two internal patch pockets made out of the same leather as the outside, one sized to fit an iPad
One zip pocket inside to keep things secure
A flap that fastens the top of the bag (I particularly like this detail) and tucks away behind a leather loop when not in use
Handles that are comfortable to hold in the hand, at the side; but in extremis, if you need an extra hand free, can be temporarily looped over the shoulder
Square rings on the handles so they fold down neatly on either side
Soft leather side gussets
Four metal feet that enable the bag to stand up, despite its curved one-piece construction
There are several design aspects specific to the range, such as the propellor-shaped pull on the zip pocket and archive Globe-Trotter logos embossed on the inside and outside. Each bag will also have a serial number indicating its number in the range.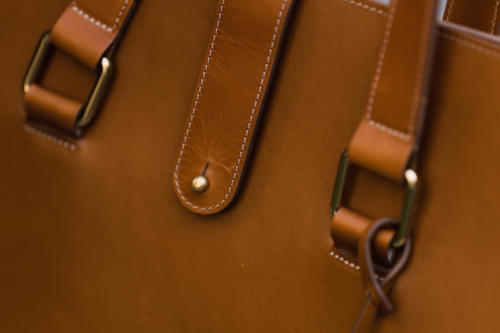 If any readers in London want to see and feel the bag before ordering, Trunk Clothiers in Marylebone has our final sample on display. Feel free to go and have a look.
As mentioned at the top of this piece, the price is £745 + VAT and shipping. Payment and fulfilment will be done by Globe-Trotter, but reservations should be made through me at [email protected]
Orders will be taken now and then go to the Globe-Trotter factory in Broxbourne, where they will be made and ready to ship to customers at the end of September.