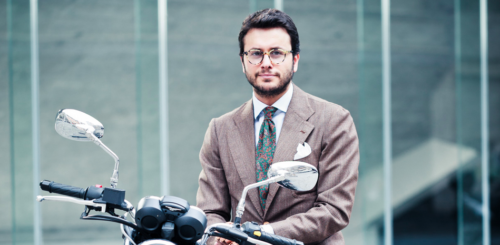 A few weeks ago, Fabio Attanasi of The Bespoke Dudes blog offered to send me some of his glasses to review. I was interested in what he had produced – and it was a good excuse to return to the quality aspects of glasses and acetate.
Rather like ties, there aren't many aspects to the quality of a pair of glasses. Acetate (the plastic that most frames are made of) can be better or worse quality, but this mostly affects the ability to heat and manipulate those frames to fit, and to a certain extent longevity.
Frames are stamped out of a sheet of acetate by machine, creating a rough shape, and then filed down to create the precise design. This is where most of the handwork is: filing down the plastic, creating nice smooth transitions between the various parts, and then polishing the end result. Polishing usually involves both tumbling with various materials and then buffing with a wheel (rather like a shoemaker's burnishing wheel).
The last aspect is the hinges, which on cheap glasses will be glued on, but on most will be screwed. Doing this by hand can also be more accurate.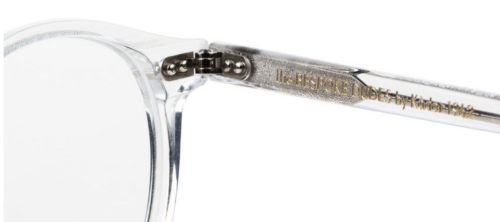 So how do the Dudes' sunglasses measure up? Pretty well. The frames are nicely rounded, with smooth segues between the frame and hinge area, as well as around the bridge. The hinges are screwed on by hand and the polishing overall is good.
The quality is not on a par with the high-end bespoke makers such as EB Meyrowitz or Maison Bonnet in Paris, but they are also cheaper (€135 to €195).


The problem with glasses is that fit is so crucial to the overall look. Get a frame that is just a couple of millimetres too wide, too tall, or leaves your eyes too off-centre, and the effect is dramatic. You often look like you're wearing someone else's specs.
In fact glasses probably have the smallest margin for error of any menswear or men's accessory. This makes them difficult to buy online, or at least can involve a lot of trial and error. Even when made bespoke, this can go wrong, as I discovered with by commissions from Tom Davies in London.
The Dudes' glasses come in two widths, but both were too wide for me. They may still work as sunglasses, where the position of the eyes matters less (given they are covered) and only the proportions of the head need to be borne in mind.
That would be nice, because the designs are appealing. As Fabio is happy to admit, they are nothing original. The panto shape is a classic of the 1950s and 1960s, particularly in America, with its rounded rims and keyhole bridge. But Fabio's colours are nice and the Pleat line includes highly practical clip-ons.
Fabio should also be applauded for supporting a small, traditional manufacture (Mazzucchelli Varese) in line with the makers he writes about, and giving them a digital outlet.