A/MARELLI x Chapman camera bag: Review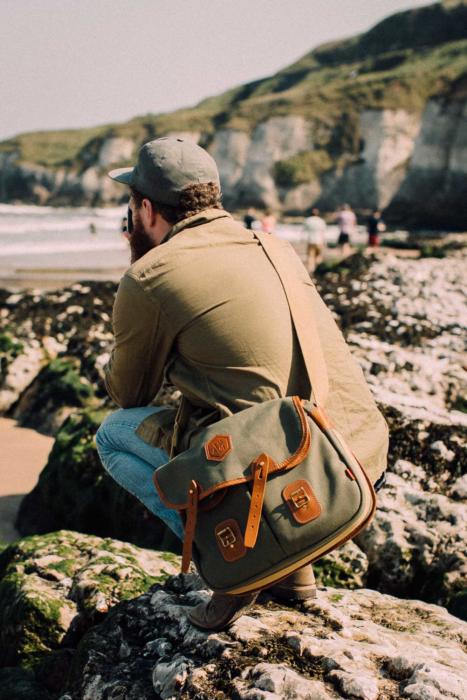 Adam Marelli, a New York-based friend and photographer (and Leica ambassador among other things) recently designed his perfect camera bag in collaboration with Chapman, here in the UK.
The reasons why he did so - and what he put into it - are very interesting. But I didn't think I could review it as I don't use one.
Instead, I asked Jamie Ferguson (above). A fellow photographer (and of course someone who has helped shape the look of Permanent Style in recent years), Jamie has used various bags, had frustrations with them, and expressed the wish for a better one.
So below is the review. First, Adam's thoughts behind the design; and second, Jamie's experience of using it.
Adam's development process:
"For the last two years I've been designing and field testing shoulder bags in order to create a camera bag designed by an actual photographer. It is a process that no company could compete with because it takes time…a lot of time, money, and patience.
My camera bag goes to the studio, to the airport, and shooting across the globe, so it needs to pull triple duty.
I had switched between carry ons, travel briefcases, and shoulder bags. It was a tiresome process which seemed solvable. What I really wanted was a shoulder bag, but I needed to make a laundry list of changes to get one right.
The base for the my design came from Chapman Bags in the UK. They are well known for their hunting and fishing bags, but as photographers, artists, and aspiring creatives, we have slightly different requirements than a fisherman…and the bag needed to reflect that.
"Several things make me crazy about the over-padded, designed-by-committee camera bags on the market.
They are too boxy. Most camera bags feel like lunch boxes slung around your hip. They are too square, overly padded, and made of increasingly cheap fabrics. And they're huge.
Proprietary hardware: While some companies want you to believe that proprietary hardware is a good thing, it is not. What it really means is that when a clasp breaks, no one can fix it. I wanted to use universal buttons and clasps so that anyone with a sewing machine can keep your bag running forever.
Poor strap design. A strap should not end at the top of the bag. It should wrap all the way around to cradle the load from the bottom. But again, this is an area where most companies cut corners to save money – good for them, bad for the photographer.
And Velcro. Camera bags should open silently. There's nothing like being in a quiet space and hearing the tear of velcro. A good bag should open and close without a sound."
Adam's resulting bag was made by Chapman from a hard-wearing 24-ounce pinhead canvas.
The strap wraps around the bottom, there is a padded laptop compartment, and all the pockets have been thought through.
The front pockets hold smaller cameras vertically – everything up to Leica M bodies with Summicron lenses – while the main compartment holds Summilux lenses, SL bodies, or DSLRs.
Jamie's experience:
"When I was first asked to review Adam's camera bag I have to say I was a little sceptical.
Don't get me wrong, the bag itself looked good and was certainly right up my street in terms of style - but it was a little on the small side for the equipment that I tend to use.
Day to day that's two cameras, a telephoto lens, and a 50mm. Plus I'm usually carrying a laptop for subsequent editing.
However, my family and I had recently moved to Ireland and I have been fooling around with a Fuji Xpro2 I picked up, and trying to get to grips with shooting more film.
We live quite close to a few beautiful beaches and I've been taking any opportunity to get down to them and shoot.
Using this bag now for several months has made quite a bit of difference to the way I think about carrying my gear, and getting me out shooting more.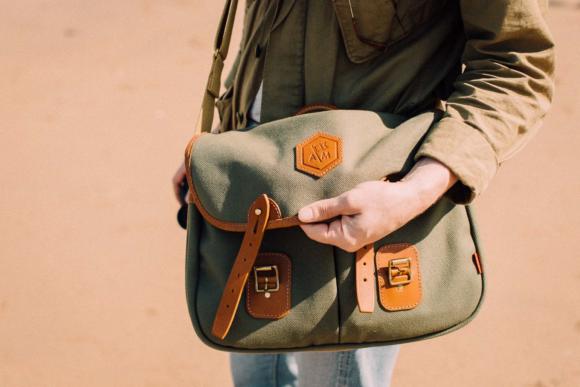 "The bag perfectly handles the smaller cameras that I'm packing, and I find I'm less stressed about not having my big clunky DSLRs. The spacing and layout on the inside also makes packing any gear easy.
I don't know about the rest of you but I've got velcro, padded dividers coming out of my ears and there's a couple of clever strips on the inside meaning I can adjust and divide the bag to fit my needs. Bonus.
There's also a couple of front pockets with flap-snap closure for any extras: film rolls, pens, books, memory cards. Finally, although I rarely use it for this purpose, there's an inside sleeve to handle anything up to a 15" laptop. I find myself usually stocking this with a magazine to read, or moleskins.
I was worried that the 2x buckle fastening would make opening and closing the bag a hassle but they're surprisingly quick to release. There's also a handy little handle on the back of the bag so you don't have to sling the shoulder strap every time you want to move.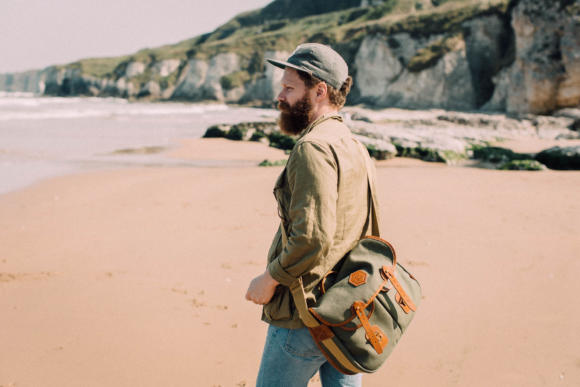 "From a technical stand point I've been falling for this bag more and more, which makes the fact that it looks great even better.
I chose the olive canvas and tan leather trim, but think the bag looks equally lovely in the all black option.
Already owning several other bits of baggage in similar materials I know that this bag is going to age beautifully. The canvas is going to get worn in and develop an awesome patina, as is the leather, not to mention the brass hardware. I'm trying to beat it up as quickly as I can to achieve this!
So despite early reservations about how much use I would get out of this bag it has slowly turned into my go-to bag for any shooting I do without the DSLRs.
It's only going to get better with age, it's versatile from a storage perspective, it's made in the UK from one of the oldest bag manufacturers, and it's value for money. I couldn't recommend it more."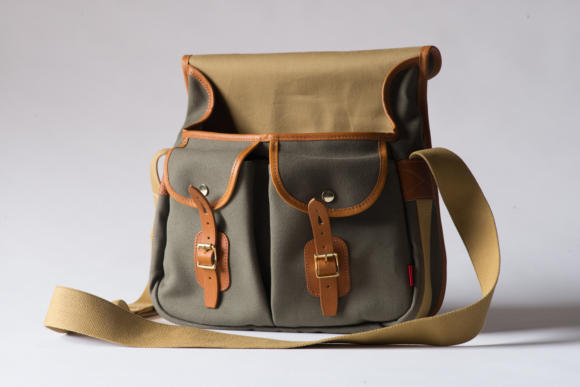 If anyone wants to read the full breakdown on Adam's development process, it's available on the dedicated page of his site here.
In terms of getting hold of one, anyone in the UK and Europe can buy it from Chapman's website here (price £289).
And anyone in the US can contact Adam, who can either sell them from stock at the studio or help with shops that have stock. Price is $399 and Adam's email is
[email protected]
.
The bag pictured being used by Jamie is the final design; the studio shots are of an earlier prototype with small changes (eg lining).
What to know more about how Permanent Style is funded? Read here