King & Tuckfield: Evolutionary fifties fashion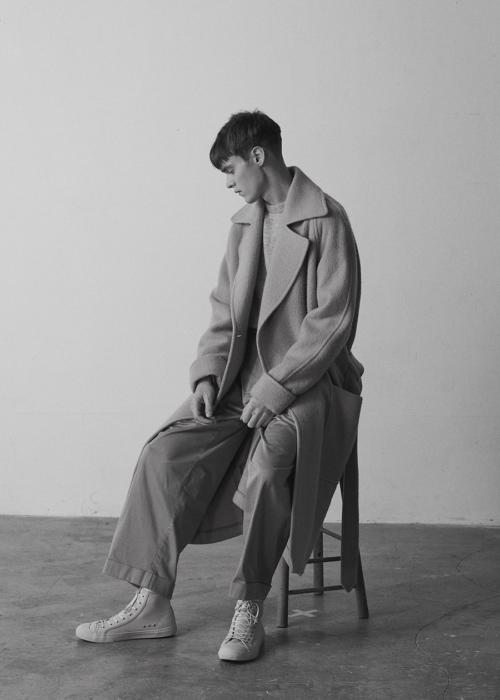 I recently got to know Stacey Wood of King & Tuckfield, and think - despite a fashion-oriented look that might initially put some readers off - that some of the brand's pieces are appealing variations on the menswear staples we love.
There are similarities to the Classic Collection at Connolly, covered and argued previously on PS.
For example, many readers liked my unstructured, drop-shouldered grey coat from Connolly, which was deliberately made to be unisex, and King & Tuckfield has a camel-coloured coat that's equally oversized and unstructured (shown above and below, £895).
I know many readers also disliked that Connolly piece. After all, a shoulder seam has a correct place to sit from a tailoring point of view - on the point of the shoulder - and dropping it down the arm is mere fashion whimsy.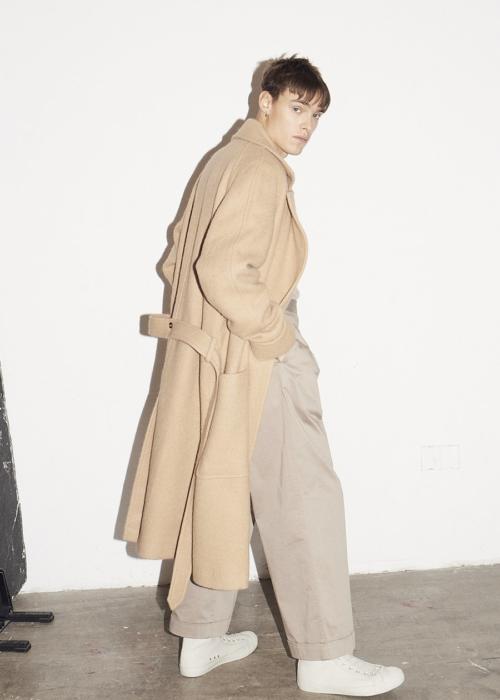 But I would argue that that seam is moved back and forwards for aesthetic reasons in tailoring, just not as dramatically.
Neapolitans often try to move it up the shoulder as much as possible, to make the jacket seem more jacket-like (and arguable more functional); many new brands like The Anthology or Bryceland's push the seam off the shoulder, to give an impression of width.
Fashion brands that are grounded in menswear classics do these same manipulations, just to a slightly greater extent. The length of this King & Tuckfield coat, for example, is longer than pretty much any tailor would cut. And the sleeves are meant to be long to cover half of the hand too.
But otherwise it's pretty classic: raglan shoulder, double-breasted, turn-back cuffs. And a colour that consciously echoes American Gigolo and most wrap coats since. Personally I'd like to avoid the 22% nylon in the fibre mix, but it does give the coat more body and bounce - often required in something as unstructured as this.
The other pieces I'd pick out from the collection are the T-shirts, the polos and the cardigans. I'd steer clear of the very wide-leg trousers, unless that's your look or you look as good in them as Richard Biedul (above, menswear model and, until recently, collaborator on the brand).
The cotton T-shirts are nice, but the merino ones really appeal to me - in the vein of dressing up what is a pretty ubiquitous item, and making it a nice partner for tailored trousers.
The polos are beautiful - along with the other knitted pieces, designed with Scott Fraser (who has some similar things under his own line, Scott Fraser Collection).
Some of the patterns might be too bold for readers, but the intricate knitting patterns are lovely and subtle. The polos have a neat but not slim fit, and are nice against the skin - I have the vanilla with a camel stripe, which I wore over the summer with olive-green linen trousers.
The cardigans are largely long-sleeved, button-through versions of the polos: still with great knit patterns, still with the merino that combines a feeling or comfort with luxury, just with slightly bolder patterns.
There are also several nice functional details on the knits, like a little off-centre button fastening the neck. It's so small you might never notice it, and perhaps never use it.
The design influence is very much 1940s and 50s, but Stacey is also more evolutionary than some brands referencing that period. "The brand is named after my grandmother and father. Both were ballet dancers and very elegant dressers - and at the start we were mimicking many of the things they wore then," she says.
"But after a while [this is the seventh season] we saw that influence elsewhere and wanted to move on, so for 2020 there is more of a 1980s feel - when they had their own 50s revival." In practice this means stronger patterns and brighter, block colours.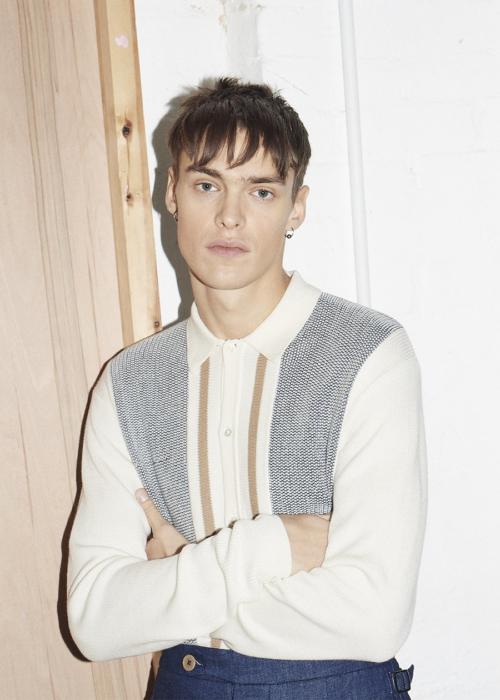 The other similarity King & Tuckfield has with Connolly - and frankly the first thing that makes me think I might find a brand interesting - is a love of traditional materials.
They are really a fashion brand, certainly more than many brands we cover, but they don't follow the tendency of those brands to use polyester or cheap cotton. You can quickly get into a long conversation with Stacey about merino and the corozo they use, or the corduroy on jackets like the cream jumbo cord.
Finally, sustainability is a big focus for Stacey. It doesn't come across on the website as much as in person, but she is obsessed with the supply chain of her products, and travels to the farms that supply wool and other materials to witness production.
I went to see Stacey and her team in the Haggerston studio, and they do arrange viewings there occasionally, particularly for long-time customers. But the main outlets are their website and wholesale through Matches and The Rake.
If you like the aesthetic of King & Tuckfield, another advantage of the way the brand works is a slow evolution through the collections. Unlike bigger fashion brands, and some collections like that Connolly Classic, the changes here each season are small.
The long coat has evolved slightly since the first one developed with Richard. The trousers, while still not for me, are moving through materials. And I'm already looking forward to seeing what they do with the knitted cardigans next year.
As ever, this article was not paid for and there is no commercial relationship whatsoever between Permanent Style and King & Tuckfield. Unlike many sites, we believe in a clear, clean division between advertising and editorial. Read more on our policy here.