How clothing kept me sane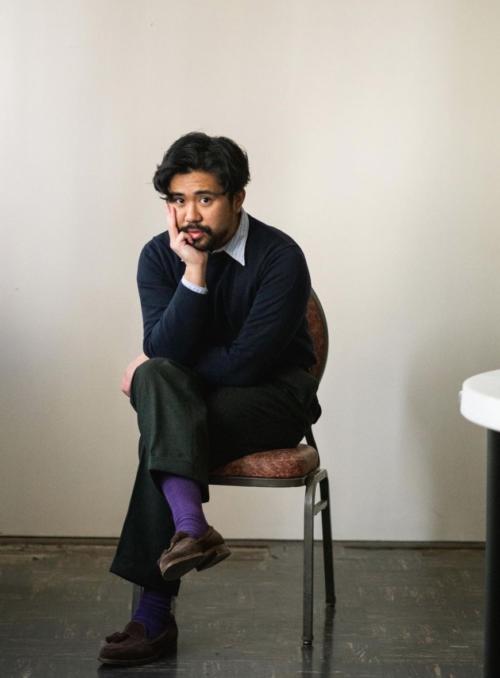 Something that has consistently surprised me over the past year of this horrible pandemic, is the friends - especially in the menswear industry - that have lost some interest in what they wear every day.
I offer no kind of opinion on that choice, and certainly no judgment. Everyone has their own preferences and pressures, and even among friends we may not know what these are.
But it has genuinely surprised me. Because for me, personally, it's one of the things that has kept me going.
It has been painful seeing people I care about suffer from Covid. And more often, just really boring being cut off from pubs, cinemas, shops, society and stimulation.
Clothing has helped keep me sane. Just as I've always made sure I exercise - even doing circuits in the garden when I couldn't leave the house. Or making sure I always had a good book to read. It's these elements of normality that have kept my spirits up.
As often seems to happen, there is a nice parallel with food. A friend said that during the first pandemic, he slipped into ordering takeaway every night, or the same ready meals. But it was deadening. Over time, it began to symbolise the depression he felt.
So when the second lockdown came - in November here in the UK - he made a resolution to take an interest in what he ate, and learn to cook new things throughout. It gave him a sense of purpose.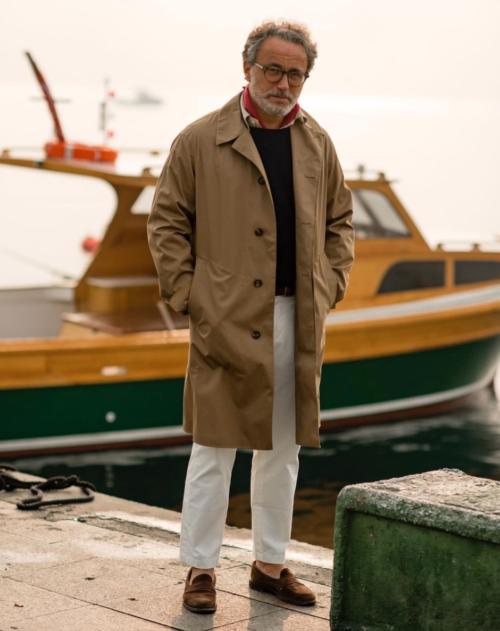 Thinking about, playing with, and generally enjoying clothing has done that for me.
Let me give you some examples.
I bookmark images, looks and outfits that I find interesting on Instagram, or save them on Pinterest. Most often, they are clothing combinations that I could put together from my own wardrobe, but just haven't thought of.
They include someone like Rob's friend Edo (@egrarchivio, above), wearing a red bandana under a grey shirt, navy knit and cream trousers. I've never worn that combination before, but I like it.
I've worn it with a blue shirt rather than a grey one, and I've worn a red bandana with a shawl-collar sweater. But never this combination. So I'll try it, consider it, enjoy it.
(I probably wouldn't wear that coat. But something like my Ciardi ulster, or a Donegal raglan, would look great over the top too.)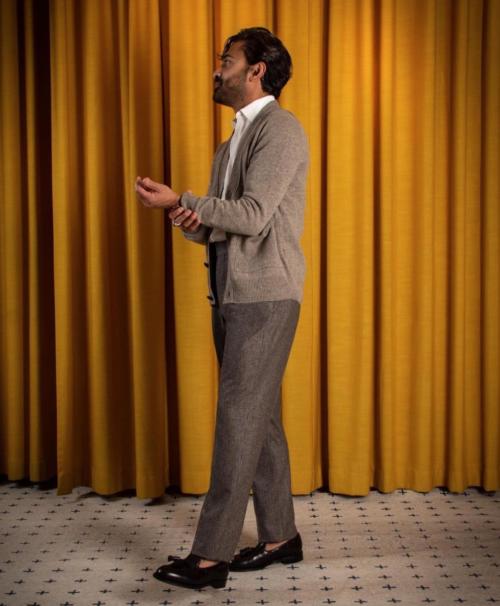 Another example is the image above from Gabucci.
I have flannels and a crewneck in those colours, but I've never tried them together. They're so close in tone that I probably thought there wouldn't be enough contrast.
Interestingly, when I tried the outfit I found it didn't work as well with a crewneck (which was all I had), as a cardigan. The cardigan exposes more white shirt, and helps separate the two browns. With a crewneck, it's too much of a block.
I also don't wear leather loafers around the house, by the way. But I wear Sagan Lunes in black and brown, and they serve to try out most of these looks.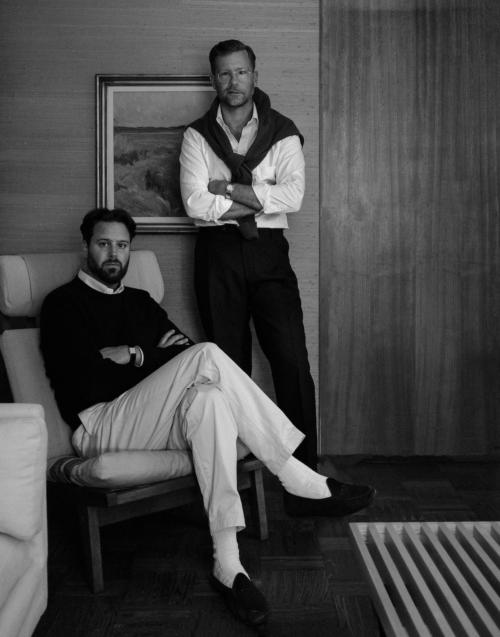 Other images don't suggest new outfits, but remind me how much I like old ones.
The picture of Ethan Wong shown at top, for example, reminds me how much I like Michael Drake's old look of purple socks with brown loafers (which he, in turn, took from Michel Barnes). I'll wear that tomorrow, and it will cheer me up.
Same goes for the pic of Oliver and Carl above. They always wear these simple tonal looks, but this image reminds me how much I like them. Particularly the casual air, which is all but necessary when you're working at home every day.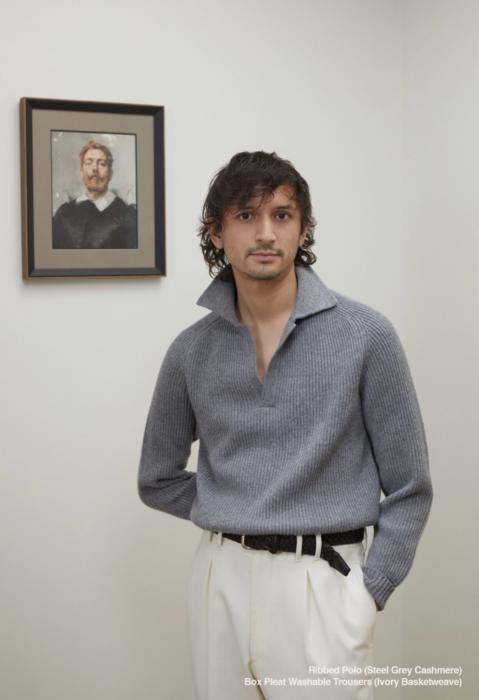 Sometimes there are new purchases too, of course. Less tailoring and ties, but certainly trousers and knitwear.
For example, I ordered the ribbed knit above from Stoffa back in October, when Maxim was here for a trunk show from Sweden.
It arrived in November, but needed some tweaks. These were delayed a little over the holidays, so I received it early in January. Since then, I've been trying different ways to wear it.
As with most Stoffa designs, its pretty elegant for knitwear, so I find it doesn't go so well with jeans. The collar perhaps makes it smarter than a regular crewneck, but then it is soft too, almost redolent of a rugby shirt.
Still, after a few experiments, I found I enjoyed it most with my casual tailored trousers - like my heavy brown cords, or chinos from the likes of Blackhorse Lane or Real McCoys.
This is often how my process works with new clothes - and that comes through weeks later, in a review article about what I think or have found.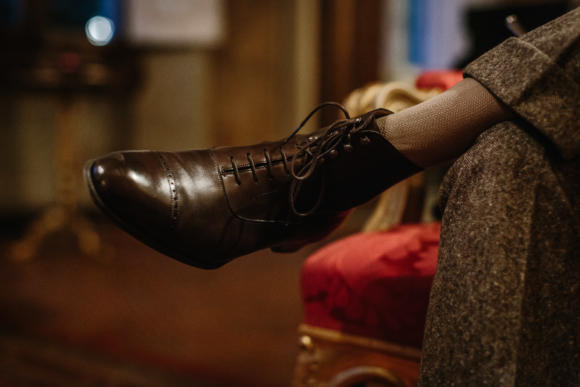 The last way I enjoy clothing - even during lockdown, even at home with just one walk a day to wear shoes and outerwear - is looking after old clothes.
In many ways this is the most satisfying. New clothes are exciting, and new outfits stimulating. But polishing up some old boots, until they look even better than the day they were bought, is more deeply satisfying.
I did this last week with an old pair of Edward Green 'Top Drawer' boots (above), before taking them out on a long walk. And I've been wearing more cordovan, so 'boning' up on my technique there.
Nicest of all, perhaps, is the way denim wears in over extended periods, like this lockdown.
I have a relatively new pair from Levi's, that were raw just before lockdown started. They've now had about 50 wears and two washes, and are starting to show some personality.
Usually I wouldn't be able to wear jeans so often, and see this pace of change. But that's another thing I've been able to enjoy, over these long weeks at home.
Let me know your stories of joy through clothing - and here's hoping this has given people a few ideas too.