The case for the Summer Suit. With tie
Thomas Mastronardi is one of the best-dressed men I know. So, in the spirit of welcoming a greater range of voices onto Permanent Style, I asked Tom to bookend the summer by writing something on the seersucker and linen suits he loves so much.
We disagree on some things, as will become apparent. But that is inevitable between passionate people and never an obstacle between friends.
Instead, it reminds me poetically of the things I already know I love in a summer suit and tie; and it encourages me, whenever I am on the borderline, to take the opportunity for greater beauty and self-expression.
Enjoy Tom's florid farewell.
By Tom Mastronardi
Like most fellow followers of Permanent Style, I eagerly anticipate the pleasures of autumnal dressing and the siren's call of flannel, tweed, and cashmere.
But, if I may, I'd like to take a moment to note that despite September's arrival, there are still several weeks left in this long, hot, wet, relentless summer. And though the wilted, weary end of the season is in sight, I still take genuine pleasure – temperature be damned – in wearing Summer Suits.
Note I say suits.
Because I've found that recently the ruthless weather has practically dared me to put aside my sport coat and open necked shirt – despite the preponderance and utility of both in my wardrobe – and stare down those dog-days in natty defiance, turned out in a flawlessly tailored suit, replete with the proper shirt and always, always, always a tie. (Yes. A tie. It's mandatory – but more on that shortly.)
But - and this is key - the cloth from which that suit is fashioned is the driver of the whole exercise. Think linen, seersucker, cotton. Full stop. Because, let's face it; wilted wool is nobody's idea of a good time.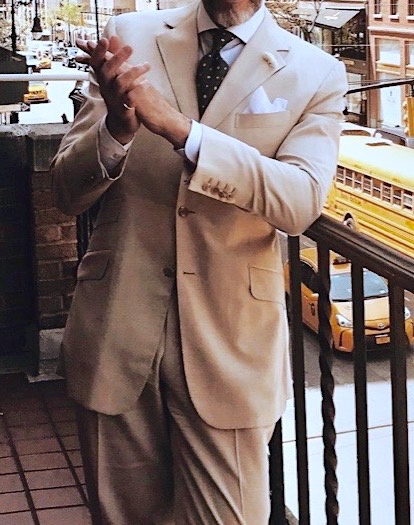 And, yes, I know, I know, Fresco. Love it. But. My near-evangelical zeal for the holy trinity of summertime fabrics is not borne simply of comfort.
Linen, cotton and seersucker's superpower rests in the way they democratize the whole business of summer dressing. Their innate informality infuses suit with an attitude of – are you ready – casually calculated refinement; which is something that simply cannot be achieved in any other quarter of the calendar.
The more insistently the season demands a casual response, the more perfectly these cloths fit the bill. (And as a general note, though it shouldn't be necessary to mention it, in the name of whatever you hold holy, don't fully line the jacket.)
Because: Linen is most perfect when it is wrinkled.
And: The knife-edge crease in a seersucker trouser can be relied on to yield softly as the humidity rises.
Just contemplating the simple blue-and-white of classic seersucker (yeah, I know there are a host of options, but I like what I like and this is my soap box) always makes me feel cooler.
New this season, and my current favourite, is a three-button single-breasted with three open patch pockets in a 100% cotton from Huddersfield Fine Worsteds (above). This may be the lowest-cost cloth regularly – yet enthusiastically – selected for use by tailors, precisely because it is the best seersucker to be had.
For me, it's the only cloth I elect to wear when no one in his right mind considers putting on a jacket (which is the essence of this entire screed).
I'll almost always elect to pair seersucker with a white shirt, in either cotton or linen, with an unbuttoned button-down collar. I find that particular throwaway gesture, lifted from the Italians, always helps establish a casual insolence. Or, conversely, I will wear the subtlest of pale pastels with a proper spread collar.
Whatever shirt colour, collar, or fabric I may choose, the most significant aspect is that it is always best realised with a necktie.
I believe the necktie to be the ultimate accessory when wearing a suit – in any season. To quote a certain sage philosopher of my acquaintance: "...the tie is a beautiful thing, and its demise is a loss to culture."
Too true.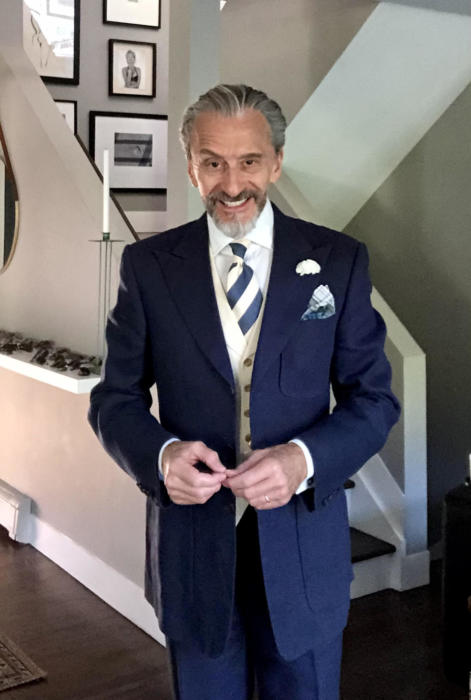 Consider that an open shirt collar – specifically the all-too-common open dress shirt collar – surrenders its principal objective: to frame one's face in the most appealing and flattering manner possible.
If we can assume that view to be universally accepted, then it's not much of a reach to grant that the addition of a four-in-hand (like Brother Fleming's most famous literary creation, I too mistrust a man who wears a Windsor knot) creates the most sophisticated visual punctuation; the foundation upon which to present one's mug to society.
Also, one of the truest of truisms is that a necktie provides an opportunity to express your individuality. Old saw or not, it's hard for me to find a more viable argument; from a solid grenadine to the most outrageous of rainbow-shaming foulards, a tie does make a statement about your taste – or lack thereof.
I drank the Kool-Aid early on, when as a kid it became apparent to me that The Guy Who Wore the Tie always got the girl. Case in point: Cary Grant, Ray Milland, Gary Cooper, Fred Astaire and James Bond invariably, absolutely, inarguably, wound up with Katherine Hepburn, Grace Kelly, Ingrid Bergman, Audrey Hepburn or Pussy Galore.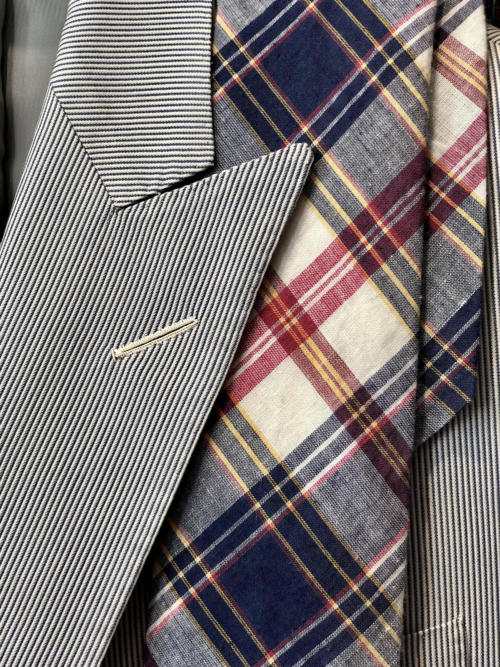 The truth is that yes, Virginia, ties do separate the men from the boys; and that donning a necktie should always be perceived as a privilege, not a pain (and if you find it "uncomfortable", consider that perhaps your collar is just a mite too tight).
A seersucker suit with an open-necked shirt may telegraph that you can maintain your cool (with some degree of cool) on even the warmest day; but, by adding a tie, you're set apart from the hoi polloi by choosing to beat the heat through the sheer élan of the gesture.
As regards tie colour, I tend to embrace something bolder in the summer – partly in a nod to the season, partly because the simplicity of the seersucker and plain shirt affords one a licence to do so. As summer moves forward, the brighter the red the pink or the yellow lightweight (and frequently unlined) silk the better. And madras? Be still my heart.
I have to admit, too, that I fondly remember a lurid tie from the mid-80s, printed with a fetching Varga-type cutie, that elevated my rather basic Brooks Brothers seersucker to new heights.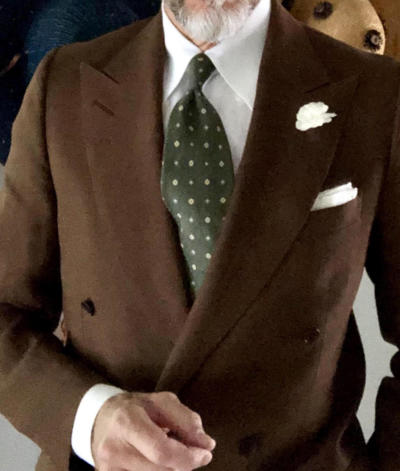 Linen and cotton suits allow for a greater variety of colour than seersucker; light creams, tans, and pale olives certainly, but I'll even opt to go darker: navy of course, and this season I'm especially fond of a rich tobacco double-breasted number in a fairly beefy 14oz cloth designed by Drapers and woven in Ireland a few years ago exclusively for Paolo Martorano Bespoke [above].
Although I've had several flyweight Italian linens over the years, of late I've come to appreciate the substantial Irish variety. And who can resist the legend that tells of those once-upon-a-time Sons of Erin who submerged the newly woven cloth in the local brook long enough for the water and stones to soften it up? Stonewashed, indeed.
I'll invariably elect a linen shirt for wear with a linen suit, in white or a pale neutral, either solid or with the faintest stripe (I've never been much of a fan of dark or boldly patterned shirts, whatever the season).
I'm also fond of linen ties with linen suits and shirts (and even linen socks, although their fragility never fails to cause a measure of disappointment), and am drawn equally to subtle pattern or cheeky print depending on my mood. (I've been unable to part with a vintage Versace parrot print for more than 30 years.)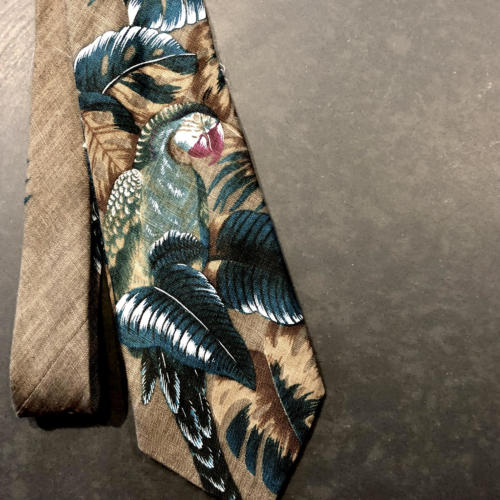 The point of all this is that by suiting up rather than dressing down, by shrugging off the allure of even the most sophisticated of sportswear and taking up arms against the endlessly contumacious climate, swelter is roundly vanquished, and confident nonchalance carries the day.
So, elegantly suited and properly knotted, I'll be spending these next few, short weeks savouring each and every opportunity to wear my summer suits before inexorable autumn ends the whole drill.
As a final note, I'll leave you with this; as we soldier bravely through these dwindling days of summer, rather than worry you might be too smartly garbed at, say, a backyard barbeque, might I suggest that you address the situ by – briefly – doffing the jacket, discreetly checking the dimple beneath your knot, adroitly rolling your sleeves, and having a poised, imperturbable go at the watermelon.
Hot fun in the summertime. More, please.
---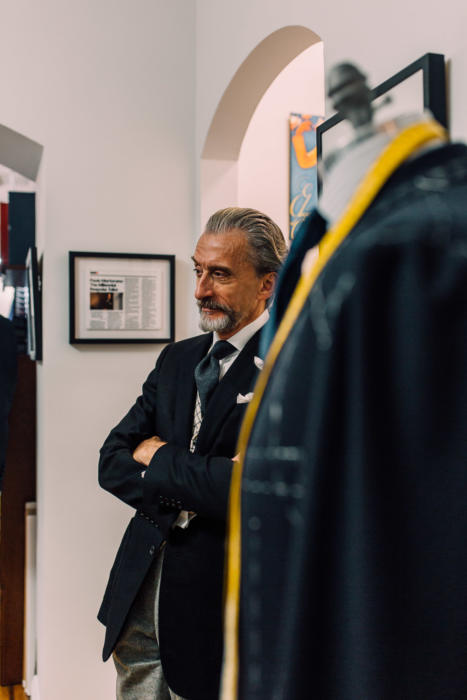 Thomas Mastronardi was for many years the head of marketing at Paul Stuart in New York. He currently works with Paolo Martorano, as well as other clients.
The ties pictured are largely from Robert Talbott, saving the vintage Versace. The suits are from Paolo Martorano or Jon Green Bespoke. The shirts are also largely Paolo Martorano.
The image of us together was taken at the New York launch of my book The Finest Menswear in the World. More here
Photography: Tom Mastronardi, save the last image, Jamie Ferguson.