So close and yet so far: TV pundits at the FA Cup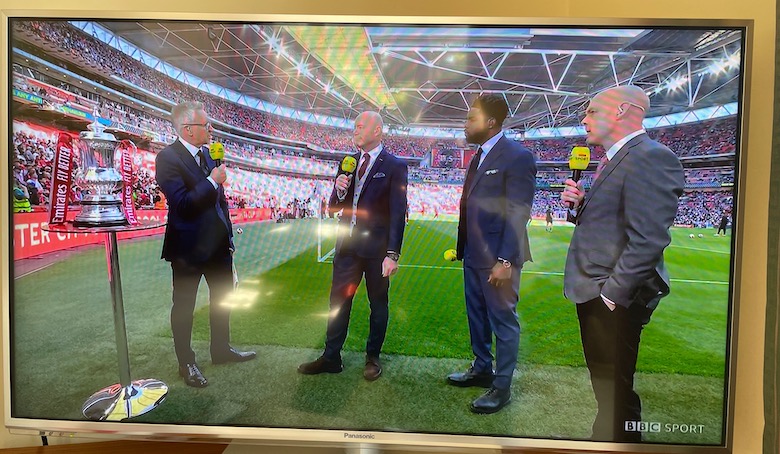 The tailoring that four TV presenters were wearing this weekend - to host the first FA Cup semi-final - were an interesting illustration of what I think men find challenging in tailoring today.
For non-English readers, the FA Cup is the big knockout football competition. It's not as big as the league, or as winning the European competition - the 'Champions League'. But it has a certain prestige. It's been running since 1871 and the semi-finals and final take place at Wembley, the national stadium.
More importantly, it's one of the few football competitions that doesn't require a subscription. Many games are on public TV, and so they draw a large audience - Saturday's semi-final in particular, because it featured the two biggest teams in the country at the moment, Liverpool and Manchester City.
It was a national event, and the four presenters clearly felt they had to make an effort.
As my Dad and I sat down to watch the game (he's a lifelong City fan) we began to talk about what each one was wearing.
The ex-City player Micah Richards (above) looked pretty good at first blush.
He was wearing a blue suit with a white shirt and plain navy tie. There was a navy cardigan and a subtle, folded over pocket square. It looked pretty classic, the cardigan an effective touch.
The problem came when he was pitchside, standing up. The skinny trousers - not a great option on such a muscular man - finished in black leather sneakers, styled like a dress shoe but with a branded loop sticking out the back.
It was a shame, because otherwise the look bordered on elegant. And while I understand that people want to wear comfortable shoes, I suspect the motivation for wearing them is that it's felt they modernise the outfit somehow.
They don't. All that happens is that trousers puddle on top, and the soft, bulbous lines of the shoe jar with the sharp, clean lines of the tailoring.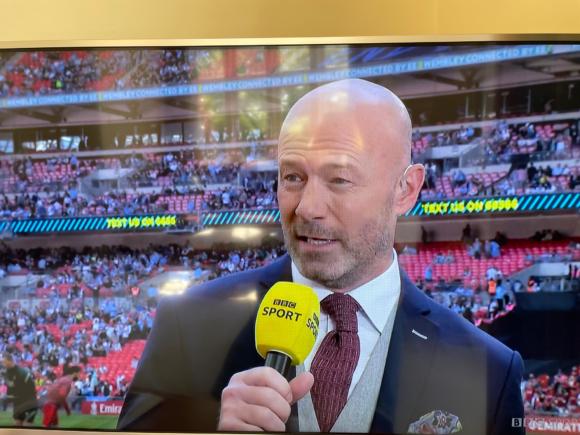 Alan Shearer, perhaps the most senior of the pundits, had made a bold choice: a grey waistcoat under his suit.
There were obvious echoes of formal dress here, where contrasting waistcoats are a common feature under morning coats. And actually while I expected to dislike Shearer's one, it worked fairly well. The colour was spot on and it made a clear statement that this wasn't any old match, and he wasn't wearing any old navy two-piece.
Unfortunately it was also let down by the shoes, which were dark-brown derbys. Not a bad shoe generally, but too casual really for a dark worsted suit, and certainly out of keeping with what the waistcoat was aiming for.
The jacket, on closer inspection, also had a white lapel buttonhole. Rather a cheap touch. It always looks like a gimmick, or more importantly as if the designer had such little confidence in the suit that he had to resort to eye-catching distractions.
It's just not what tailoring is about. You're not playing to its strengths.
Danny Murphy, the last of the three pundits being interviewed by the host, Gary Lineker, also made a good first impression.
Mid-grey jacket, white shirt, woven silk tie: there was something of the father of the bride about it, but otherwise it was hard to fault. (And I wasn't trying to find it. Honestly, nothing would make me happier than seeing elegant menswear beamed around the country.)
The issue was that the jacket looked like one half of a suit. You couldn't tell the material of the trousers (if anyone could, perhaps with a 50-inch and HD, let me know) but the jacket was certainly a hard worsted material, and looked orphaned from a lost bottom half.
It would have been much better as a suit, or with a jacket that was clearly a blazer - something with more texture.
The brown shoes were also a bit long and pointy, but that was minor.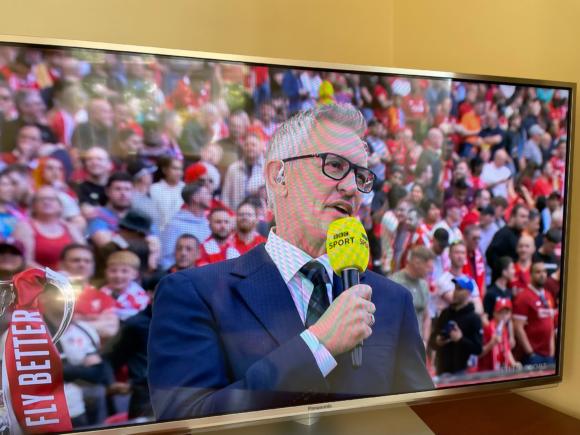 Lineker showed them all up. Not by dressing spectacularly well, but by doing everything simply and correctly.
Dark suit, white shirt, dark tie with a subtle pattern, black polished shoes (below). You wouldn't hold him up as a style icon, but he managed to show how each of the others had missed the mark in one way or another.
I thought this was worth covering because these are all things men commonly get wrong. Wearing parts of a suit separately; mis-matching formalities; going for gimmicks rather than subtleties of cut and fit.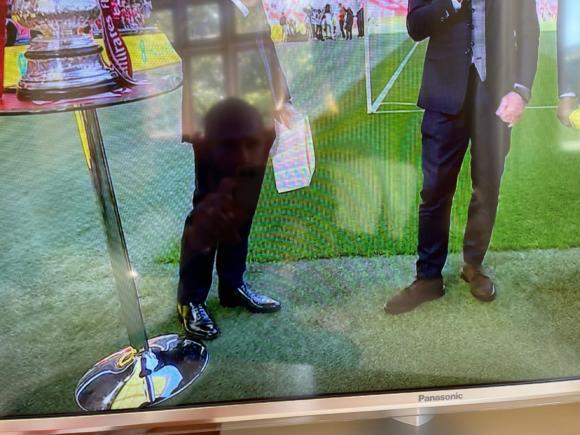 There are many things wrong with the concept of 'rules', including the fact they have far less relevance to casual clothing.
But they're good at encapsulating pieces of advice for dressing smartly, better. And that's why they can often be a good starting point.
I also think that as guys wear fewer suits to work every day, they will need more of this advice, not less. Because when they feel the need to dress up - as these four presenters clearly did - they won't have a uniform to fall back on. They'll be less sure what to wear, or why.
Hopefully PS (and PS readers) can carry on helping them out.
P.S. Sorry you lost Dad, but you'll win the league anyway. You had to give Liverpool something.