Hunter, Desii, Tartan: Florence's surprising range of vintage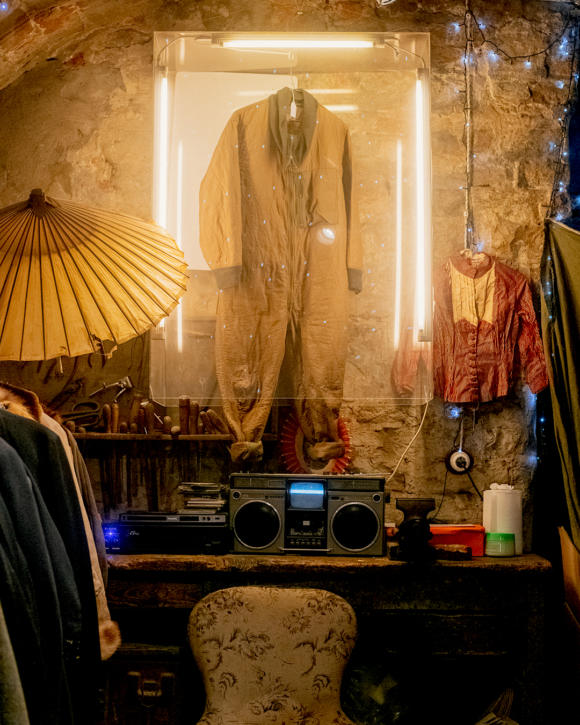 Florence is a surprisingly good city for shopping, quite apart from any menswear shows that happen to be going on.
It's always been a hub for craft, and even in the city centre you'll often walk past a little workshop with someone restoring antique furniture, doing some engraving or demonstrating traditional marbling.
In fact it's one of the most surprising things about Florence - that despite the fact it's barely more than a small town, and absolutely flooded with American tourists much of the year, it still retains a this character. It has (so far) resisted becoming overwhelmed in the same way as Venice.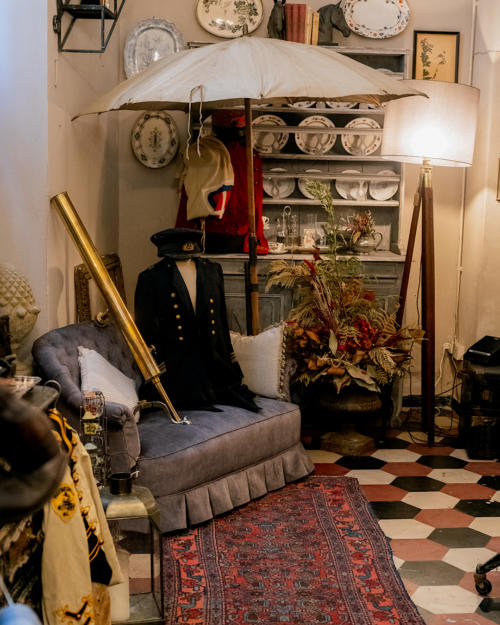 There are a lot of cheap leather shops, of course, selling Chinese-made bags. But it's not too hard to spot places with genuine craft going on, and indeed to spend an hour learning how to do engraving or marbling.
Out of season, I'd recommend it as a holiday destination for this craft, alongside the art, history and food.
I've written a list of shopping recommendations in Florence before - you can see it here, part of the travel series that eventually became a book I published with Thames & Hudson.
But I didn't include any vintage shops back then, because I simply hadn't visited any. Since then I've spent time in a few, so I thought it was worth adding those, in particular the collection of Tommy at Hunter Vintage and the confusing double shop that is Desii.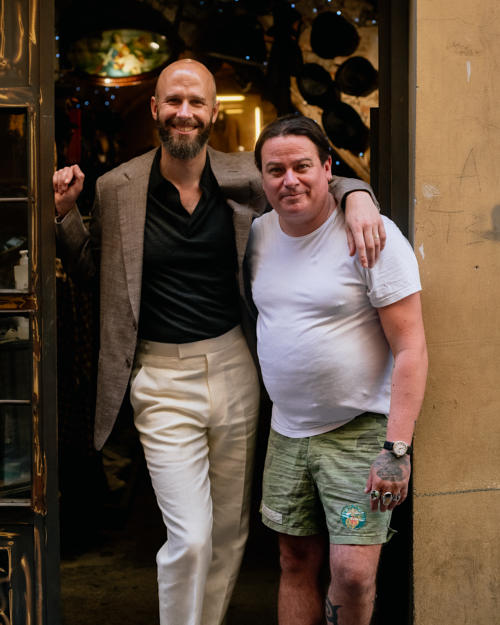 Hunter Vintage
Via del Moro, 56
During the various Pitti fairs (there are equivalents for women, children and materials - baby influencers anyone?) there is a slightly odd installation on the corner of Santa Maria Novella square.
The antiques shop Bottega di Corte invites in a few local stores, including men's and women's vintage clothing. As a result, you'll often walk past and see something odd and attention-grabbing in the doorway, like a bishop's cassock or a full WWI uniform.
The menswear in there is contributed by Tommy Pampaloni of Hunter Vintage (above), who also has a small showroom around the corner on Via del Moro. During a show, this is closed but it's worth asking him if you can go round and see the dedicated shop. At other times, just go see the shop itself.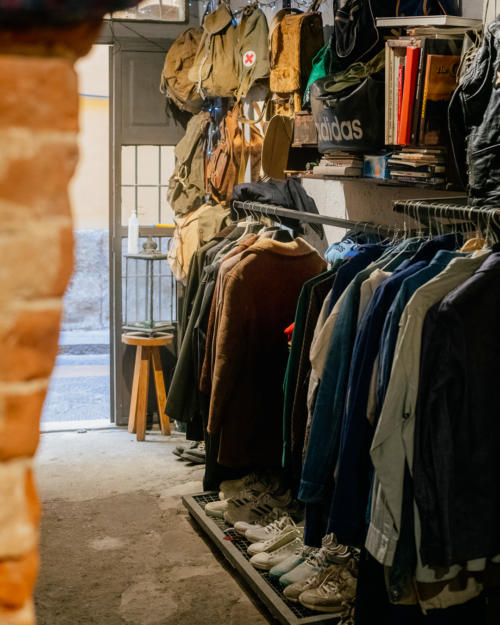 Tommy's great-grandfather was a legendary car collector, and the family has hundreds of cars and motorbikes in the countryside out of town. Many of the cars have been used in Hollywood movies.
Tommy was the one who had a passion for menswear, and started Hunter. He has a great range, though it's fair to say it focuses on the more unusual, the historical or inspirational (unlike Desii).
So there will be a pair of beautiful leather pilot's trousers - largely useless for wearing today, but great inspiration for a modern designer. Or a first pattern US Army shirt, which is rare and beautiful and very beaten - perfectly wearable, but delicate and not one for the long haul.
There are more regular pieces too - field jackets, Harringtons, duffle coats - but I'd still say this is a place to go with a mind open to any inspiration, rather than in search of something particular.
I almost bought a 1930s German horsehide jacket (below) because the fit was so good and the patina amazing. But on reflection there were no times I would have preferred to wear it rather than my existing black horsehide.
Desii Vintage
Via de Conti 17-23
Desii is a Florentine institution, having started as a shop in 1947 and gone through various incarnations and three different generations.
Today there are four shops: new clothing (Desii Store) a sale shop (Desii Ognissanti) and two vintage shops next to each other (Desii Vintage).
The vintage shops do sell some new clothing as well (mostly American, mostly workwear) which is where the confusion can start. But it's mostly vintage from a wide time range - 1940s military to 1990s streetwear.
The smaller of the two vintage shops (on the right as you look at them from Via de Conti) is just menswear, and is the place to start. The impressive thing is the amount of stock - if you want jungle jackets, you'll find eight or ten, rather than one or two. There's a stack of American-made chinos from the 1960s to the 1980s; rayon shirts in various sizes and styles; canvas jackets from very wide fishing designs to longer chores.
It's the best place to go if you're after something particular. I was interested in a rayon shirt, for example, and old chinos. I didn't find either, but there was a better selection than I'd seen almost anywhere else. I still can't believe there isn't anywhere like this in London any more.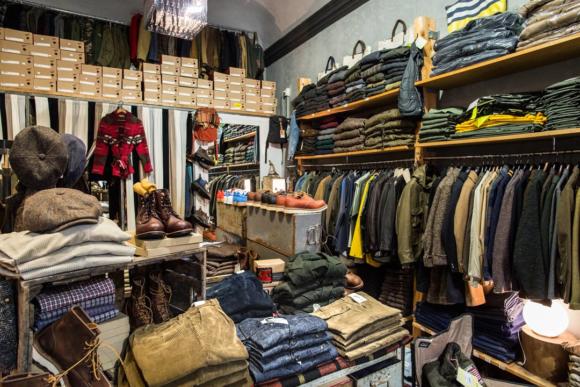 The bigger shop, on the left, is a mishmash.
It's theoretically new clothing and womenswear, but there are vintage jeans, chinos and military clothing in there as well. It's worth browsing both if, again, you're seeking something in particular.
It's also very good for luxury brands - Vuitton holdalls, Gucci loafers, Hermes scarves and so on. All genuine and reasonably priced.
There isn't much I'd buy from a selection like this, but one thing I'm always interested in is Hermes menswear (and scarves for either gender). It was here that I found an absolute treasure - a yellow suede popover jacket from the 1970s. Only gently worn, in the most delicate goatskin. Even the old label was beautiful.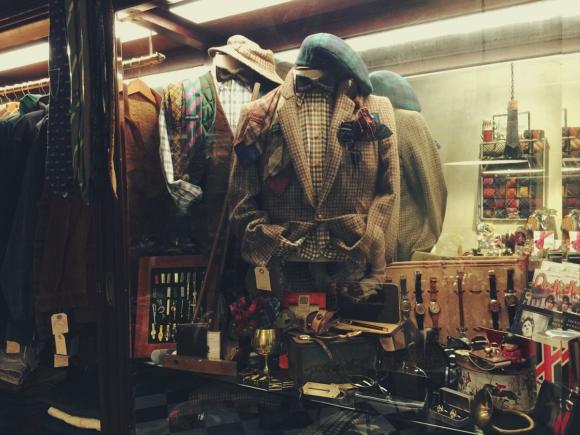 Tartan Vintage
Via dei Palchetti, 5
Tartan is tiny, and rammed. Run by a charming lady who's obsessed with the UK, it's nearly all British or British-inspired clothing. The Beatles, The Stones or Oasis will usually be playing.
Being so British-focused is actually a nice change from the American military and workwear angle of most vintage stores. It means you get a lot of tweed raglan coats, Aquascutum raincoats, flat caps and knit ties. There are braces and straw boaters, silk cravats and spectator shoes.
It's slightly more modern, in that you won't find much before the 1960s, but the quality level is decent and the owner is always very helpful (and speaks good English, as you might expect). I got a couple of belts there a while ago - the intricate one featured here, and a simple webbing one.
There was nothing special about the latter, but it was as good quality as you'd find today from Drake's, Anglo etc, and a lot more attractive for having the patina of wear. Tarnished brass, variegated cognac leather, dulled webbing colours. That style of belt always looks a little old-fashioned to me when new.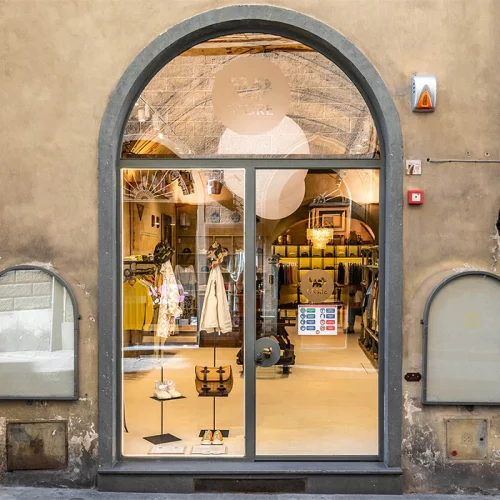 There is a handful of other vintage stores around Florence, but they're much more modern - more thrift, more streetwear. If you're interested in those, then Epoca on Via de Fossi is one of the best.
Interestingly, the WP store on Via della Vigna Nuova has also recently introduced a vintage section. WP is the Italian distributor for several menswear brands (including Filson, as discussed recently), and was the first to bring many American heritage companies to Italy in the 1980s. There are seven stores around Italy.
During Pitti, to celebrate the company's 40th anniversary, they had a small display of vintage pieces from their archive, and a section for sale at the back of the store. It was expensive, but also highly curated.