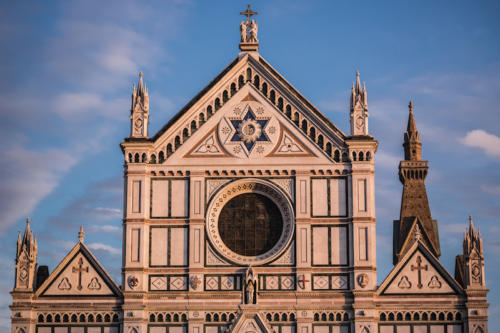 Florence is best known as a tourist destination in the summer – the Uffizi, the Duomo, the Ponte Vecchio – and a menswear hub in January and June, when it plays host to the men's trade show Pitti Uomo.
But it has enough unique shops to make it worth a visit any time of the year. The city has always had a large population of artisans, particularly for paper and leather goods, and some of Italy's best tailors and shoemakers reside in the city today.

1. Santa Maria Novella
www.smnovella.com
Via della Scala, 16
The perfumery Santa Maria Novella has a case for being the most beautiful shop in the world. Founded by the church's Dominican monks, it sits in its own, magnificent section of the basilica, complete with ornate frescoes and paintings charting the history of the family. There is a selection of fragrances, soaps, creams, liqueurs and several other ways to perfume the house and body.


2. Liverano & Liverano
liverano.com
Via dei Fossi, 43
Florence's best-known bespoke tailor cuts a flattering and surprisingly modern style, with a slightly shorter jacket, rounded fronts and a wide lapels. Although expensive, the work is first rate. There is also a collection of vintage fabric bolts, which are always nice to drape across the body when picking out a suit, and some ready-to-wear and accessories.


3. Stefano Bemer
www.stefanobemersrl.com
Via di S. Niccolò, 2

Since Stefano's sad passing, the company has been taken over and moved to a beautiful old church on the south side of the Arno. In there, the customer can pick from ready-made shoes, made-to-order and bespoke – with the company's bespoke craftsmen all work in view around the ground floor. A shoemaking school runs on the top floor.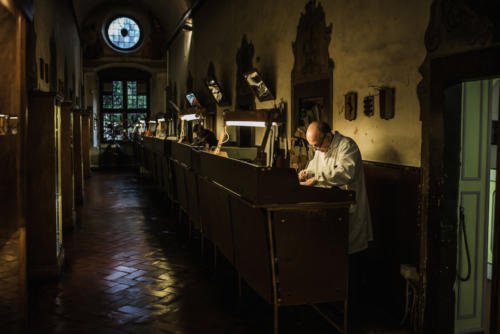 4. Scuola del Cuoio
www.scuoladelcuoio.com
Via S. Giuseppe, 5
Bemer is now owned by the old Florentine family that runs Scuola del Cuoio, a bag-making school and workshop (above) on the other side of the river in the Basilica di Santa Croce. Although they mostly produce women's bags, there are some beautiful leather desk sets (supplied to several US Presidents) and the school itself is worth a tour.


5. Lorenzo Villoresi
www.lorenzovilloresi.it
Via de Bardi, 14
Florence also has a strong reputation for artisan perfumers, and just down the road from Stefano Bemer is the relatively new shop attached to Lorenzo Villoresi's studio. Lorenzo creates original perfumes that often stand out for their intensity and impact, and come in beautiful blue-glass bottles.


6. Il Micio
Via de' Federighi, 6
Over the years many Japanese artisans have come through Florence, often training as shoemakers before returning to their home country. One that has stayed and etched out his own, local reputation is Hidetaka Fukaya, known as 'Il Micio' (the cat). His bespoke shoes are very finely made, and like many Japanese makers tend to have an elongated silhouette. There is also a small range of leather goods.


7. Frasi
www.simonerighi.it
Via de' Federighi, 7
Just down the street from Hidetaka is the menswear store Frasi, run by Simone Righi. The dapper, bearded Simone has acquired quite a cult following among menswear enthusiasts in recent years, thanks initially to featuring on street-style blog The Sartorialist. The shop is an eclectic mix of accessories and tailoring, with an emphasis on colour and pattern.


8. Sartoria Corcos
www.sartoriacorcos.com
Via Della Vigna Nuova 26
Also close by is the first-floor workshop of Japanese tailor Kotaro Miyahira, or Sartoria Corcos. Kotaro is a young tailor who has gathered a strong following in recent years, both for his relatively low price and his style – which combines some classic Florentine elements with broader influences. However, at the time of writing he was not taking on any new clients.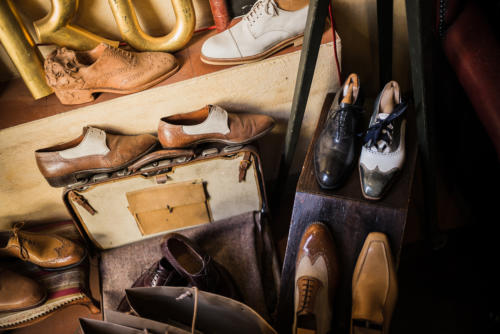 8. Ugolini
www.roberto-ugolini.com
Via dei Michelozzi, 17
The other best-known Florentine shoemaker apart from Stefano Bemer is Roberto Ugolini (above). Located on the south side of the river on Via dei Michelozzo, Roberto offers only bespoke. A good range of bespoke designs can be seen on the website.


9. Mannina
www.manninafirenze.com
Via De' Barbadori, 19 and Via Guicciardini, 16
And a third shoemaker worth investigating, particularly on value, is Mannina, founded by Calogero Mannina in 1953 and now run by his son Antonio. His boots and spectator models and particularly popular.


10. Bernardo
www.bernardofirenze.it
Via Porta Rossa, 87
There are fewer multi-brand menswear stores in Florence then the other major Italian cities like Milan and Rome, but the stand-out is Bernardo. Although small, it has a well-curated selection of clothing from the likes of Aspesi, Incotex, Herno and Fedeli – all brands that have long been favourites in Italy, but only recently gained followings elsewhere in the world. Milord, another contender for the list, closed recently.


11. Simone Abbarchi
simoneabbarchi.com
Borgo Santissimi Apostoli, 16
Simone Abbarchi is a bespoke shirtmaker that offers great value for money. Unlike many Italians he eschews both aesthetic and functional hand-sewing, leaving an entirely machine-made garment with a great fit and low price (starting at 120 euros). There is a great range of fabrics and he offers made-to-measure knitwear as well.
Photos: Luke Carby