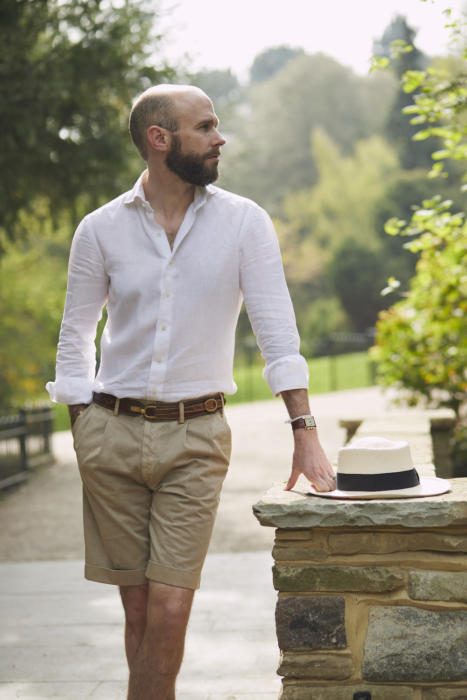 A few readers have been asking in recent weeks when the shorts were coming back in stock.
Fortunately, we've been rather more organised this year and they're here on May 1 rather than June 1. They're listed now on the shop site.
Personally, last week when it was 25 degrees in London, my shorts were the first thing I put on. Washed green with a grey sweatshirt and sneakers; smarter navy with a blue linen shirt and loafers.
Shorts are like white trousers in that regard: something it feels indulgent to wear in England; a celebration of the weather.
This year we've expanded the range slightly, to include a washed khaki version (pictured).
This is the same model as the green: more casual styling, with belt loops and unlined inside, and garment washed to give it a soft worn-in look.
So there are now three colours - navy, green and khaki - of which the latter two are the washed 'sports' style and the former is the smarter, tailored style, with side adjustors rather than belt loops, and a shirt-fabric lining.
As you can see here, though, even the washed style is nice with a crisp white-linen shirt. I wore it with boat shoes, but it would equally have worked with tobacco-suede loafers like the G&G Classics for example.
There are more details on the various styles, and photography, on last year's launch post for the shorts.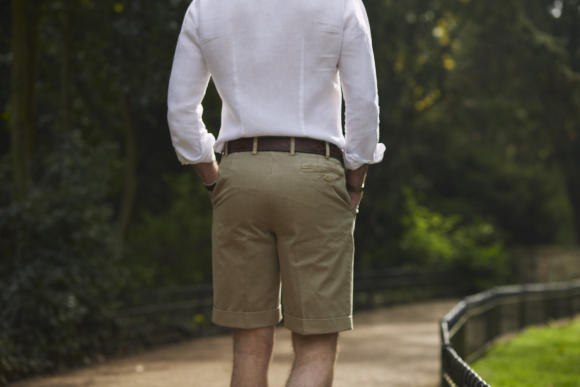 As ever with Permanent Style products, these are not just shorts for their own sake.
They fill - in my view - a particular niche, and one I was frustrated to not be able to find anything in.
I find most shorts oddly large or oddly small. Workwear-inspired brands offer big, high-waisted gurkhas that I don't think flatter most men. High-street brands sell mostly narrow, tight shorts that are equally unappealing.
As I put it last year, most cling to big thighs or drown skinny ones.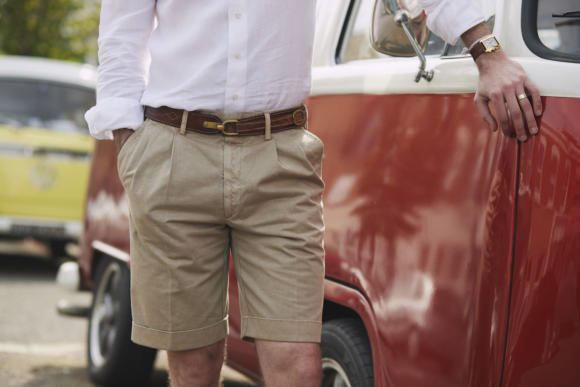 The PS Short is moderate. A flattering halfway point. It's what most men want out of trousers, frankly, and certainly what they want out of shorts.
Most men already feel self-conscious wearing shorts - the last thing they want is for them to be attention-grabbing.
The PS ones have a straight cut in the leg, finishing just above the knee. They have a medium rise, slightly higher at the back, and a 4cm turn-up.
Those turn-ups and the two small, shallow pleats retain a little bit of character. Sartorial touches, but nothing that will be remarked upon.
I usually don't wear pleats, but these are shallow, adding only a touch of fullness (helpful with a large seat, like mine) without making the top half bulky.
I've tried the shorts on a few friends, and it's interesting how the pleats help fit a greater range of body shapes - something particularly helpful when buying online.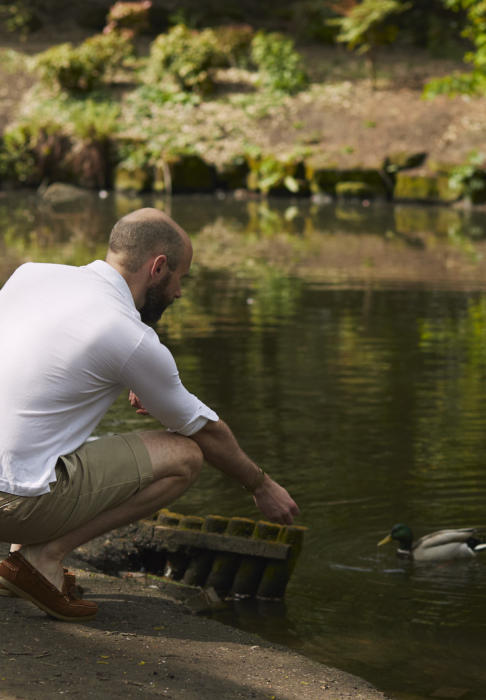 They were the result of three years' sampling back and forth, largely with Rota in Italy. We finally got the perfect cut and fit (at least in my view) and they were popular last year.
On the new khaki: since I've been wearing it these past few months, the thing I've loved best is that it works with blue, white and navy.
It looks great with a white shirt (or white polo shirt, as above), with a classic pale-blue colour (in chambray or cotton/linen perhaps) and with a navy shirt or knitwear.
No other colour I've tried is quite as versatile as that. And it makes khaki particularly useful colour, for example for travelling when you don't think you'll be wearing shorts every day.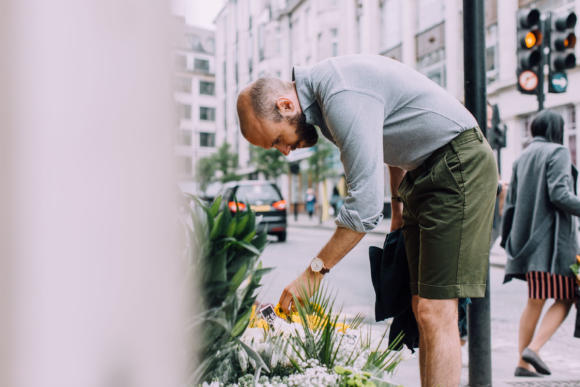 All three shorts have a coin section inside the right-hand pocket; the navy has one rear pocket on the right, the others two rear pockets.
The washed-cotton shorts have corozo buttons, the navy ones horn.
They were made by Rota, a factory based in Italy that readers will probably be familiar with, and makes for several other high-end brands.
The construction is a good level for ready-to-wear, with great hardware, linings, buttons, and finishing. A machine make, but with a high level of precision.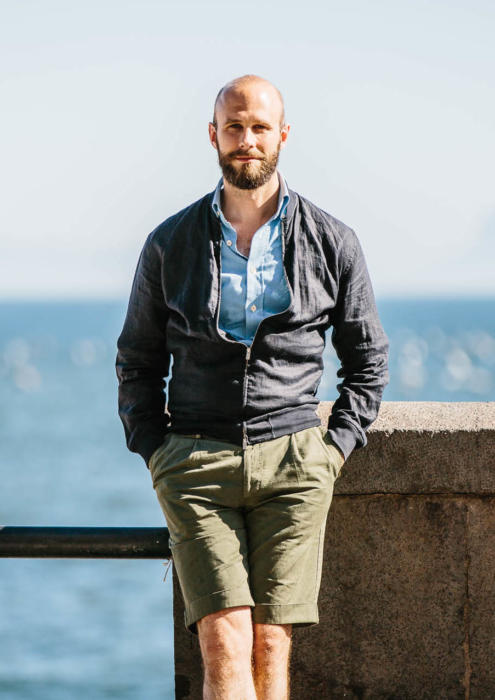 The shorts are available in four sizes: small, medium, large and extra-large, equivalent to Italian sizes 46, 48, 50 and 52.
Do remember that we offer free returns if the fit doesn't work. Contact [email protected] to arrange a return or exchange.
Full measurements are listed on the shop page. As with other pieces, we recommend comparing these to something you already own to get the best idea of fit. I wear medium (48).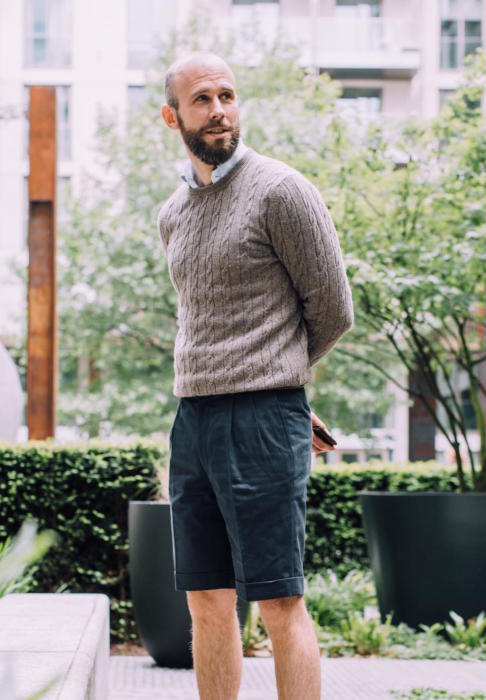 In terms of alterations:
All shorts can be taken in considerably at the waist, by 5cm (2 inches) at the most. It helps here that there is only one rear pocket, as large alterations won't push two pockets oddly together. On the green and khaki shorts, such a reduction in the waist would also require the rear two belt loops to be taken off, and reduced to one, over the back seam.
The navy can also be taken out in the waist, by at least 3cm (1.25 inches) as there is considerable inlay there and running down the leg. However, the green and khaki cannot be taken out as this would leave lines around the old seam (as they are garment dyed and washed).
All shorts can be shortened in length, at least by 5cm (2 inches). The bottom of the leg is obviously smaller than the thigh, but there isn't much taper at the bottom. At the worst, the leg might need to be narrowed slightly as well. The green and khaki, however, would require the turn-up to be cut off and machined on higher up, as again there are fade lines at the top and bottom of the turn-up.
The navy short can be lengthened, by at least 2cm (0.75 inches) by either reducing the size of the turn-up or changing the way the turn-up is made (currently it is folded over, making three layers of material. The folded layer can be reduced.)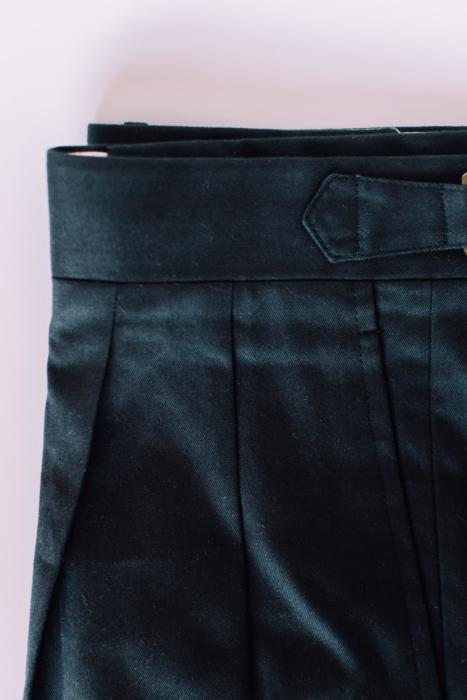 Other details:
The shorts are 100% cotton
They should be washed cool, at 30 degrees, and hung to dry before ironing.
Shipping is from the UK
Price (£175) does not not include VAT, as most PS customers live outside the EU. Taxes are added at checkout.
Note: due to a slight delay in packaging, the shorts will be shipped starting Monday next week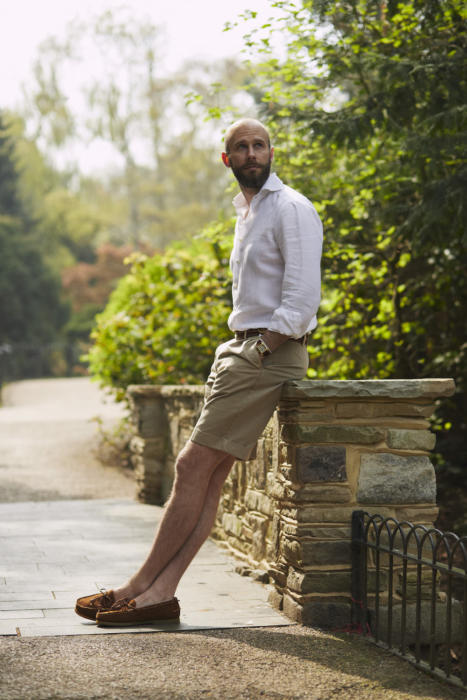 In the pictures, the shorts are worn with:
Khaki:

Bespoke linen shirt by D'Avino
Vintage leather belt with brass hardware
Suede boat shoes by Polo Ralph Lauren
Panama hat by Anderson & Sheppard
Jersey long-sleeved polo shirt by Aspesi

Navy:

Bespoke linen shirt by D'Avino
Biscuit-brown knitwear by Luca Faloni
Suede loafers by Edward Green
Green:

Shirt in Everyday Denim by Luca Avitabile
Linen bomber jacket by Hermes
Leather sneakers by Common Projects
Grey Friday Polo from Permanent Style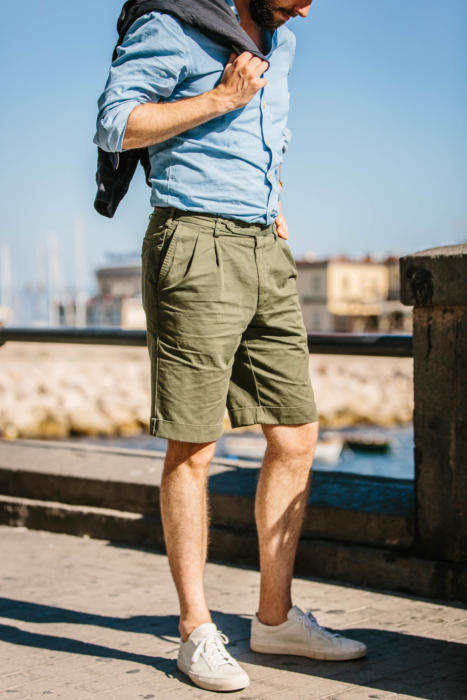 As ever, please let me know if I've forgotten anything, or you have any questions.
Thanks everyone for your support
Simon
Photography: Khaki, James Holborow; Navy and green, Jamie Ferguson