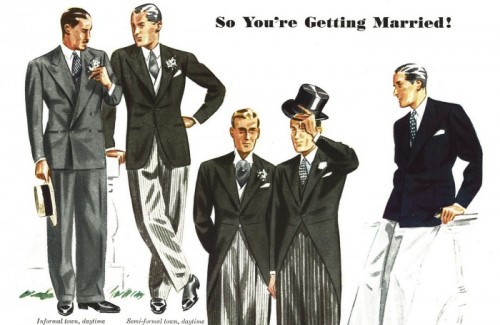 Many of those attending a wedding this summer will feel they should have some sort of summery outfit, a linen suit perhaps, or at least something sporty in pale grey. Those who turn up in their dark blue business suit will probably feel a little underdressed, aware they didn't make an effort. Yet they are probably the most correctly attired people there.
Wedding attire has changed over time, just like men's formal dress generally. What was once the absolute minimum is now the realistic maximum. But there are a fair number of constants, and a range of more or less formal options one can go for while still being satisfyingly traditional.
At the most formal end of the spectrum is the morning coat (a version of tails) in black or dark grey. It usually has one button at the waist and tails that fall onto the back of the knees. It is worn with mid-grey striped trousers. Above the waist is a double-breasted waistcoat in pale grey, cream or buff (creamy yellow). Shirt in white or with white contrast collar (preferably separate), most formally wing collar, with an ascot. Then accessories, white linen handkerchief, flower in the buttonhole etc.

This get-up is probably what you will get if you hire a wedding outfit. It will be poor quality, fit badly and be stain resistant. Most importantly, it will offer no opportunity for personal expression.
So, let's take the formality down a notch. First, the shirt – this can be a smart white shirt with a normal collar. If you happen to own a contrast-collar shirt, with the body in blue or blue stripes for example, this is the perfect opportunity to wear it. If you have a wing collar shirt of your own (perhaps to go with your black tie/tuxedo) then wear that. Either way, at least the shirt is your own.
Second, dump the ascot unless you own one. The one from the rental place will be the same as every groom or wedding guest has worn and will have no personality. Instead wear your favourite tie in a summer hue – perhaps a gold satin, or a Macclesfield grey.
Third, the trousers can quite easily be your own. If you own a mid-grey pinstripe or chalk-stripe suit, wear the trousers from that. Even a sporty check is acceptable, as long as it is the right grey to contrast with the very dark jacket.
So here is a decent alternative. Rent the waistcoat and the morning coat, and wear everything else your own. They will fit better and probably be of better quality.
There are two further options. One, wear the waistcoat from another three-piece suit you own. This should really be either a tan linen, or a pale grey wool. I'm sure there aren't many people out there who own either, but if you do then the whole get-up is yours minus the jacket.
Which is where the stroller comes in. This is semi-formal day wear, but given that everyone else will be in linen suits, it is still pretty formal. The stroller is a short jacket in dark grey or black, single or double breasted, with peaked lapels. Again, it is worn with striped or checked trousers in a contrast grey, and can have the same shirt, tie and waistcoat as mentioned.
So wear whichever of these items you already own and combine them. The outfit will be traditional, but you will be largely wearing your own, personally picked and fitted clothes. Perhaps most importantly, you will also look different to anyone else no matter how formal or informal they may be. There is nothing worse than the whole wedding party wearing the same ill-fitting, shiny outfits. It's supposed to be a special occasion, and they're wearing nylon.
Myself, I own all these items save the waistcoat. But then maybe I'll have a buff one made before the next wedding I go to.
P.S. To complete the argument begun in the first paragraph – the next level down from this outfit for a wedding is considered to be a dark suit combining some of these elements, such as a double-breasted waistcoat or perhaps a double-breasted jacket. There is therefore a good chance that your friend who turns up in his dark grey, double-breasted office suit will be better dressed than every ball of wrinkled linen dotted around the church. Linen is for summer, but not for weddings.