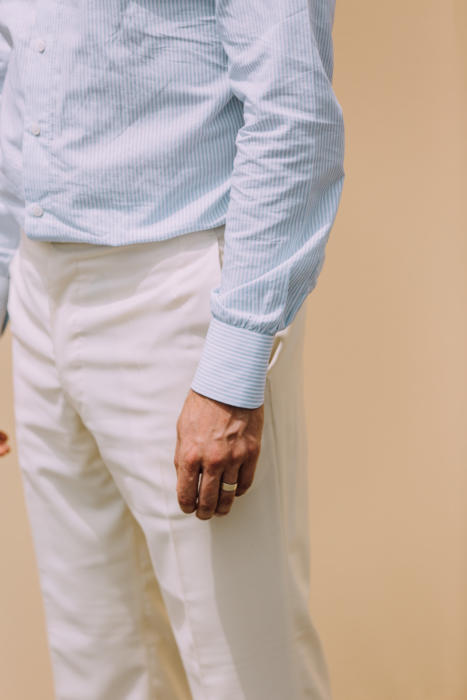 Readers have asked for a while for this post: something recommending a core, versatile shirt collection.
The idea of suggesting such 'capsule' collections is that they help a newcomer build a wardrobe, prioritising the things that will give them the greatest versatility with other clothing and in different situations.
Previous capsule collections on ties are here, and handkerchiefs here.
With shirts, such a collection can seem pretty straightforward. But there are a surprising number of variables, and formality drives decisions more than with other accessories.
To deal with this, I've listed below two separate shirt collections: one formal (for a fairly professional office) and one informal (for an informal office, or casual wear).
The reader can then pick their own capsule collection by selecting five shirts from the two lists that best suit their life and lifestyle.
Formal capsule collection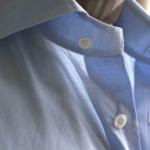 1. Plain-blue poplin
Poplin is the most versatile of weaves for a business shirt (detail here). Light blue is the most versatile colour (it goes with more colours and flatters more skin tones). And a plain shirt goes with the most ties, knitwear and tailoring (no clashing of patterns). This is the place to start for a business shirt, therefore. You may even want two in your collection of five.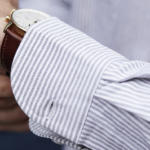 2. A thin or pale stripe
Stripes are the easiest way to add interest to a shirt, and are usually a nicer partner for a solid tie. But keep the stripes thin or pale so that they don't risk clashing with a tie or suit with similar density of pattern. A bengal stripe is one of the most popular and appealing choices – just keep the blue quite pale.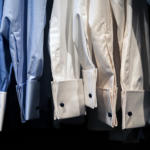 3. Plain white
White is always the smartest colour, and every man should have one in their wardrobe.
Smart and sombre with a dark tie with a small geometric pattern; summery with paler and brighter colours.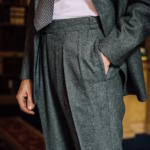 4. Pink
For most business environments, the first colour after blue and white is pink. Gone are the days when this was considered effeminate – today there's greater risk of it making you look like a banker or lawyer, if you are not one. Either way, it's great with dark ties and a beautiful partner to grey suits. Keep it a pale, though.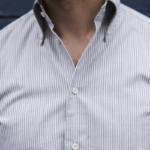 5. Vary the collar or cuffs
For ease and simplicity, I'd suggest having all these four shirts in the same combination of collar and cuff – say a moderate spread collar and a single cuff. Your fifth could repeat one of those, but in a different design: a plain-blue button-down perhaps, or a white shirt with a double cuff.
Informal capsule collection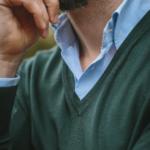 1. Chambray, plain blue or white
Chambray is hard to pin down, as by definition it's just a fabric with a coloured warp and a white weft. But it has come to mean one with slubs in the weft creating an irregular, and therefore more casual, texture. In this guise, it is the perfect bridge between formal and casual. A cotton/linen mix can often achieve the same effect.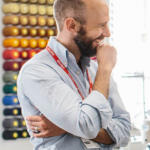 2. Button-down oxford
A traditional oxford shirt is one step further down the formality scale. Still lovely with a blazer and flannels, but also at home with jeans. Get a thicker, traditional oxford with a rougher yarn that creates more texture, and helps it age well. Probably plain blue or a blue/white stripe, and with a button-down collar.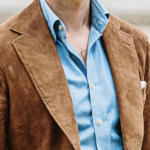 3. Denim
Another step down the scale is denim. A denim shirt can be worn with tailoring, but is an unusual choice. It's partner in terms of formality is a pair of chinos or similar casual trousers: canvas, corduroy, moleskin. It can go with all of them though, and is therefore quite versatile. Just probably not with jeans.


4. Brushed cotton
A brushed-cotton or wool shirt is clearly casual, but can happily be worn under a woollen jacket. A nice variation in texture, which often makes it nicer in simple colours and patterns. A grey, a cream, a light-blue herringbone. Linen is, to a certain extent, the summer equivalent.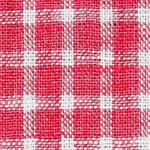 5. A gingham or tattersall check
In terms of variation by pattern, checks largely belong in the casual collection, with stripes in the formal one. The biggest problem with checks, though, is they come with baggage. A tattersall check might be too British rural, Madras too American preppy. There will often be one that escapes these in your eyes – and if there isn't, add another oxford or chambray in a different colour.
Selecting five out of those 10 should give you a good capsule collection. Which would best suit your office?
Photography: Jamie Ferguson or Permanent Style, except 2 and 5 striped shirts, James Munro