A collared cardigan under a jacket: Ciardi and Colhay's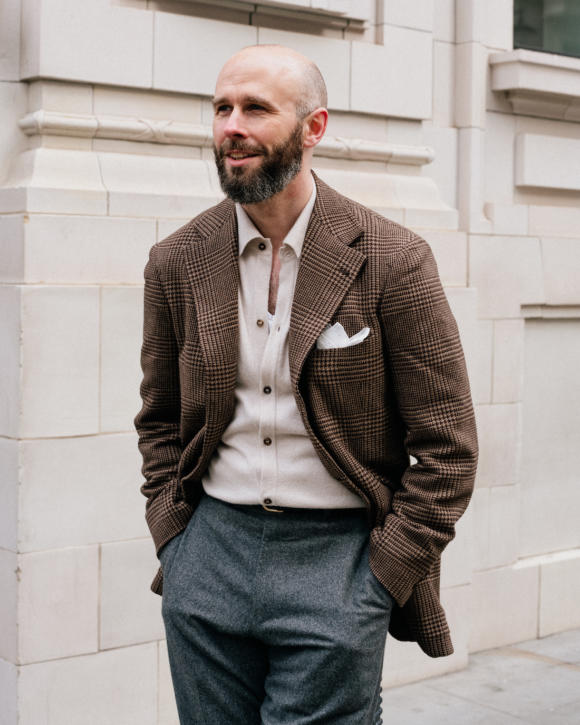 In recent weeks I've been playing around with this button-through cardigan from Colhay's.
Initially I was sceptical as to whether I'd ever wear it tucked in - and afraid it was a little lightweight to wear untucked. The same fear put me off the Stoffa version a couple of years ago.
Fortunately, I've found I quite like it tucked in, as shown here under a new jacket from Sartoria Ciardi.
It's an unusual look, but it feels more natural to tuck in something like this - with its shirt-like buttoning and lack of ribbing at the hem - than a regular sweater.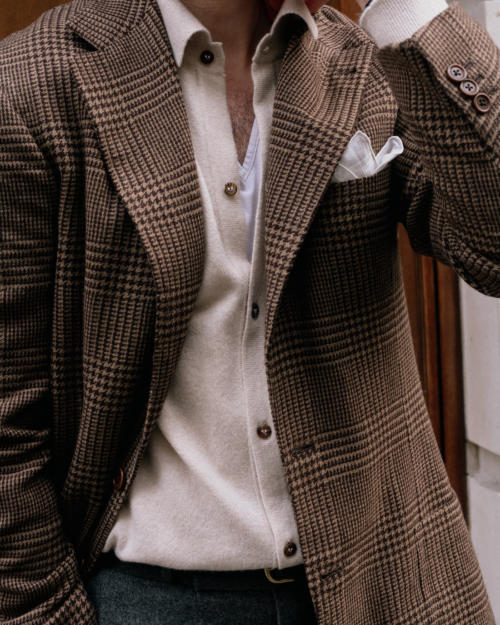 The visual softness of the material, combined with the off-white colour and roomy fit, also reminds me a little of an 80s or 90s Armani aesthetic.
There aren't the same wide-shouldered proportions to the tailoring, but the Ciardi jacket is similarly soft, and it's roomier than other Neapolitan cuts.
The colours are also suitably subdued and tonal, while the materials are packed with texture - particularly the heavy (19oz) Fox flannels and cashmere cardigan.
Even the belt (alligator, Rubato) feels a little reminiscent of that style, as well as adding a bit of visual interest in the absence of a tie.
The only practical problem of the cardigan under a jacket is that the collar isn't designed for it - now and again it will slip under the lapel, or flip outside of it.
It doesn't annoy me too much, I even like the occasional accidental sprezzatura. But if it does, I still like the cardigan tucked in without a jacket (as shown above).
The fineness of the cashmere means it doesn't balloon that much at the waist; indeed, the knit's texture and stretch naturally prevents it, as long as the waist is reasonably tight.
Right now, I like playing with the cardigan unbuttoned a little too, and don't mind showing a little of the undershirt. But if I change my mind, or for readers who don't want that look, it also works with one button buttoned - the regular height I'd fasten a normal dress shirt.
Although, having said that, it is nice to have some white setting off oatmeal colour of the cardigan. It makes tonal colours like this much easier to wear - less likely they'll wash out the wearer.
I think you can see this below. With the cardigan buttoned all the way up to the neck, and no white showing any more, the oatmeal doesn't look quite as good against the skin.
If I was buttoning the cardigan a little higher, therefore, I would wear a regular T-shirt underneath, so a little bit of white was still showing.
The handkerchief performs a similar role in the outfit overall, preventing it all becoming too flat and tonal. There's nothing wrong with that kind of look, but personally I find it more pleasing to retain some contrast.
That can also be achieved by introducing contrast in the materials - for example wearing a shiny calf loafer rather than a matte suede one, as here.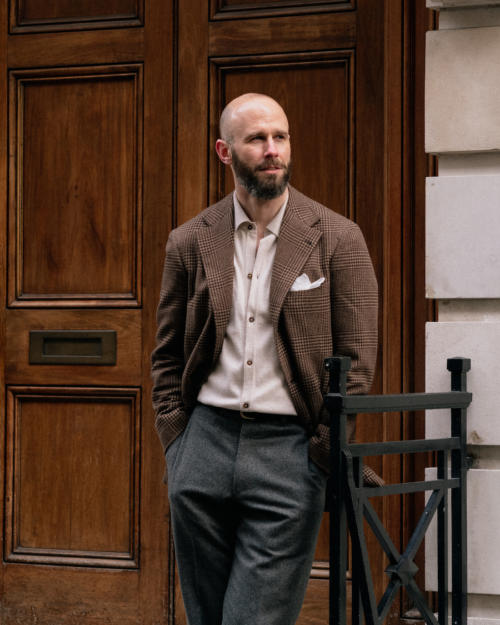 Readers will be familiar with this cut of jacket now, from Neapolitan tailor Ciardi. It's my favourite non-English, casual style, and I've shown it often enough - with this gun-club check for example.
It's so nice having a tailor you trust, driven by the fact he delivers time and again. There are never any mistakes, the fit is basically perfect every time: it removes all of the potential uncertainty and risk of bespoke.
It's hard to know exactly how I would commission clothes if I wasn't writing Permanent Style. My choices are always going to be a bit of a hybrid between returning to makers I love, and trying new ones in order to show readers all the options.
But I'm pretty sure I'd end up sticking with two or three tailors, largely based on style. A soft make like Ciardi or The Anthology, perhaps, and an English drape like A&S or Steven Hitchcock. Then the occasional one from Ferdinando Caraceni, Cifonelli or Edward Sexton for one-off pieces.
I don't know how quickly I would have got to that point without PS either. Most people know they should stick with a small number, but feel the constant pull of interesting alternatives. But I would have got here in the end.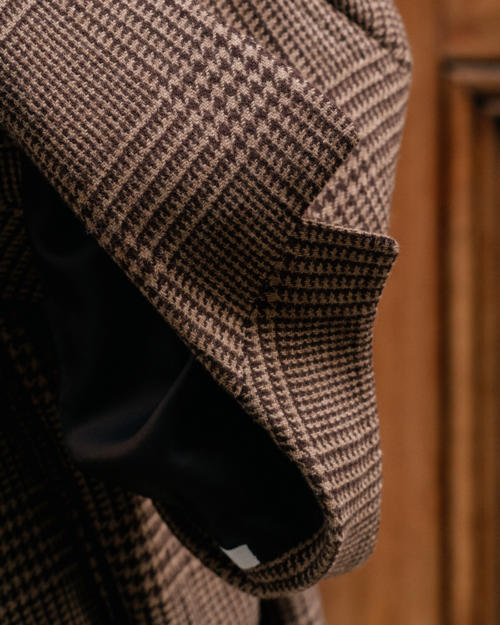 The cloth is AIT-070 from Anglo-Italian. I bought it about two years ago, but given Enzo Ciardi's inability to travel during Covid, it's only now that I'm seeing it made up.
I was interested to try this one from Anglo because it's a mixture of wool and cotton - which I've never had before - and has some polyamide too. When Jake started doing his own cloths, part of the reason was the ability to do different combinations and finishes, so it was good to try it out.
As I've said before, there's nothing necessarily wrong with a little synthetic in a material, as long as it's there for a reason. Or rather, a reason other than saving money.
Here, there is a place for it, which is keeping the rather loose weave together. Anything that is more loosely woven is going to be more apt to stretching over time, and that's a particular risk with cotton (think how much better wool knitwear performs compared to cotton). So the polyamide is the only way to achieve this mix.
The loose weave is lovely - the material is really comfortable, soft and stretchy. And I think the cotton gives the material the material a more flat, matte surface.
The only downside is that those two things mean the cloth doesn't feel so luxurious - I can understand someone feeling that they would prefer a pure wool, whether a superfine worsted or a sturdier tweed. So far, my thinking is that while I really like the jacket, I would probably use it for occasional commissions, rather than stopping using more regular tweeds or cashmeres most of the time.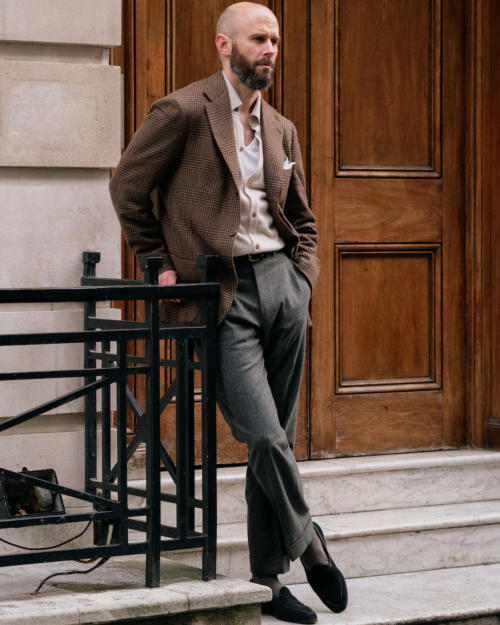 The other clothes shown are:
And links to the ones already described are:
Photography: Alex Natt @adnatt