How relevant is 80s Armani?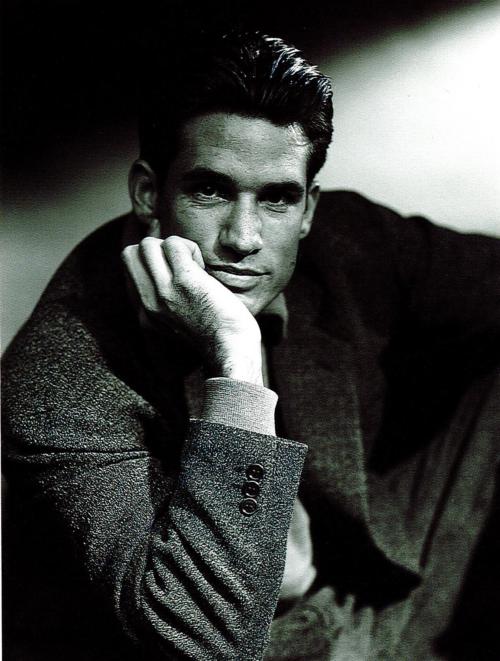 By Tony Sylvester
It might seem counterintuitive to be talking about past fads or subcultures on a platform named Permanent Style. But while it is certainly admirable for a man to build a wardrobe around the timeless and perennial, it would be foolish to suggest that some sense of the ephemeral will not creep in.
This is only natural. An inquisitive mind searches out that which is novel, while anyone with a passing interest in the history and culture of how people have dressed cannot help but be taken by the discovery of some long-lost detail.
To my mind, the key to preserving accord while taking inspiration from the past is to cast a critical eye and to 'pull back', viewing from as wide a point as possible, using the lessons you have learnt of what works for you as a filter.
Every era has its acolytes and naysayers, but perhaps the most maligned decade of 20th Century menswear is the 1980s. The brash arrogance of the Thatcher/Reagan years is ripe for parody and derision, and has not seen quite the same re-evaluation as the luxuriously androgynous spirit of the 1970s (currently in vogue in some tailoring circles).
The 1980s are viewed as a time when a vibrant underground provided the sartorial dynamism, while the mainstream remained irredeemably naff and drab. I would like - in this article - to provide a counter-argument in the form of the pioneering work of Giorgio Armani.
In 1975, Armani launched his eponymous label after a decade working as a freelance designer for fashion brands in Italy. Immediately focusing on luxury, ready-to-wear menswear, his first collection for SS76 - shown at Pitti that year - exhibits an incredible confidence.
The nascent hallmarks of his signature approach are already there: a generously draped silhouette, a muted palette, and a preference for soft inviting textures.
We are fortunate that Rizzoli published a coffee-table sized monograph in 1990 entitled Giorgio Armani: Images Of Man. It chronicles the collections from this all-important decade, and illustrates all three prongs of his attack.
Right from the early looks, we can see how Armani plays with proportion.
A shearling blouson (above) is cut extraordinarily high for a piece of outerwear, sitting and fitting as close to the waistline as the trouser, mere inches below an oversized raglan sleeve.
Overcoats and trenches exhibit similar billowing folds of fabric at the chest, while being dramatically cinched at the waist, suggesting the look of a comic-book strongman.
The presumed formality of a double-breasted suit (above, top) is softened with an extended shoulder line, and a relaxed, baggy cut.
Whole looks are built off single colours, the tight focus making slight contrasts in tone much more dramatic.
The use of pale greys, washed greens and beiges, meanwhile, signals the influence of militaria and field clothing, and contributes to a faded lived-in feel.
Examples of both, extracts from early and late eighties collections respectively, are shown above.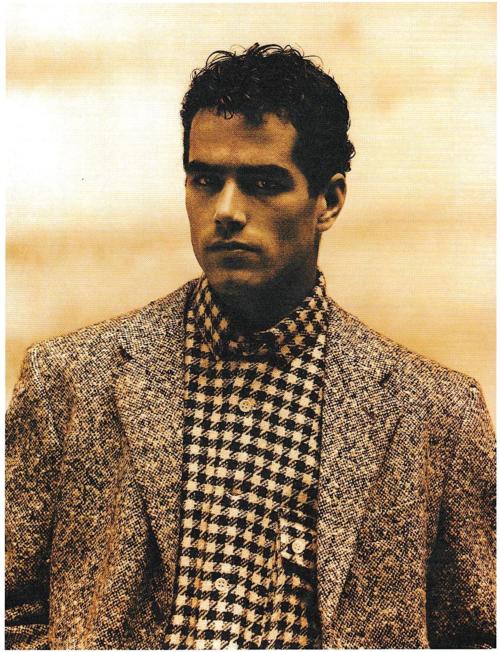 Texture is used to create contrast. A donegal tweed jacket paired with a surprisingly robust-looking shepherd's-check shirt creates unexpected harmony between the pattern sizes (above).
Elsewhere, the heavy stripe of an overcoat lies over the deep diagonal line of a cavalry-twill trouser. And a chunky polo plays off the marl of a covert-cloth sports coat, the whole look rich and tactile, despite being shot in monochrome.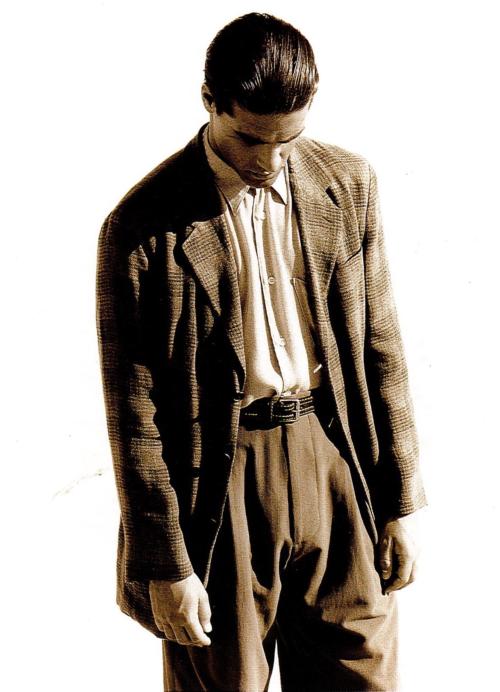 There is much to take from in the collections, and it's astonishing how many of the outfits have resonance today. Bigger proportions have been around for several years among both mainstream and designer brands, and tonal dressing has become a constant theme for both the fashionable and sartorial.
Personally I find the use of pattern particularly striking, as well as the lack of traditional colour combinations.
A navy blazer with Armani will be shot through with a warming grey, while Prince-of-Wales checks are exploded into oversized detail, and sports coats use jacquard-like weaves rather than more commonplace windowpanes.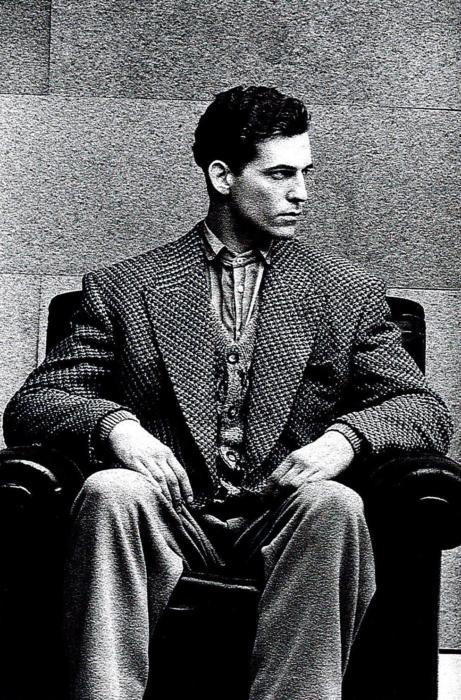 As the book ably demonstrates, Armani's work was thrust into its best possible light by his collaboration with photographer and graphic designer Aldo Fellai.
Colleagues from their freelance days, Fellai's pictures add an immeasurable merit to Armani's work - casting them in a genuinely revolutionary manner. It opened up the vistas of how clothes would be visually marketed for years to come.
The focus on black and white imagery, astonishing for a clothing brand when you think about it, would become the de facto tool for many trademark campaigns of the nineties. You simply would not have The Gap's or Calvin Klein's iconic billboard ads without their innovation.
I can see the throughlines with some modern brands.
Yasuto Kamoshita (above) certainly carries that utility of function in his Camoshita line, along with unexpected combinations of soft, washed colourways.
One of my favourite pieces in the Rizzoli book feels very current: a stunning piece of outerwear in the form of a hybrid of sorts; the classic alpaca 'teddy bear' coat crossed with the simplicity of a robe; an extremely generous shawl lapel, ankle length and turnback cuff adding to the visual delight (below).
I was lucky enough to find one in a rich ruddy brown in impeccable condition on eBay a while back, a rare find 20 years after its make. The Outer Gown by London brand Gownsmith has something of the same feel to me, in spirit if not detail.
Perhaps the contemporary label I most closely associate with the pioneering era of Armani is another London-based maker, Scott Fraser Simpson (below).
His Scott Fraser Collection nominally takes its cues from an earlier time - the 'modernism' of mid-century style - and yet something of the overall look owes a visual debt to Armani and Fellai.
Catching up with Scott, he concurs. "I think it's the proportions. The generous armholes and deep drape that allow you to not look or feel pulled in or constricted. It adds that relaxed feel but with a head nod of consideration. It's always been my plan to bring more of that generosity into the flow of my clothes."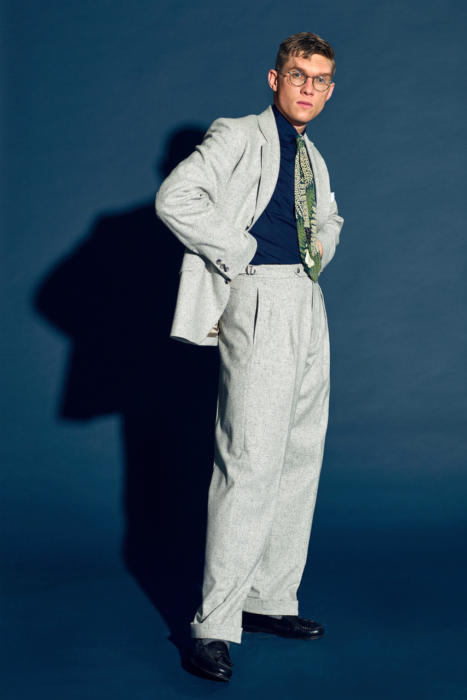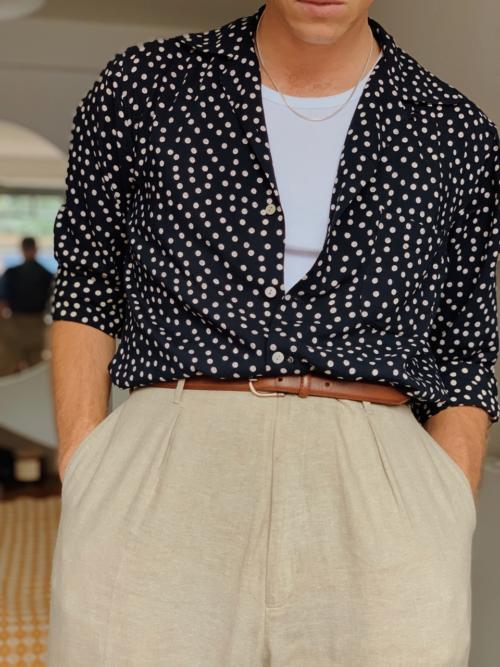 "What I love about this is that clothes can transcend different occasions", he continues: "when you want to be formal or when you want to be casual. It breaks those boundaries. It is thoughtful without typecasting the wearer.
"The other element is the fabrics. In those Armani collections you got chunky tweed on top of a birdseye check and a pinstripe, all thrown together.
"There's an unexpected artistry to the blend which has changed the way I look at fabrics and how to put them together. I'm forever searching out old rolls of deadstock fabric and end-of-lines to get that same effect."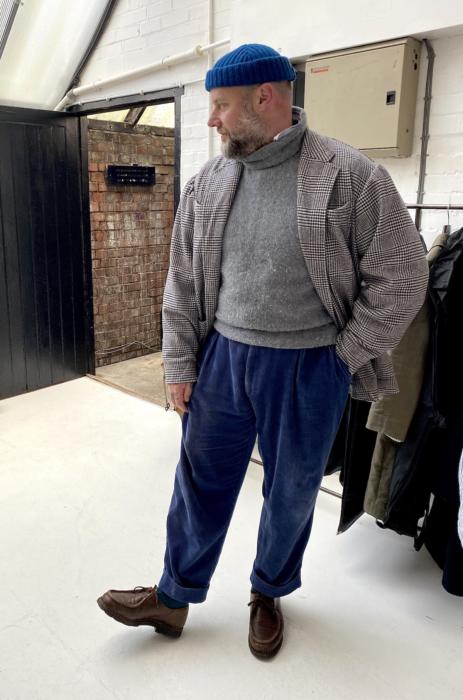 As Harold Koda puts it so eloquently in the introduction to Images Of Man, "Giorgio Armani's clothing for men from 1975 to 1990...constituted [a] profound inquiry into textile, comfort, the equilibrium between leisure and business".
Post-Covid, will we not be asking ourselves the very same questions of our wardrobes?
I feel like I already am, thanks in no small part to the imagery here. More restrictively cut garments have been sent to the back of the closet, shirt and knitwear purchases have been sized up, and newer commissions from Fred Nieddu at Taillour have ventured into much more relaxed territory (above).
Shoulders have extended a little, sleeves are wider with more room in the chest. Trousers have deeper pleats, there's less taper from the knee and cuffs are rounding out at 9.5 or 10 inches.