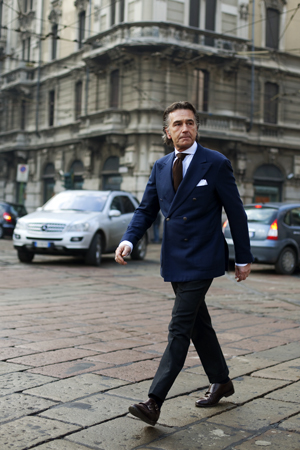 This is a wonderful time of year. Yes, last Monday was meant to be the most depressing day of 2009 (cold, short days, post-Christmas and the middle of the month). But the runway show season has started.
Not that I get to go to the shows. Nor that I find the shows themselves that inspiring – not consistently anyway. But I love Scott Schuman's photograph's of 'the off-runway scene': what all the people attending the shows are actually wearing.
This year's selection started on Saturday in Milan. I recommend going here and starting at the beginning.
My personal favourite from this collection so far is Gianpaolo Alliata, striding across the paving stones in a double-breasted blue blazer, brown tie and white handkerchief. Below, he wears dark-grey trousers, ever-so-slightly short, and chocolate monk straps.
A masterclass in simple yet effective dressing. There is zero pattern on display, which you'd think would make the outfit appear dull, uniform and without highlight. But the cut is precise – cut above all, fit above all, the Italian maxim – that it all seems supremely balanced and packaged.

I also love the portrait of Lino Ieluzzi. Posing next to a picture of himself in bandana and navel-exposing shirt, Scott rightly points out that Ieluzzi doesn't take himself too seriously. Which is wonderful attribute to have in a stylish man, akin to someone who always seems perfectly attired yet never adjusts his pocket handkerchief.
Select them with care and then forget all about them, as Amies would say.
Particularly fascinating about Ieluzzi is that his style is still identifiable several decades later. Even without the super-tight trousers or big collar that very specifically date the photograph, there is consistency in the approach to clothes.
The simple colours. The open-necked blue shirt. The cocksure pose and the wispish hair. Little has really changed – he's just grown into a style that is more mature and less of its era.
As always, it is interesting to see how particular people dress at particular shows. The monotone man going to Costume National. The Burberry couple that look like they are actually in a Burberry advert.
I can't wait for the Ralph Lauren show – the people Scott shoots there actually seem more RL than the models on the catwalk. As if the dream that Lauren tells everyone he is selling has been filtered down through a dozen different personalities.
I also recommend subscribing to the RSS feed available on the same page. It's a little drop of inspiration every day.