Foster & Son is one of the great names of British bespoke shoemaking. In recent years, that reputation was largely founded on master lastmaker Terry Moore.
I only got to know Foster's relatively recently, after Terry retired. Changes of ownership and direction got in the way, and it was only when Andy Murphy joined to company from Cleverley's that I got in and met the team Terry put together before he left.
I'll cover the team and their work over a series of upcoming posts. For the moment, I thought it was interesting to show the Foster's archive of bespoke shoes.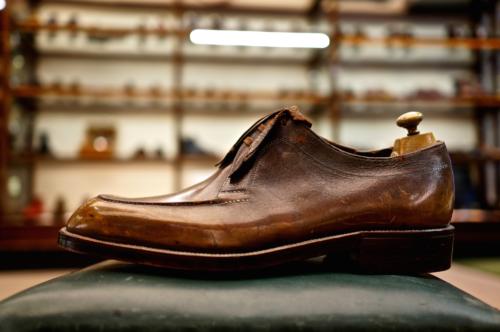 Anyone that has been up to the bespoke workrooms above the shop at 83 Jermyn Street will have seen the shoes arrayed on shelves up the stairs. These are all bespoke samples. Historically, every time Foster's made a significantly new bespoke design, they made a single sample shoe to retain it. Some other bespoke shoemakers did the same thing, but made a pair. Problem was, over time those pairs got sold – someone was always short enough on cash to want to sell them off.
Foster's is fortunate to have a great archive of styles, therefore, some of which I have pictured here. There's nothing entirely new about any of them, but it's interesting to see an English shoemaker offering some fairly daring designs.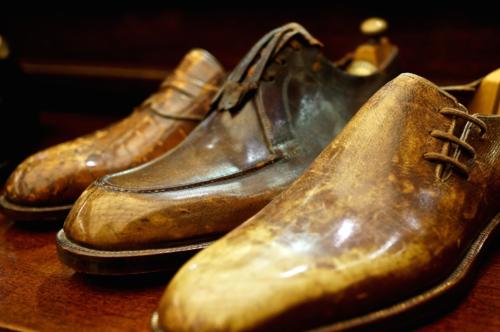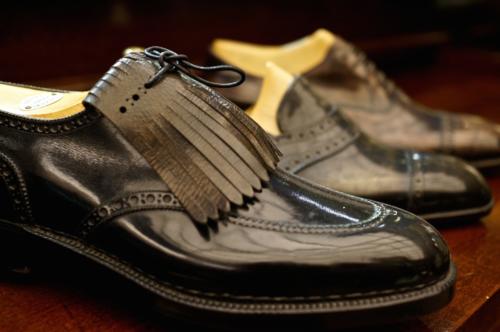 It's also interesting how some of those have aged. Foster's became known for the 'Foster's fade' on its shoes that came from pairs being in the window for years at a time. The sunlight faded areas such as the toe cap and heel, creating a rather pleasing bleached effect – you can see it to particularly good effect in the top photo.
Andy and the others at Foster's have been working on a range of ready-made shoes that incorporate some of these designs and approximate the fading effect, which I believe will be available later this year. It will be interesting to see how they get on.
For those interested in Foster's ready-made shoes, they do three different lines: Classics (from £365), which include the loafer models they are particularly known for; Maxwell (same price) for heavier, country shoes that use a similar last to the old, bootmaking brand Maxwell; and Heritage (£475), which are the top end and are all hand-lasted etc. All made in Northampton by various factories.