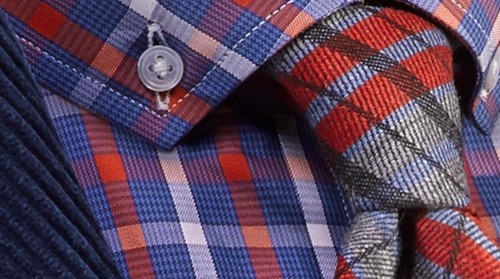 Over the past few months, Turnbull & Asser has gone through an interesting experiment, attempting to extend its signature bright colours and clashing patterns from tailoring to casual wear.
While not all the results are to my taste, the methods employed by Dean (Gomilsek-Cole, head of design) to make that transition are worthy of exploration. He calls it the Informalist – as in the flip side of formal. "I prefer that than talking about things being casual. Casual implies a casual attitude to clothing, for me, whereas I know our customers take what they wear at the weekend just as seriously as during the week."
The interesting thing is that Dean didn't change any of the colours from Formalist to Informalist. He just softened them, through different weaving techniques and including other colours in the yarn or the weave, particularly greys. There are navy jackets, but they are corduroy, rather than worsted. Many of the materials are melanges, which immediately softens whatever it is woven into.
"I particularly used an indigo and pale-grey melange, to bring down colours like the magenta and imp-green that we are using on the formal side," he says. "Then there are a lot of oxford weaves and herringbones in the shirts, which also serve to break up the colours. The formal side is largely poplin, which makes the colour much bolder."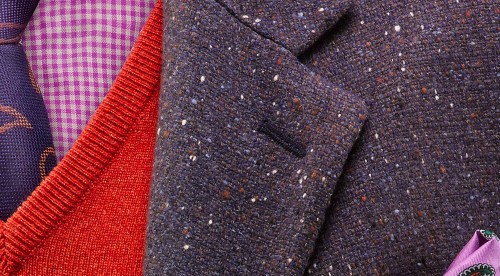 "What's really interesting [we both seem to use that word a lot…] is when you take a checked shirt, with say a grey base and bright colours on top, and then remove the weft of the check. Suddenly the check is a stripe, and you have this classic casual material in a slightly more formal pattern."
With the casual shirts Dean has also achieved a lovely soft handle, by using slightly looser versions of those casual weaves. This replicates much of the feel you get from washed or otherwise treated shirts, but avoids that artificially faded look. The cotton is also not quite as fine – two-fold 80s rather than 120s.
When it comes to styling, Dean admits that not many people will wear all his pieces together, as they are in the combinations here: "I'd love it if they did, but I know not everyone is a full dandy." He does say that all of the pieces were deliberately designed to work together, however. So no matter how jarring some of the combinations might look, it's worth starting by putting one or two of them together, and see how you like the affect.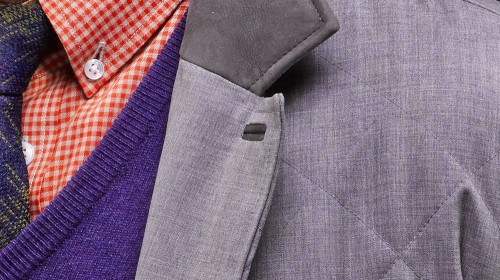 "Guys are actually used to wearing more colour at the weekend than during the week, so it's easy to experiment with a subtle pattern – say one of our tiny ginghams – in a bold colour. And of course they are nearly universally softened with that grey in the weave.
"It may not look it at first glance, but the colour palette is actually very tight – the purples, blues, greens, are all very similar, which helps those combinations. You can 'dial up' the colour or dial it down."
You can get a better idea of that with the items on their own, on the Turnbull & Asser website.