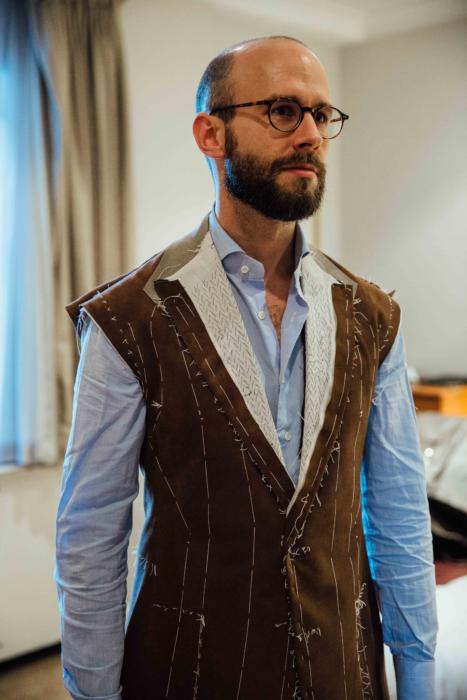 One area that fascinates me – perhaps more than any other – in my writing is the overlap between formal tailoring and more casual dress.
If it is possible to retain the beautiful craft aspects of bespoke tailoring in casual clothing, as well as most of its aesthetic appeal, then it has far greater potential.
I work in one of the most formal business environments in the world, surrounded by lawyers and barristers, yet even here a small minority of men wear a suit and tie.
I want everybody else – for whom wearing a suit and tie would be seen as odd, not to say inappropriate, in their office – to get into bespoke and craft as well.
The starting point should be softly structured jackets (likely Neapolitan); the second is probably better knitwear (fitted, and button-through to mimic a jacket); but third on the list, and definitely most excitingly, is leather.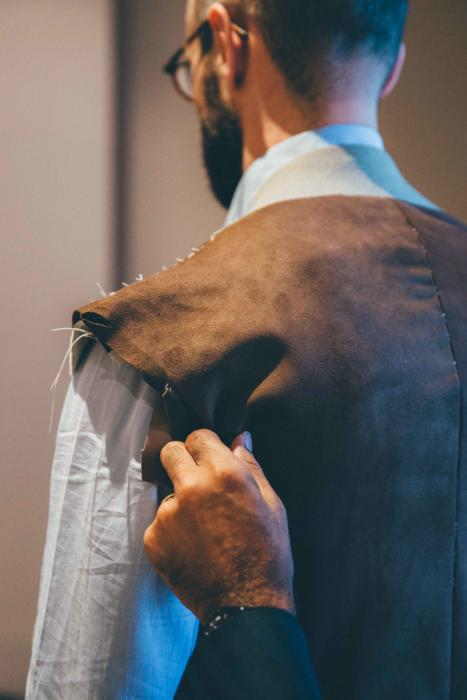 Readers will know that I had a bespoke leather jacket made by Davide Taub at Gieves & Hawkes two years ago. That was lovely, and included many aspects of bespoke (fit, proper shoulder). But it was essentially a casual garment; its roots were in biker and airforce jackets, not tailoring.
This new project, with Parisian masters Cifonelli, is a different matter.
We set out to make a suede jacket cut exactly like a tailored jacket. Perhaps a touch shorter, perhaps a touch looser (suede doesn't stretch as much), but obviously a piece of tailoring.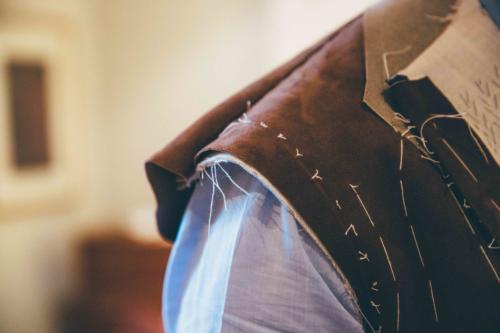 It's easy to see a man wearing this just like he would a tweed jacket. With grey flannels, a blue button-down shirt and a navy merino crewneck. It wouldn't be what he wore to a meeting (navy cashmere blazer and Dartmoor sweater, perhaps), but it would mark him out as one of the more senior members of staff.
And the beauty of the piece would show both taste and status (let us not forget that formal clothing has always involved 'codes' implying social and professional status).
Now, very few tailors in the world can make a bespoke suede jacket. Even Davide at Gieves was only able to do so because he personally knew a leather outworker from his Maurice Sedwell days.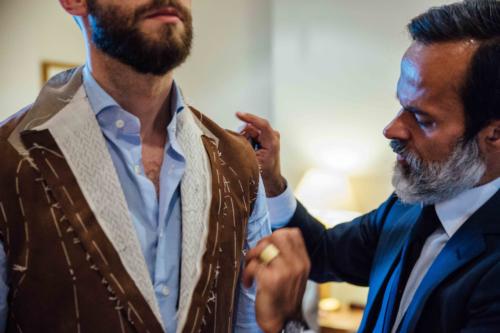 French tailors such as Cifonelli, Smalto and Camps de Luca are different. They regularly make in leather – or at least often enough to have in-house tailors that the cutters can turn to for leather work.
This jacket will have two buttons, two patch pockets and a shirt-shoulder (the Neapolitan way of making a jacket with the sleeve running underneath the shoulder, rather than folded on top of it).
Incidentally, the shirt-shoulder is one more thing Lorenzo Cifonelli (above) has taken on and mastered in recent years. He now has tailors who also specialise in this construction method – alongside those for leather, DBs, overcoats etc.
The make is exactly the same as a suit jacket, with shoulder padding, a hand-padded chest and lining. Seeing the normal Cifonelli hand work on butter-soft suede is a thing of beauty – I'll do a separate post on that next week.


Photography: Jamie Ferguson. @jkf_man