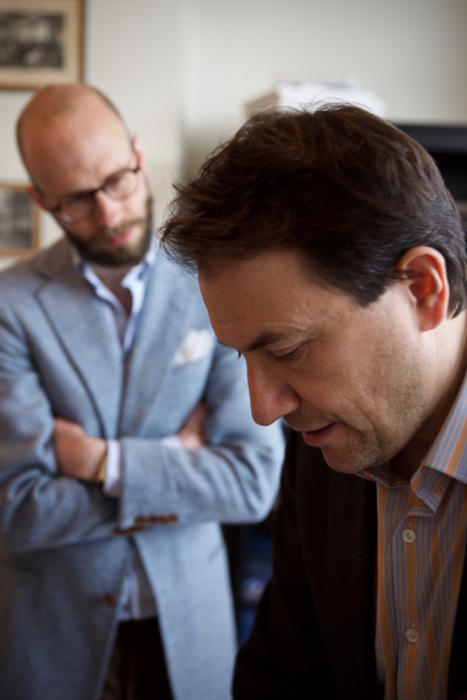 Simonnot-Godard is an interesting company. It dominates what is a (very) niche market of high-end woven cotton and linen handkerchiefs.
That market that has grown substantially in recent years. When Benjamin Simonnot (pictured above) started travelling with his grandfather's suitcase in 1999, selling to the world, the company had 70 accounts. Today it has just over 300.
But you can't help fearing this is rather fashion-driven. A lot more guys wear handkerchiefs now than 17 years ago. How many will in another 17?
There is some competition in the world of handkerchiefs, but mostly at a lower quality level. The ones stocked by most of the big brands - even if more expensive than Simonnot-Godard - are rarely as fine.
There are a few other good producers around Europe. Spence Bryson in Ireland does heavier linens; Carlo Riva and other shirting producers in Italy; there are two or three in Switzerland; and then many that print onto handkerchiefs.
But Simonnot-Godard's biggest challenge in recent years has been cheaper producers. Many won't differentiate between two white-linen hanks, after all.
And some have followed fashions established by S-G like white hanks with coloured edges - but digitally printed the colours instead.
In response, Benjamin is focusing more on complicated woven designs - usually where lines of satin cotton are woven in different lines along the edges (above).
These satin patterns were one of the things Simonnot-Godard used to be known for, as well as its multi-coloured designs.
I spent a good time looking through all the old books during a recent trip to Benjamin's home in Brussels (although the production is all in France, Benjamin and his family moved the HQ to Brussels years ago, partly for its schooling.)
Simonnot-Godard used to do all sorts of linen weaving - table cloths, sheets, napkins. It also did shirtings until recently.
Perhaps more interestingly, it used to design and weave cloth for the women's couture industry. Many of the archive books (above) are dominated by beautiful watercolour pitches for that work, with Chanel among others.
It is also striking how much colour is in the old handkerchief designs - something Benjamin is focusing on more and more.
It's not always possible to replicate the exact colours, sometimes because the dyes are now illegal and sometimes because the pieces were woven with a single-ply cotton they no longer use. But the results are still pretty lovely.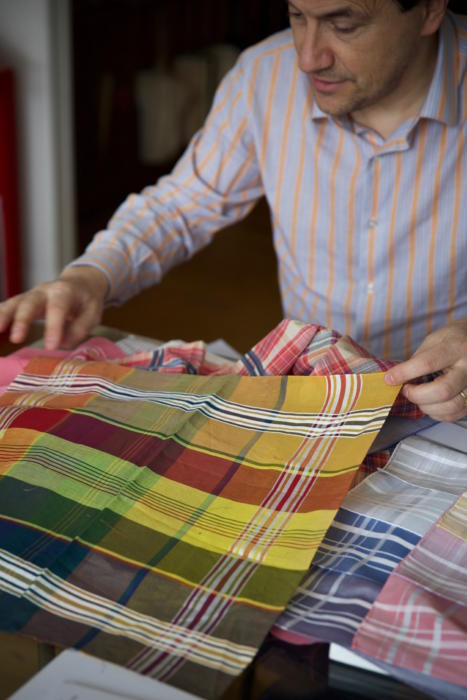 Benjamin is also planning to focus more on limited editions - small runs that won't be repeated. This is likely to be the more colourful designs, rather than the white or blue basics (or still my favourite - the Smoking).
His recent sale of 'fil de bouche' pieces (below) was similar in a way: a collection of archive pieces produced in 1906 with a weaving technique no longer used, as it proved to be very unhealthy for the weavers. The Hanger Project still has some.
It's a similar quality to hanks you see in vintage stores today, which also often have very fine embroidery (although single ply and often a little flimsy by modern standards).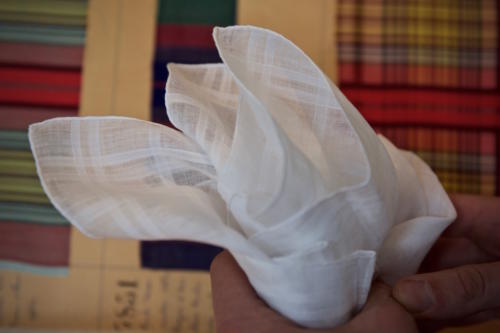 It will be interesting to see how Simonnot-Godard evolves over the next few years. Their decision to specialise is pretty much required these days to survive as a European manufacturer. But it does leave you very open to the way that niche market waxes and wanes.