**Please note, this was a one-off collaboration and is no longer available**
French storied manufacturer Lavabre Cadet makes the finest gloves I've ever worn - but they don't have many outlets, particularly not in their full range of skins and finishes.
As a step towards correcting that, we are launching a joint collaboration today between Permanent Style, Lavabre Cadet and Anderson & Sheppard.
A range of gloves I have selected will be available made-to-order (MTO) through the Permanent Style shop. And for those in London, Anderson & Sheppard will be offering them in Clifford Street, alongside samples of the leathers and sizes.
[Ordering online is done through emailing me at [email protected] to confirm details, and then payment on the Permanent Style shop page.]
The size is important, because one of Lavabre Cadet's selling points is the fact it offers quarter sizes - where pretty much everyone else only has half sizes.
So those that order will be sent details on how to measure their hands, and may well find a quarter-size match, giving them a better fit.
We also encourage people to trace their hand and include it with their order, so the Lavabre atelier outside Paris has all possible information.
We've deliberately picked three leathers for this collaboration to cover a range of price points (all prices ex-VAT):
Goatskin, black or brown: £160

Lambskin, black or brown: £250

Peccary, black, brown (pictured on me), cork or grey: £320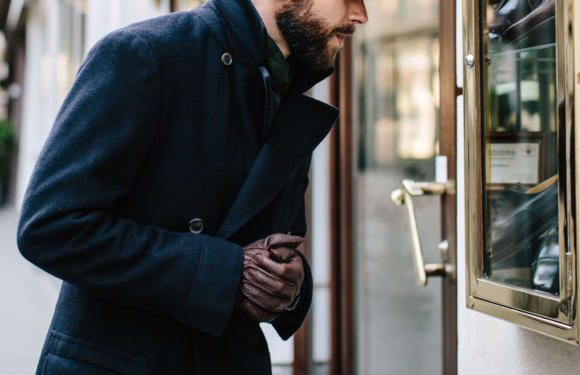 One of the things I immediately notice in the peccary from Lavabre Cadet is how much softer it is than the gloves I've had from other makers.
In fact, this peccary is so hard to get hold of that this MTO offer has to be limited to five pairs in each of the four colours.
That same quality of sourcing extends to the other leathers too - the goatskin and the lambskin. The lamb is slightly softer than the kid, but both feel nicer than similar hides from other makers.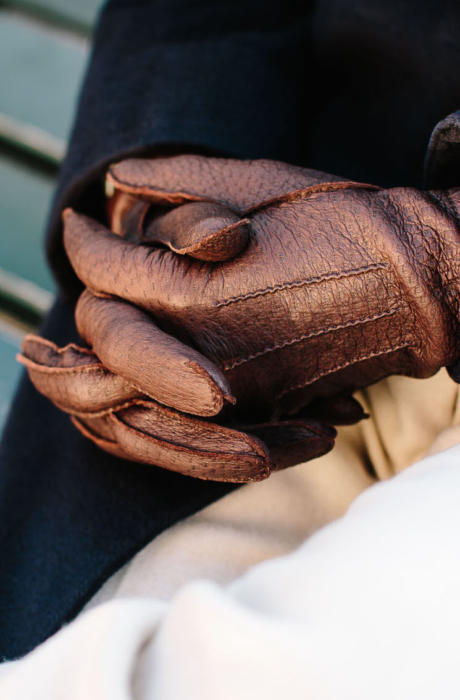 Once you've picked your leather, there are few other options.
You can have them lined in black or white silk, or in black or beige cashmere. The peccary can also be unlined.
The construction can be with the seams turned inwards (neater and dressier) or outwards (thicker and more masculine). If outwards, they can be handstitched, for an extra £45.
And finally, you can add up to four initials, on the inside of the bottom of the glove, for £22 (per glove).
It's quite a lot of options, but these are the pleasures of made-to-order.
Above you can see some basic examples of the colours (click to enlarge, or right click and open in a new tab) and below are three examples showing the three ways of finishing the edges.
I would particularly draw your attention to the close, cropped finish of the seams on the outside-stitching construction, which you can see most clearly on my gloves in the above pictures.
This is another characteristic of Lavabre Cadet and something that makes this finely crafted model much more elegant to wear.
If you would like to order online please email me at [email protected] to confirm your details and receive information on measuring. Payment will still be through the shop site.
Delivery for the gloves is three weeks from ordering, so plenty of time before Christmas. The cost of delivery is roughly the same as our polo shirts: EU £13, everywhere else £19.
Thanks
Photos of my gloves: Jamie Ferguson @jkf_man