We're open!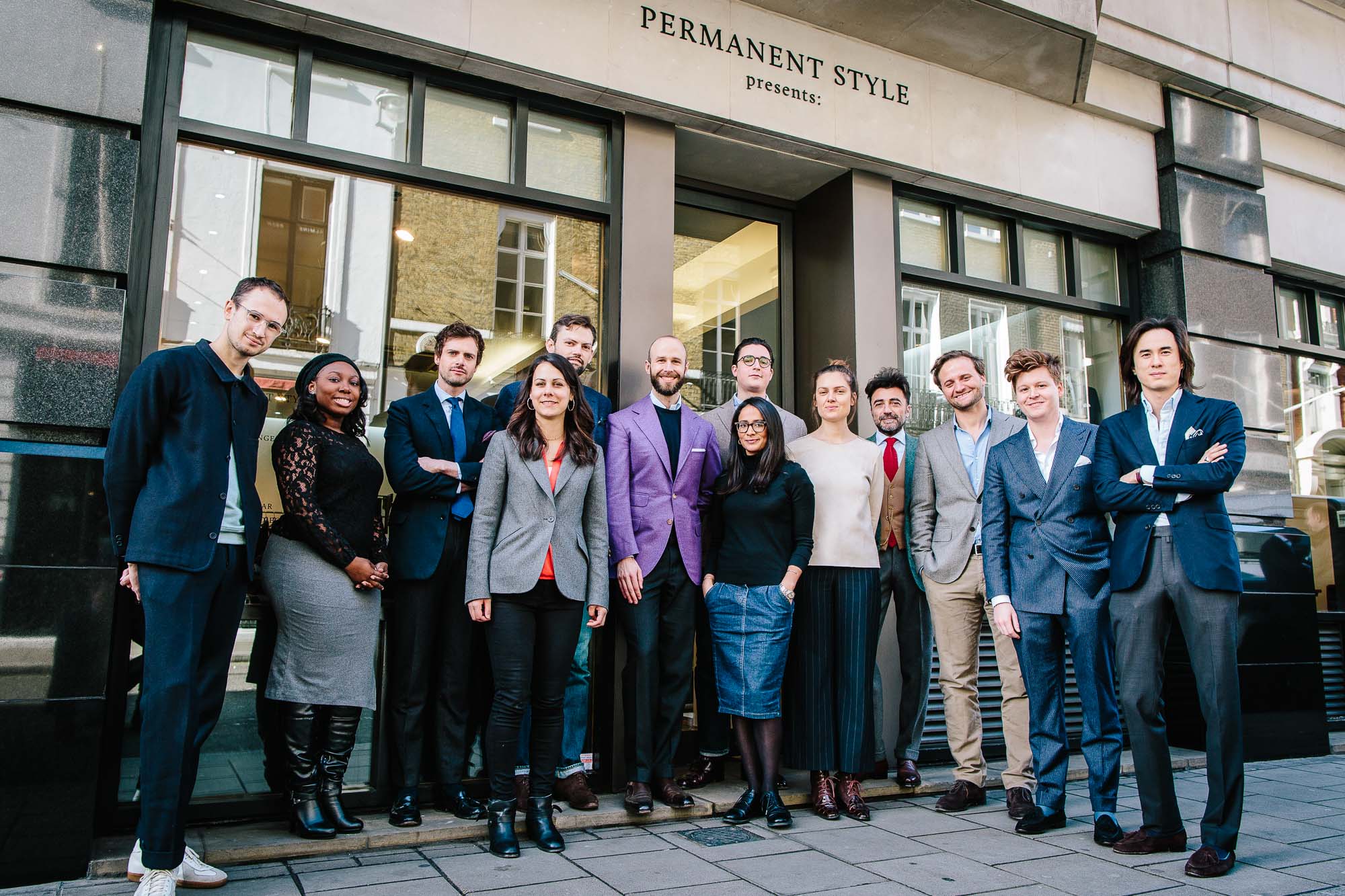 (Left to right: Elliot of General Eyewear, DaShira of The Hanger Project, Will and Amy of Fox Brothers, Richard of The Armoury, myself, James Girdwood (back), Lia of Codis Maya (front), Beatrice of Luca Faloni, Tommaso Capozzoli of Stefano Bemer, Luca Faloni, Bo and Allan of Baudoin & Lange)
Shop detail: 'Permanent Style presents' pop-up at 34 Savile Row, running until March 11th, Tuesday to Saturday
You know how you wake up at 4am, with thoughts of bag sizes, invitations and lease contracts running round your head?
And then, how the extremely unhelpful thought occurs: What if no one comes?
What if I'm just standing there in an empty shop, with seven brand owners staring at me, for 12 days?
And that terrifying thought stops you getting back to sleep. And the same happens the next night. And the next.
Opening a shop, even for just two weeks, has been one of the most stressful things I've ever done.
And I didn't even do most of the work: that credit goes to shop manager James Girdwood, who I'm surprised has had any sleep.
But today is the day.
Today we are open, and we are stocked with what has to be one of the most lovely collections of sartorial menswear anywhere.
Please come and see us. Then we can both finally get some sleep.
A few notices and updates for anyone planning to come along:
Following interest from readers, we will plan to be

open until 7pm on Thursday

. Frankly, given the trunk shows going on every Thursday, it may even be later.

Please note, however, that we are

not open on Sunday or Monday

. The brands, their staff and we need some time off.

Permanent Style will have available a full range of

Friday Polos

, our new

Finest Knitwear

, all

four books

of mine, and

two very special pieces

available to order. More on the last two next week.

Drake's on Clifford Street have had their refurbishment delayed a week, so they will still be open the first week of our pop-up. But we have some

exclusive styles

still, and are bringing in

more Armoury stock

.

During the fortnight's tenure of the shop we will be

running a raffle

, with prizes from the brands in the shop. Just make sure to sign up when you come.
Photography: Jamie Ferguson @jkf_man