Our new book, The Style Guide is available to buy online through Permanent Style and in 35 specialist menswear stores around the world.
Copies will be arriving in the stores listed below on Thursday this week. Please do visit and pick up a copy if you can.
If you can't get to a shop, you can order online through the Permanent Style shop.
The stores that will be stocking The Style Guide are:
Australia

Melbourne: Christian Kimber
Melbourne: Double Monk
Sydney: Double Monk

Belgium, Brussels:
China:

Beijing: Brio
Beijing: Sartorial
Shanghai: NOOS

France:

Paris: Cifonelli (bespoke)
Online: Beige

Germany, Hannover:
Hong Kong:
Italy, Florence:
Japan, Tokyo:
Korea, Seoul:
Malaysia, Kuala Lumpur:
Russia, Moscow:
Singapore:
Sweden, Stockholm:
Taiwan, Taipei:
Thailand, Bangkok:

Decorum
Sprezzatura Eleganza

UK, London:

Anderson & Sheppard
Drake's
Edward Green
Fenwick of Bond Street
Private White VC
Trunk Clothiers

US:

Chicago: Leffot
Denver: Beckett & Robb
New York: The Armoury
New York: Leffot
Provo: Beckett & Robb
Salt Lake City: Beckett & Robb
San Francisco: Beckett & Robb
Seattle: Beckett & Robb
Online: The Hanger Project
As with our post last week, here are some extracts from the book to whet the appetite - this time from the 'casual' chapter.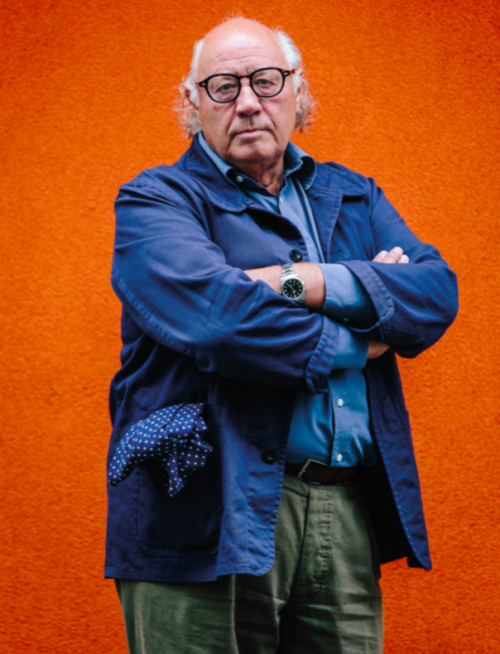 The scarf as handkerchief
Michael Drake
A mixture of blues, all just about different enough to provide variation in the upper half.
A scarf stuffed into the pocket can function almost as well as a pocket handkerchief in adding a touch of style – and it looks rather more casual.
Simple workwear jackets, like this in French blue, are often a good avenue to explore for sartorial men looking for casual alternatives. Green M-65 jackets are another example.
Wear tailored summer trousers
Adam Rogers
The contrast between tailored, well-fitted trousers and spilling-out linen shirt.
The very classic tortoiseshell-coloured glasses.
The summery colour combination of white and green (no colonial-feeling tan or cream linen in sight).
The blues
Michael Browne
A navy long-sleeved polo is used as an anchor for the bright-blue jacket.
Unusually for tailoring worn with a polo shirt, the jacket is quite structured, creating more contrast between formal and casual, and therefore a slightly more showy look.
The navy of the coat is sufficiently darker than the polo to act as a third shade of blue.
Jamie and I hope you enjoy the book!
Photography: Jamie Ferguson @jkf_man