Skoaktiebolaget and Stoffa in How To Spend It
He looks pretty suave doesn't he? Got a good lean on.
Patrick at Swedish shoe shop Skoaktiebolaget recently posed for an article of mine, above, in How To Spend It magazine. (A supplement of the Financial Times, and arguably the top luxury publication in the UK).
I've reproduced the piece below, for those that don't want to squint at the image.
It was followed last week by a piece on the How To Spend It website profiling Stòffa - the super-stylish trunk show-based brand run by Agyesh Madan.
I covered Stòffa in more depth a couple of weeks ago on Permanent Style.
It's really nice to bring brands such as these to a wider, mainstream audience.
As much as hyper-engaged, enthusiastic early adopters provide a foundation for a brand, it's only broader awareness that ensures their future.
The Cult Shop: Skoaktiebolaget
For men who pay a surprising amount of attention to their shoes, long-lasting quality and dapper aesthetics are twin attractions.
One such shoe enthusiast is Patrik Löf (pictured), co-founder of specialist Swedish store Skoaktiebolaget ("shoe incorporated" in Swedish), who established the shop in 2012.
"Back then, Stockholm was rather poorly served for men's shoes – Church's and Crockett & Jones were the only quality shops in town," explains Löf. "There was a local demand here that had been bottled up, waiting for a store like ours to come along.
But once we arrived, the connoisseurs quickly learnt about us and have been very loyal since. We are shoe geeks just like them."
Despite his passion for footwear, Löf didn't envision himself as the store's shopkeeper. His background is in IT and he still runs his own business-to-business IT company with fellow Skoaktiebolaget founder Daniel Tung, but a tragic turn of fate (friend, co-founder and manager Adam Kruse died of cancer less than a year after the store opened) pushed him onto the boutique's front line.
From here, Löf experienced first hand a strong local response – from both young enthusiasts and older aficionados – to their small selection of handmade footwear. These are classic men's shoes from just a handful of European makers.
There is Enzo Bonafè, a family-run Italian company created in 1963; it offers unusual models such as grey-and- black button boots (£675) alongside classic Balmoral Oxfords (£520) and several models in cordovan (horse leather, from £875).
Mallorca-based Carmina Shoemaker, meanwhile, was founded in 1997 by José Albaladejo, whose family has been making shoes on the island for over 150 years. His traditionally made footwear ranges from suede brogues (£345) in navy and loden green to smart crocodile Derby boots (£1,050).
And from Portugal comes Carlos Santos, whose Porto-made designs (jodhpur boots, £315) are the most affordable option, while Romania- based outfit Saint Crispin's produces just 1,500 pairs each year, with the Wingtip (£1,150, pictured) a signature style.
The newest addition is John Lobb, whose renowned Northamptonshire craftsmanship (square-toed, double- buckled Chapel shoes, £1,200) is complemented by a range of shoecare products (shoe trees, £110; wax, £15).
There are un-shoe-related items too: Italian socks (£30) and knitted ties (£55)
rom Sozzi; silk pocket squares (£80) by Rubinacci in Naples; while leather gloves (from £140) are made by family business Hestra, deep in the forests of Småland.
For Löf, who has now stepped back from the day-to-day running of the store, Skoaktiebolaget is more than a retail venture – it is helping to preserve traditional European crafts. "It seems to me that lots of these specialist businesses were struggling until about 10 years ago, when things started to turn around," he says. "It's great to be a part of this revival – however small."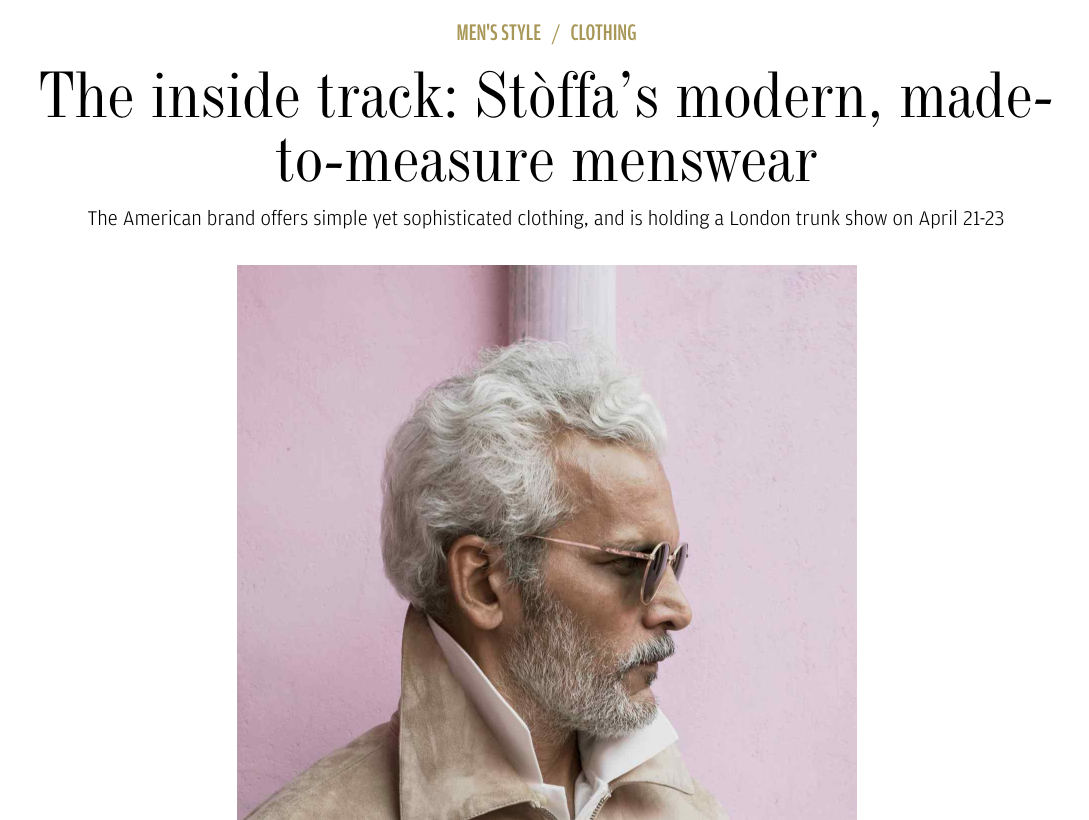 Read the full article on Stòffa on the How To Spend It website here.
Read my more in-depth piece on Permanent Style here.