My view on jewellery has always been that it should be something special, certainly emotionally and probably financially too.
Men wear so little of it, and it is such a statement to do so, that it should be precious. Not a cheap leather bracelet, in other words.
My first such piece was made bespoke by Diana Maynard last year - a brass cuff with Art Deco-inspired details that we designed between us (below).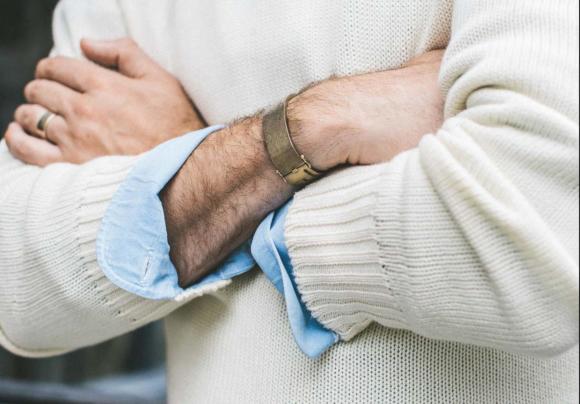 I always assumed my next would be bespoke too, but I found this vintage gold-plated cuff (above) while browsing Grays Antiques Market last month, and fell in love with it.
I think solid cuffs have a robustness that is welcome in men's jewellery, but it's then hard to add fineness and decorative detail without being too effeminate.
This new piece does that well, I think, with just the ram's heads at either end and plain gold in between.
I've looked through vintage pieces from the era for a few years, and most have precious stones for the eyes or elsewhere, which I think is too much.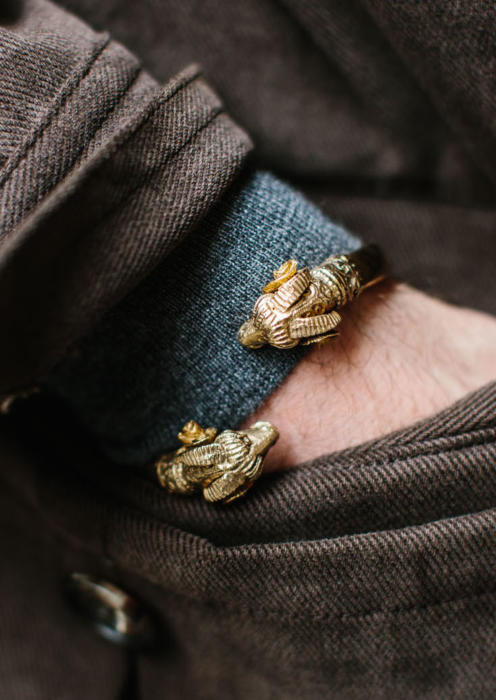 Unlike that brass cuff, this piece will be for special occasions only. I only put it on with this outfit to photograph - most of the time it will be more dressed up.
(Although I do find it looks nice under heavier jackets, and chunky knitwear.)
Where the brass was beaten and used materials that will age and tarnish, this gold piece will be kept polished. Everyday versus special days.
I wore it, for example, at our event for Sartoria Ciardi a couple of months ago.
Being vintage (late Victorian) but not rare, the cuff was also good value for the metal and fineness of the work (£300).
I'm sure, as with all jewellery, this won't be to many readers' taste. But I like how this approach is slowly evolving.
Grays is often a good place to pop into, by the way. Being a collection of around 200 dealers, it is always good value for money compared to other places in Mayfair. And they have everything from jewellery to pottery, luggage to bookends.
Other items in the photography covered in this post.
Photography: Jamie Ferguson @jkf_man