Francesco Maglia umbrellas: Past, present and future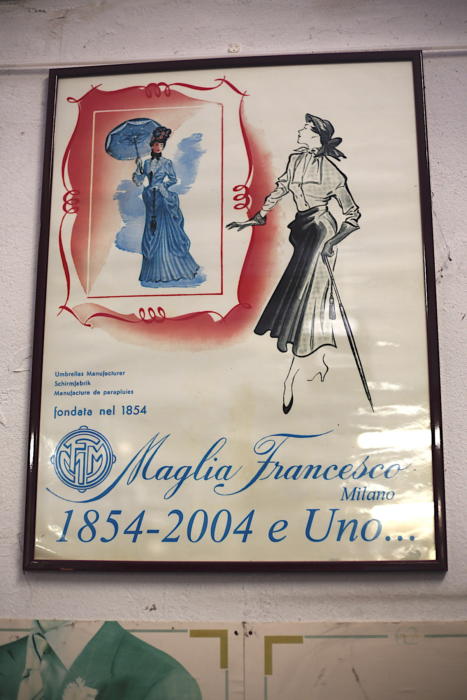 Francesco Maglia makes some of the finest umbrellas in the world. Indeed, it might make most of the fine umbrellas, given how many it makes for other brands as well as for itself.
Yet (as is often the way with luxury menswear) the workshop is pretty anonymous. Located on a side street in the Milanese suburbs, in a basement with a short car ramp leading down to the entrance.
There is no name on the door, merely an umbrella poster. Inside, more posters decorate one wall, showing adverts that umbrella companies have used over the years. A good number of them seem to think posing a scantily clad woman with the umbrella is the best way to get attention.
Turn left, and you're into the workshop proper: a central section with finished umbrellas waiting to be shipped, and three workshops leading off it - one for the mechanical side of production, one for cutting fabric, and one sewing that fabric onto the frame.
There is also a small showroom at the back, and this contains perhaps the most extraordinary object in the place: a huge, red iron safe.
This safe was the only thing that survived when the previous factory was bombed in 1942. Everything else was destroyed, and as a result there are few documents charting the history of the company - which goes back to 1854.
One exception is the document shown below: a letter that was found by a small Genoa stockist a few years ago. It was apparently sent in 1863, and expresses surprise that they ever stopped selling Maglia - a mistake they want to correct immediately.
Maglia was in the same location, too, from 1876 to 2003, in central Milan. It was only the growth of the city, and parking restrictions that made shipping and commuting increasingly difficult, that forced the move to the current location.
There is always one Francesco in each generation of the Maglia family, which can make things a little confusing. While the company was founded by one Francesco, the best-known is probably the Francesco featured here with me back 2013, who has been the face of the company for many years.
Now that Francesco has left the company (last year), it is his brother Giorgio and nephew, another Francesco (below) who runs the company.
This handover is significant, because it signals a shift for Maglia to being more customer-facing. They recently opened up the workshop to anyone that wants to place a bespoke order, and just a few months ago launched their own e-commerce.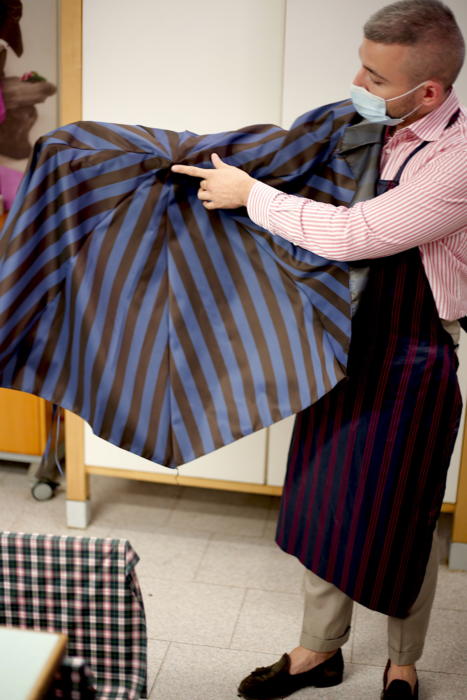 This change was probably inevitable, and indeed Maglia is a laggard compared to manufacturers we've covered over the years, all of whom have transitioned to doing their own retail. Drake's has gone furthest, but the likes of Bresciani, Johnstons, Paolo Scafora and Private White VC have all followed the same route.
"Today, it's probably the only way to survive," says Francesco (the younger). "It's a different way to do business from how we've operated historically, but so many of our customers have gone out of business that it's the only option."
That has been accelerated by the pandemic: Barney's was a Maglia customer, as were many department stores and smaller multi-brand stores around the world.
"Hopefully, by giving customers this direct access to our product and by inviting them into the workshop, we will be able to re-make those connections that have been lost by the issues with the stores," says Francesco.
I'm sure Permanent Style readers will be able to help there. There's nothing like connecting directing to a storied, finest-quality manufacturer - and helping preserve a craft in the process.
As an example of how much Maglia stands alone, it used to source the ribs of its umbrellas from an Italian factory, where it had been a customer for 120 years.
In 1991, that maker - the last in Europe - finally had to close. Maglia was the only client left and their orders couldn't justify new investment required in machinery.
"When they shut, they gave us the technical patterns for all their parts, and helped us find a supplier in China," says Francesco. "They wanted to see us carry on."
Francesco is remarkably open about things like where parts are sourced from, the costs, and the challenges of running the business. The biggest of these is probably the umbrella market itself, which is split into a sea of cheap umbrellas at one end, and a handful of makers at the other. There is no middle ground.
This makes finding suppliers tricky, but also forces him to explain repeatedly why an umbrella can cost over €200 - and solid-stick ones €400. "People are so used to umbrellas being a disposable item. But that has to be an irresponsible way to consume these days," he says.
Apparently, umbrella canopies also frequently broke in the past, but only because they were made of silk. Every year or so you had your umbrella re-covered: the same people that did upholstery also replaced canopies.
We started talking about this because, part way through my visit, a gentleman came in asking to have his old, silk umbrella repaired. It's something Maglia still offers, even though they rarely use silk themselves.
Responsible consuming is something Francesco is very big on. He now says every part of a Maglia umbrella is recyclable: "If you're going to make the case that someone should invest in an umbrella, look after it and so consume less, I think it should also be something that can be broken down and re-used at the end of its life."
That isn't the case with the cheap Chinese imports, of course, which retail on the streets of Milan for €5 each. "Those come into Italy at a cost of €1 per umbrella," says Francesco. "Just think what the cost of the parts must be - one piece of hardware on our umbrellas costs more than a euro."
I'll go into detail on how the Maglia umbrellas are made in a separate article.
The production is certainly as good if not better than other Italian makers, such as Talarico. And it compares well with French artisans like Michel Heurtault - the only difference being little hand touches on things like the fastenings.
Below: Francesco's Weimaraner, Fufu.