The Winter Top 5: End, GRP, Real McCoy's, Baudoin & Acronym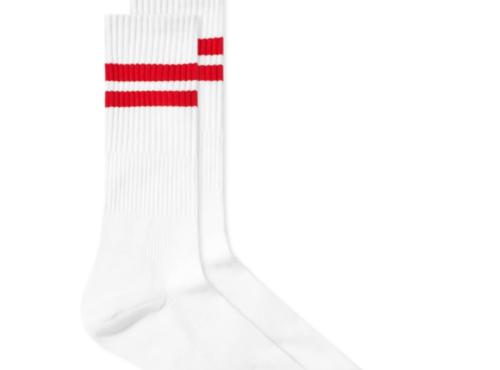 £30
The online version of End is a surprisingly good source for classic clothing. Although it's still dominated by street wear, and the new shop off Carnaby Street is entirely trainers and hoodies, the website has a huge range.
For example, it's one of the best places online to get shetland and Fair Isle sweaters. There's Shetland Woollen Co, Howlin', and Jamieson's - the latter in a mad range of Fair Isle colour combinations. They also stock Alden, Anderson's belts and Gitman Vintage.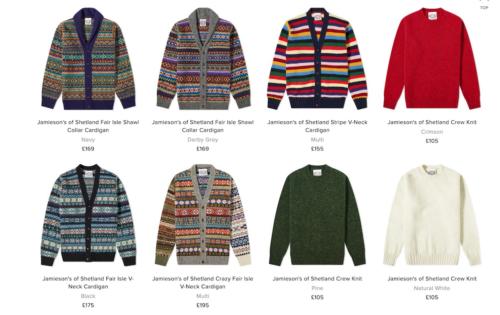 Here I want to highlight these simple socks, however. They're from Japanese brand Anonymous Ism, and I bought my pair a year ago from Trunk (but they don't stock them any more).
Now, most of the time I can see the argument for buying cheap socks. If they're short, casual, thicker ones, there's just not as much of a difference in quality as there is with fine, dressy, over-the-calf ones. But these are easily the most comfortable socks I've ever worn. I was looking forward to Winter just to wear them.
They're fairly thick (like any sports sock) and so make decent slippers if that's what you want. But inside a boot or loafer they're amazing. It must be the cotton used, I think, because I can't see anything else unusual about them. And they are the most expensive ones Anonymous Ism have. But given how much I wear and love them, easily worth it.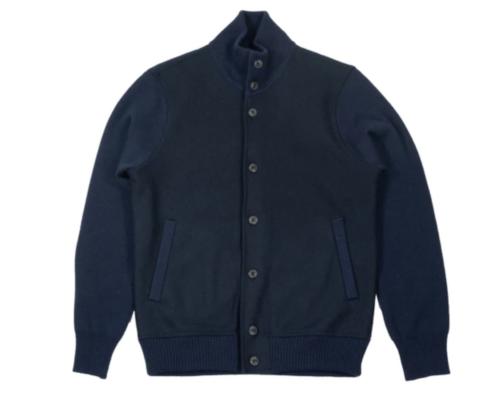 £375
John Simons has been criminally ignored on Permanent Style, and that will be fixed in a few different ways. The man who brought Ivy to London, and in the process turned it into something else, deserves deep coverage.
For anyone that hasn't been in, the shop is stocked entirely with heritage makers of quality clothing, and while they aren't all probably to the taste of PS readers, many are. For every brightly coloured varsity jacket, there's also an understated, quality piece like the blouson here.
Made by Italian manufacturers GRP, who have been working with John since the 1980s, it is made in a few different navy wools: the body is a dense, felt-like worsted, while the sleeves are an open-knit woollen. None of them contrast enough to stand out.
Among the knitwear styles from GRP, the quarter zip is probably the nicest. It's a long-necked vintage model that you often see in coarser wools, but not a nice smooth make like this. It's quite generous in the fit though, so worth trying on (whereas the blouson is a little trim).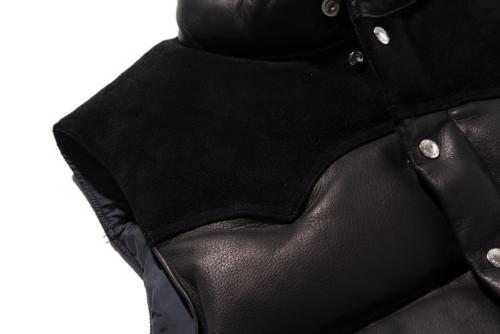 £1025
The Real McCoy's launched a new website earlier this year, and the stock is both better and better organised. (They're also opening a new physical store soon, while for the moment the downstairs section at Clutch Cafe remains.)
Among my favourite pieces is this down vest, which I bought last Winter. In fact, it got quite a few inquiries on Instagram when I shared a picture camping in it with my family over the Summer. I'll likely do some more coverage of top-quality walking/camping/hiking gear at some point.
The vest is veg-tanned deerskin, which is expensive but has a wonderful soft, substantial feel. The down is 91.5% duck feather. Basically, it's what you expect from The Real McCoy's: the best quality, in small runs, at a high price.
I wear the vest over a sweatshirt with chinos if I'm going to park with my kids (we also did some den building during lockdown), for the aforementioned camping, and for going to and from sport - in that case, over a hoodie, with shorts, plus a watch cap. Standing at the bus stop.
Other current pieces I've tried at The Real McCoy's (though don't own) are the milk-coloured loopwheel hoodie (probably the closest thing to my Loopwheeler one I've found here) and the field sports jacket, which is made from a really nice, tough herringbone wool, and horsehide.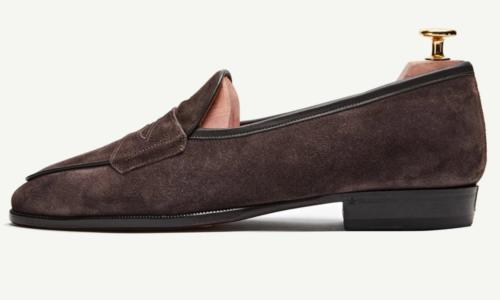 £490
When I first covered the 'Grand' model from Baudoin & Lange at the beginning of last year, I wasn't overly enthusiastic.
It was a rather innovative shoe: Allan had done all sorts of things inside to make it more comfortable, the most surprising of which, probably, was cutting out an oval-shaped section of the structure around the joint of the little toe.
But the overall look wasn't me. It was too similar to a regular welted shoe in the leather and style, yet too dissimilar in construction. I ended up selling mine.
I recently tried the same model in brown suede, and found that worked much better. In suede, there are fewer of the expectations of a dress loafer - it feels more similar to a Belgian or soft slip-on.
It's just more casual. If there are readers who like the idea of the Sagan (which again, would usually be suede) but want a version they can wear in more countries/weather, then I'd suggest this. Personally, I wouldn't go for the calf versions.
(And to anticipate the question - this has more structure than the Ginkgo model, and is Blake stitched rather than being cemented. There are often fine differences between the different parts of the B&L range.)
From €1700
Here's one to have regular readers spluttering into their coffee. I recently saw a friend wearing an Acronym waterproof jacket (the J1E) and have since become slightly obsessed with the design detail.
Yes, the models all look like they want to kill you; and yes, the website is stupid. It is also horrifically expensive. But the clothing is all driven by functionality, and it's fascinating reading about how it's all put together, and why.
It was a big thing a few years ago, when Acronym launched, but I think was missold in a lot of the coverage - primarily as a fashion brand.
A lot of the looks are strange and otherworldly, and the founder Errolson Hugh does have a habit of posing with zips halfway up his face. But the clothing is entirely about innovative materials and functional details: hidden phone pockets in the forearm, angled zips that allow movement while retaining rain cover, hoods that surround the neck without restricting it.
Have a look at this old video for a demonstration - in particular the gravity pockets in the sleeves, and the way the messenger bag works underneath the jacket. It's real cutting-edge technology and fascinating pattern cutting, driven by very particular functional needs. Not all synthetics either - a good few pieces in Ventile for example.
There's too much to go into here really, but if anyone is interested in technical clothing and has the budget, then I recommend reading up on Acronym. Perhaps something simple like the J27-GT (pictured). Without the drop-crotch trousers.