Although Angel Ramos and I have only met a few times, we've always seemed to have something in common when it came to styles we liked.
Angel wears slippers a lot, and has more of a tendency towards bright colours and patterns. The overall image is perhaps louder. But there are a lot of similarities too: tonal dressing, black, cold shades of brown. And overall an emphasis on casual chic, with polo shirts and roll necks rather than printed ties and pocket squares.
Angel is the co-founder of 18th Amendment, a brand in New York that grew out of his previous tailoring enterprise, Angel Bespoke. I haven't tried the clothes, so can't comment on them, but perhaps that's the next step. It was certainly lovely talking to Angel for this, the latest in our series of 'How to dress like' articles.
This series counts as a Guide on PS, within the category of Style that you can see in the menu above. Perhaps have a look at a few others you might find interesting, including 'The Essentials' and 'Summer'.
After all, it was only a couple of weeks ago that several readers said they didn't realise there was a Lookbook section to the site.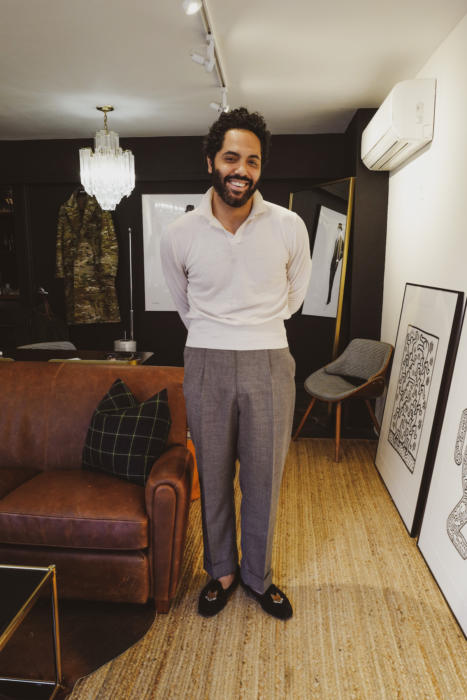 Outfit 1: Simple
Angel: "I love this outfit because of its simplicity. It's something a modern-day gent could see and feel they could wear: not something they'd feel only someone in the industry could pull off. These are fresh tones, and it looks modern.
Off-white is such a favourite colour of ours – it's literally in every season. It's been a go-to for me for years and something I pair with everything. Here I'm wearing an off-white polo from our Fall/Winter MTO collection with a pair of medium-grey high-twist trousers, in our normal full fit and higher rise, and a pair of slippers, which is typically my go-to as well.
When it comes to this ideology of simple dressing, I say having the proper knitwear is crucial. The proper polo paired with trousers can look just beautiful – sometimes a jacket just isn't required.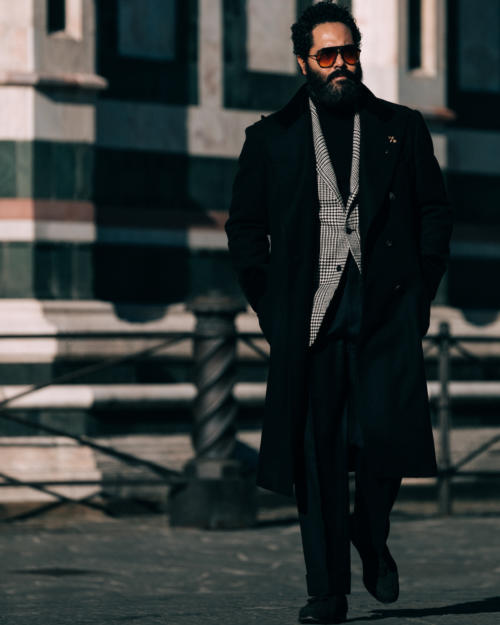 Outfit 2: Black
"I love this dark-toned ensemble (coat, knit and trousers are all black) because regardless of what the world of menswear says, I think black is absolutely chic and modern. Black in my opinion has been rather stigmatised in menswear, despite being embraced by high fashion.
When I started in the business more than 10 years ago I also abided by the law of "black is for weddings and funerals" but the more I built my own world aesthetically, the more I liked its elegance and wanted to show it in ensembles that were not just formal.
I particularly like using black alongside bold patterns, as with the jacket here, rather than just wearing black suits. It's also worth remembering that as a bigger guy it really does flatter you.
The sports jacket is my all-time favourite, in an exploded Prince-of-Wales fabric. I grew up with a mom that was a seamstress and dressmaker, and she would reupholster furniture in our house with bold fabrics, like this one. I've always liked to pay homage to her.
The other things I'm wearing are our house version of a chesterfield overcoat (we named it the Lucky Coat, after Luciano) and a pair of classic flannel trousers in Fox cloth.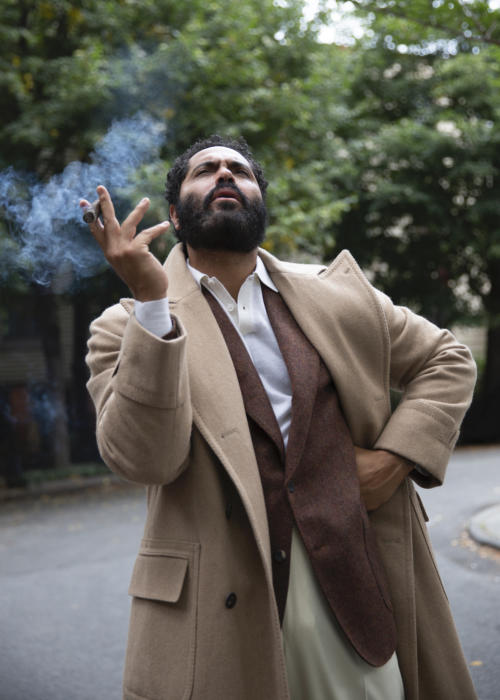 Outfit 3: Tonal
"This outfit was a full look from our 2020 Fall/Winter MTO collection. Camel overcoat in our house interpretation of a polo coat, rust-tweed sports jacket, with none other than the off-white polo and some flannel trousers.
Tonal looks like this have always been a favourite of mine because they're so clean and easy to do. And it's simple to swap the jacket for a bolder one when you want a real storyteller piece. Tonal also conveys a level of elegance and chic that seems to go well with my personality of being insanely outgoing and gregarious.
Looking at it now, this outfit reminds me of a proper Autumn in New York. The tones recall a drive out into the Catskills, still of course smoking a proper cigar.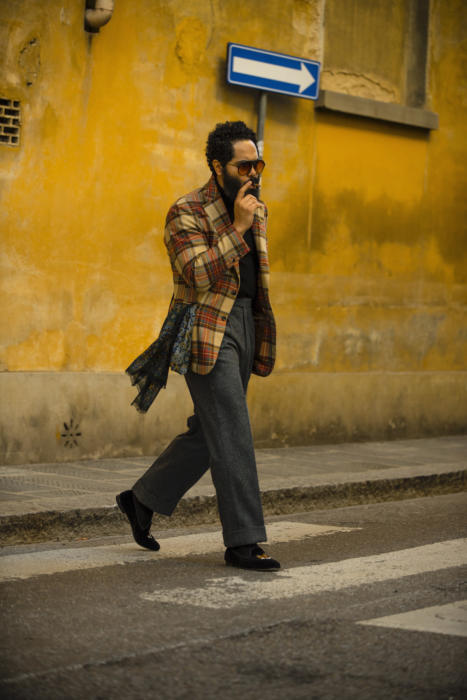 Outfit 4: Checks
"This is probably my second favourite sports jacket! It's a Highland tartan that contaings absolutely stunning tones of cream, camel and red. It's something I often reach for in the Fall and Winter. Here I paired it with a black cashmere turtleneck, and my favourite winter trousers: 590 grams of proper flannel from Fox in a medium grey.
I think this outfit shows how I tend to balance bold jackets with simplicity elsewhere. You need to allow the jacket to tell its own story, not competing too much with everything else. Or put another way, I want to embrace boldness while not feeling like I'm just trying to look like a clown.
Although, I don't consider off-white trousers to be bold and often wear them with bold blazers like this. It's become my go-to trouser every season in the collection. It's my personal pair of sweat pants, lol. Some do grey trousers with everything, we do ivory.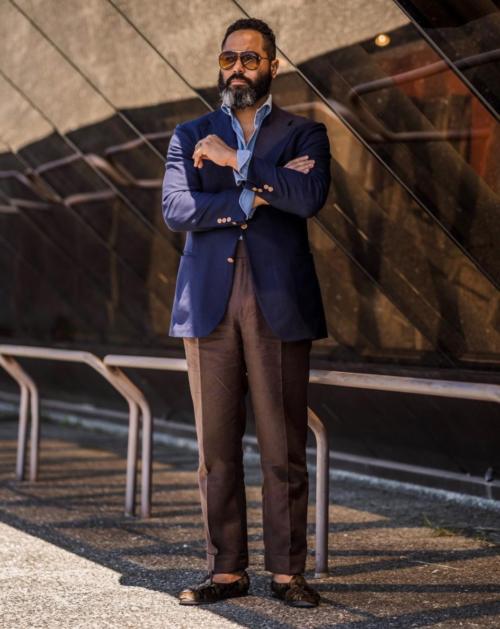 Outfit 5: Brown trousers
"I love the idea that you can take something classic and iconic, and modernise it. Like the navy blazer with gold buttons.
Many gents think it's something only their granddad wore, but it's great with a light-denim shirt like this linen and cotton, chocolate-brown linen trousers and my favourite Belgian loafers. This is our classic navy travel blazer, in a high-twist wool. It's brilliant, it just goes with everything.
When it comes to brown trousers, I personally think you can pair them with several shades of brown, black (depending on the season) and pattern if that's something you're into.
Brown trousers for me are more of a Spring/Summer thing, so I wear them with other shades of a brown or a natural slipper. It does also look great in colder weather, with for example a black oxford shoe; that's just something I tend to wear.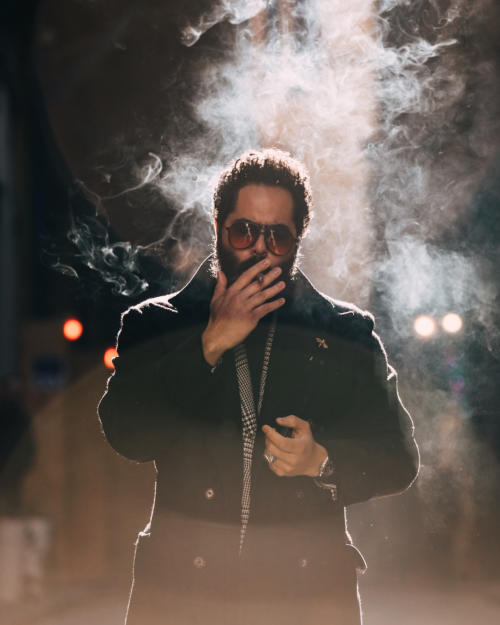 Photography: Milad Abedi, Robert Spangle and 18th Amendment