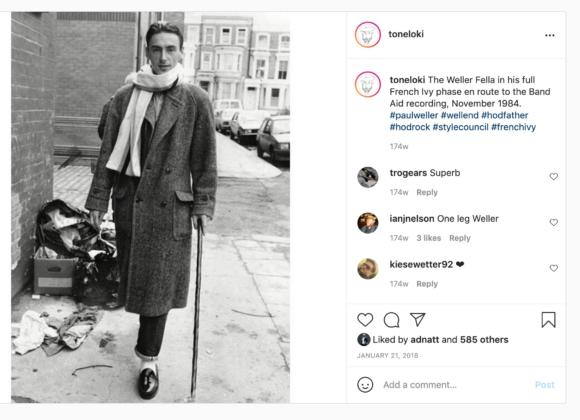 By Tony Sylvester
"A few years back, I posted a photo of Paul Weller on my Instagram (above). It was taken in 1984 in his Style Council era, where much to the consternation of the Mod faithful, he was constantly tinkering with his attire - alienating the core fans that stuck rigidly to the tired-but-true Mod-revivalist formula.
It's a candid snap of Paul en route to the Band Aid single recording. Hair slicked back, he wears an oversized herringbone DB coat with patch pockets, nonchalantly fastened at the lowest button. Dark selvedge jeans are rolled ankle high to reveal white socks with tassel loafers. A college scarf tossed over one shoulder adds Oxbridge élan.
I remarked that he was in "full French Ivy". Based on the subsequent conversations, it seemed the term was not as familiar as I had anticipated. Perhaps it still isn't, and perhaps, digging into the history would be interesting.
I first heard the expression 'French Ivy' in the early 2000s in a completely different context.
It was there on the pages of those mysterious Japanese publications like Men's Club and Free & Easy, with their occasional smatterings of English. Just one of those terms like 'Dad's Style' and 'Rugged Ivy' that seemed to make a sort of visual sense, without need for further translation.
The looks the term accompanied seemed to recall a style of dress I'd witnessed growing up in London, around the same time as the Weller photo above.
In my first excursions into the West End, alongside the postcard punks and other subcultural icons of the day, one of the more eye-catching looks in Covent Garden and the King's Road was a relaxed style of dress that consciously mixed the traditional with the Bohemian, the well-worn with the modern.
The vintage Meccas of Flip and American Classic provided faded 501s and big raglan-sleeved overcoats, which would then be complimented by newer offerings of chunky shoes, argyle socks and polo shirts. The result was a look that created a route from the dominant 'casual' terrace-boy styling that had taken over the suburbs of Greater London where I lived, back to the continental cool of 1960s Soho.
This is the look I see in my mind's eye when I imagine the old J Simons shop near Drury Lane - with its Bass Weejuns, Paraboots and BD Baggies button-downs, filling the pale-wood fittings next to curated second-hand sack jackets and London Fog raincoats. The combination was never fully explained to me, it just 'was'.
With the express aim of demystifying this look, its context, and particularly its Japanese origins, I spoke recently to W David Marx, whose superlative Ametora (Basic Books, 2015) gives a pretty definitive account of the rise of post-war menswear in Japan.
The book's subtitle 'How Japan Saved American Style' demonstrates how big an influence Marx believes Japan had. And on concepts as well as clothes. One of the biggest takeaways from the book for me was how not only clothes, but the terms used to describe them, move and morph once divorced from their original context - creating not only new looks and styles, but even new terminology in turn.
For example, the word 'Ivy' itself no longer strictly meant the clothing worn on the campuses of elite American universities. For the Japanese reader, it was a more general shorthand for traditional clothing. This is similar to the way the Japanese word Sebiro, meaning a business suit, is a direct translation in Kanji of 'Savile Row'. The specific, original term takes on a more fluid, general meaning.
"In the 1960s, Ivy was sold as a very particular American look, more refined than the brasher Hollywood and jazzland styles," Marx tells me. "But when Ivy saw a revival in the late 1970s, it became a bit more flexible, generally meaning a casual, traditional style."
This is where it gets interesting. Because now the term was less strict and dogmatic, it could be affixed to other words to describe looks utterly removed from the East Coast collegiate context.
First up was British Ivy: basically what the Sloanes and Young Fogeys of Thatcher's Britain were decked out in, a little bit Charles and Di, a little bit Brideshead Revisited; 'Anglo-prep' if you will.
"And then it went a bit weird with 'French Ivy'," Marx continues. "It was specifically used in around 1982 to describe the preppy look of young conservative French boys from good families. This acted as a bridge from Ivy and Preppy to more sophisticated Euro styles that took over in the mid-1980s."
For documentary evidence on this, seek out Thierry Mantoux's BCBG: Le Guide Du Bon Chic Bon Genre (Hermé, 1985), the French answer to Peter York's The Sloane Ranger's Handbook and Lisa Birnbach's The Official Preppy Handbook.
Like those earlier books, it takes a tongue-in-cheek stroll through the rarified tastes of the more well-heeled denizens of Paris - where they like to holiday, what they name their children, and most importantly for us, how they dress. So there is your Lacoste polo, your JM Weston 180s, your Charvet ties, and indeed everything from that bastion of taste, the sadly long-gone department store Old England.
BCBG is a strictly 'Right Bank' affair - sensible, conservative and refined - in stark opposition to the other Gallic school of style 'BoBo' (Bourgeois-Bohemian), its more showy Left Bank cousin.
It wasn't just clothes from French companies that defined the look, however, either at home or in Japan. In fact one of the most enduring icons of Americana owes at least some of its Japanese popularity to the French. "The Japanese obsession with 501s exploded in the early 1980s, in part because French and Italian guys were all wearing them," says Marx. "They became popular in Japan as part of that French aspiration rather than rugged Americanism."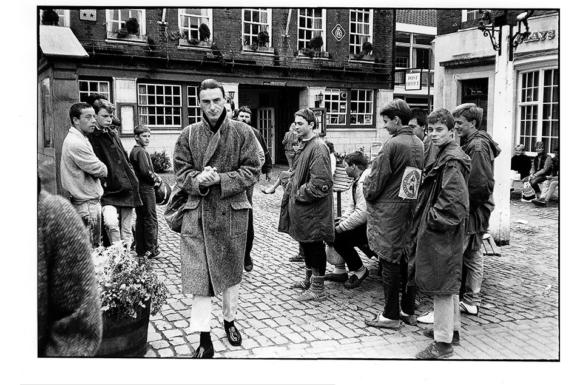 So what does this all mean for the contemporary gentlemen? I'd suggest that the Weller look - also pictured above, as he is observed by incredulous Mods - is as snappy, timeless and stylish now as it was 37 years ago.
The pairing of a polo shirt with sports coat or overcoat feels particularly relevant in this post-Covid era. The Sea-Island cotton 'Isis' style from John Smedley is a good pick: easy fitting, classic and still made in the UK. Alternatively, a clean and simple cotton-piqué number like Rubato's new generously cut Tennis Shirt.
Sturdier, chunky footwear in the vein of the aforementioned 180 Penny loafer from JM Weston (below), or the Golf and Demi-Chasse models, paired with thicker, slouchier socks, like the WigWam Model 625 in ecru (sold by Beige Habilleur) add a good grounding to the look.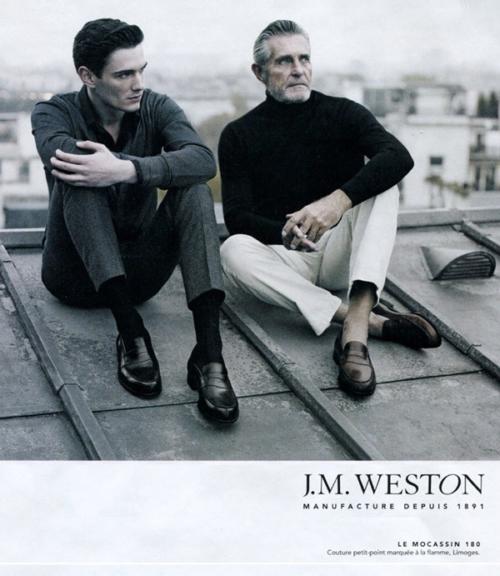 Elements like these, plus a lot of the more idiosyncratic details of Weller's look have swung back into vogue recently, thanks in no small part to the team behind French magazine L'etiquette.
Six issues old, and now available in English as well as its native tongue, L'etiquette is a biannual 'Guide to Men's Clothing', focusing less on fashion and more on the personality and character of clothes, and the men who wear them.
The mix of casual and refined, luxury and utility, old and new gives off the same confidence and esprit as French Ivy. In fact one of the people who reached out to me about the Weller post was the magazine's editor-in-chief, and now creative director of DeFursac, Gauthier Borsarello.
"I had no idea about the term until you talked about it!" He laughs. "But I know the look, I think it started when American brands started to become important in France, in specialist stores like Western House/Hemispheres (the forerunners to Pierre Fournier's cult brand Anatomica). When mixed with classic French (ultra boring but perfect) tailoring, it created this new look."
I wonder if this means that it is less about French clothing, and more about the way you wear them? "Precisely," he concurs. "I think it is casual clothes worn in 'a French way'. It is the art of the mix. French Ivy happened because France became more open to other cultures - the post-war period and the cultural blending it brought. It could not exist without the UK and the US."
This is the first guest contribution from Tony Sylvester, who many will know for his writing, styling and own brand. For those that don't, he is @toneloki
Pictured below: French Ivy looks, from L'étiquette