Chester Mox hand-sewn leather folio: Review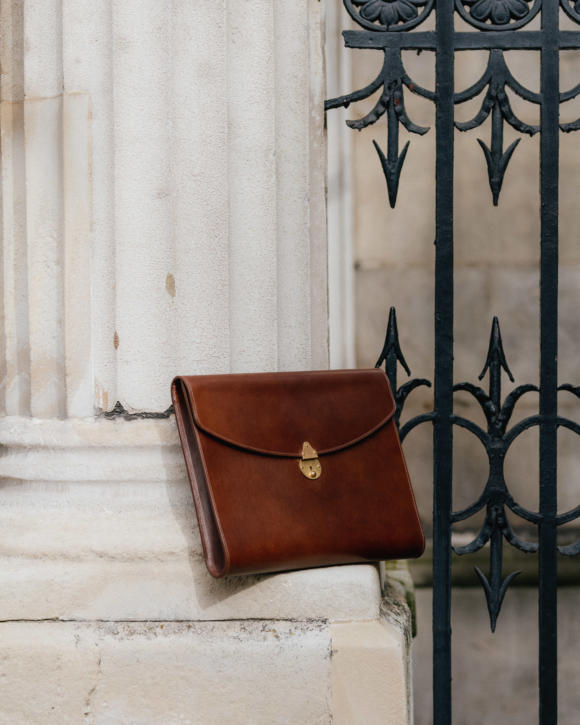 Chester Mox is Bellanie Salcedo, a leatherworker making saddle-stitched goods in Los Angeles, California.
I've known Bellanie for several years, having first covered her on PS back in 2013. Since then, however, her work has improved, following an apprenticeship programme with former Hermes artisan Beatrice Amblard in San Francisco.
If you look at the pieces featured in the original PS article, and then compare them to the ones on the Chester Mox site today, you can see how much finer the stitching is. Other areas like inking have also improved.
The product is now pretty much on a par with the other hand-sewing leatherworkers we cover, such as Equus in the UK, Serge Amoruso in France, and perhaps even Ortus in Japan.
Like those craftspeople, Chester Mox is cheaper than anything from a big brand such as Hermes. Which is the first reason readers should take notice.
The second is that, unlike them, Bellanie is based in the US. This makes her more of a rarity, and more accessible for the 46% of PS readers that in the States.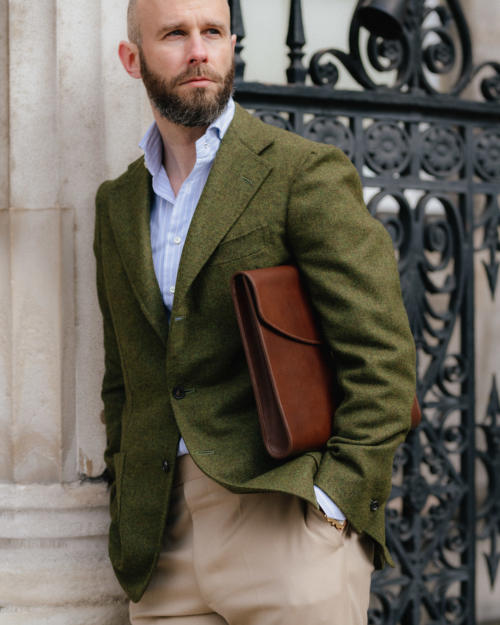 In order to try the work, and talk about her first hand on Permanent Style, I asked Bellanie to make a leather folio for me - what she calls the Monterey model.
As most Chester Mox products are made to order, there's lots of opportunity for small changes and personalisation. On the folio, as standard, you can select leather, lining, lock and thread, and add a pen holder or phone pouch inside.
The last three mean a price uplift ($150 for the extra pouch) but it's still excellent value for money. The basic folio starts at $900, and big brands would be four or five times that.
Bellanie also offers a bespoke service, creating original designs in collaboration with the client, which is rather more expensive. Prices are on request there, as the projects vary so much.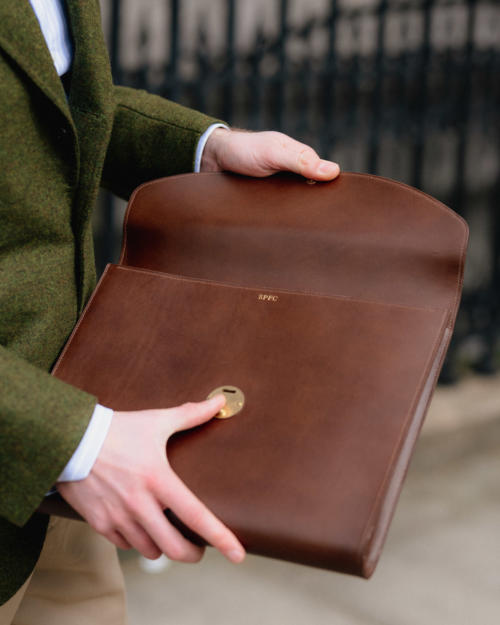 With my folio, I went for the same mid-brown leather ('mocha') that is shown by default on the website. I opted for a lining in that too, and iPad-sized and phone-sized interior pockets. Alcantara (artificial suede) would have been nice inside, but that precludes internal pockets, which I know I'll find useful.
I also upgraded to linen thread, and requested my initials stamped inside using matte-gold foil (black, clear and silver are also available, as well as the Chester Mox logo).
With the hardware, I made a special request.
I've always liked uncoated metals which tarnish naturally over time. It gives you the option of keeping them polished (perhaps every few weeks) to create contrast with the ageing leather, or letting them gain a patina.
Bellanie hadn't used raw brass like this before, but after talking to her suppliers, she found something suitable, and it's now a standard option on the Chester Mox website.
I also experienced a little of the bespoke process, as I wanted slightly tweaked internal pockets. This was done very professionally, with Bellanie sending me a PDF layout of the internal sections each time.
There were some delays forced on us by Covid, but after that unavoidable gap, I had the folio. You can see it in the pictures around this article - in the shoot that featured this jacket, and in images Bellanie took of it before sending.
I was impressed by the feel of the veg-tan leather, which is satisfyingly thick but also has a pleasing suppleness. It's lovely in the hand. And also by that fine stitching. The two together are just beautiful.
The lock looked excellent too. In the images here you can already see that the lock looks more natural than with the same model online. Since then it has only aged more.
The inking on the edges was faultless too, and the initials inside were precise and strong. Surprisingly often foil work like this simply rubs off after a few weeks.
The only issue was with the top part of the lock, on the folio's flap. Its two brass plates, on the inside and outside, were not aligned exactly.
Bellanie explained how difficult this part of the procedure is, with solid brass nails having to be trimmed down by eye, and then put in with a 'perloir' setter (a tool that creates a domed finish on the nailhead).
She also thought the issue might have been caused by the holes on the front and backplate being misaligned, which was something to bring up with the hardware supplier.
Either way, Bellanie said she wanted to take it back and remake it. She also wanted to tweak a couple of points on the execution of the pockets.
Again, a few delays, but after the summer I received the second folio. The pockets were now perfect, but there was still a small misalignment of the front and backplate (above). It had been reduced - with the first version, the misalignment was about double this - but it was noticeable.
Bellanie said that this time she had checked and there was nothing wrong with the hardware. It was simply a matter of the manual way the two plates were attached.
Historically, she had used plates with pre-drilled holes that screwed together. These always aligned perfectly, but over time the screws could work loose, and need replacing. So she switched to this more traditional and manual technique, which requires holes to be hand punched in the metal and the leather, before the hand-cut nail is hammered through.
This is much stronger apparently, but also often doesn't align perfectly, because the nail moves around as it is punched through. The latter isn't helped by the fact you have to hammer in circular motions, in order to create the domed finish on the top. This is shown briefly in the video below.
The misalignment is small, and Bellanie says it's something she was told Hermes actually stopped doing because customers didn't appreciate it was a result of artisanal work.
I have to say, if I bought an Hermes folio with that issue, I would assume it was a mistake too. It looks wrong. And just as importantly, I don't think the staff would be able to explain why it was there.
And while this method may be stronger, I would also return a folio where the screws came out after a year or two, as that would definitely be a fault.
Still, the misalignment doesn't bother me that much, and I have really enjoyed using the folio. It is beautiful and luxurious in just the ways I love - simple and subtle. Those things easily outweigh that little point of execution.
But at the same time, I'd understand if a reader thought this wasn't acceptable. As with many things, the personal connection with the craftsperson, and appreciating everything that's gone into the product, makes a big difference.
Clothes shown detailed in this previous article
Photography: Alex Natt @adnatt and Chester Mox