Peter Nitz hand-sewn briefcase: Review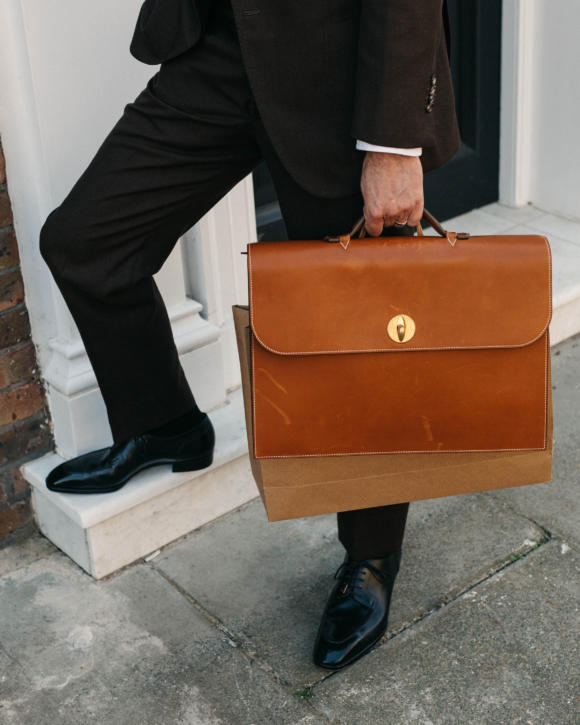 Peter Nitz is a Swiss craftsman based in Zurich. He does a lot of teaching of hand-sewn leather techniques, including classes, videos and individual training. He also sells leather-working tools. (When you're a bespoke craftsman, it's good to have multiple sources of income.)
It's the bags he makes himself I wanted to highlight, however, as I recently had a briefcase made and it is one of the loveliest pieces of leather work I've seen.
I chose a classic flap-over briefcase style, specifically in a Barenia leather and raw brass hardware.
Years ago I bought a wonderful Sac a Depeches briefcase from Hermes, but in a 'shadow' leather that doesn't age at all really, and palladium hardware.
While I have loved using that case, I always wondered whether I should have got the brighter and less conservative - but perhaps more beautiful - Barenia. This is me finally putting that to the test.
I did want to cover Peter's workshop, but I wasn't going to get to Zurich any time soon.
So I reached out to a couple of friends and PS readers who live there - Paul Fournier and Andrew Borda. Paul turned out to have the time that week, so he popped along and acted as our roving reporter. That's him on the left, below, with Peter.
"Peter was a great host and his team is lovely - quite a gem of a find I must admit," says Paul.
"I won't thank you though, because I then placed an order I definitely hadn't planned!"
Paul questioned Peter, and discovered that although he's been in the leather business for 12 years, he didn't start at an early age, as most do.
Rather, Peter began in textiles, buying and selling vintage fabrics, then clothes and accessories. Usually he would scout pieces in Paris and then bring them back to Zurich to sell.
He eventually had two shops, one in each city, specialising in vintage. But then, during a trip to Paris he met an Hermès craftswoman, who made him fall in love with saddle stitching and leather work.
Peter began teaching himself at night, as well as asking the craftswoman to travel and teach him in Switzerland. This experience, he says, is one thing that makes him keen to teach others.
Peter eventually acquired some notoriety, featuring in Vogue France and working with Colette.
For my bag I was keen for a classic briefcase, but Peter also convinced me to try his particular twist lock (above), where a claw-like piece of brass is twisted to secure the front, but slips through a shaped hole in the brass plate to open.
I'm glad I did, for the lock is very satisfying to use - it slips through effortlessly when opening, but locks into place perfectly when you turn it.
The mechanics of hardware are surprisingly important, I find. As you use it many times a day, you're constantly reminded of any lack in quality or small misalignment.
It's one difference I always notice between my finer umbrellas from the likes of Heurtault, and less careful ones from Talarico.
More prosaically, we recently bought a new oven at home and even though it functions well in every other respect, the knobs to control the hob are flimsy and scrape slightly when you turn them. I would pay good money to get those replaced with something better.
(Of course, you could take this to an extreme and get annoyed at every such thing in life. But I think the emotions of it are really up to you. A better way to look at it is, when you have the choice, why not have something better - and reward the maker who made it that way?)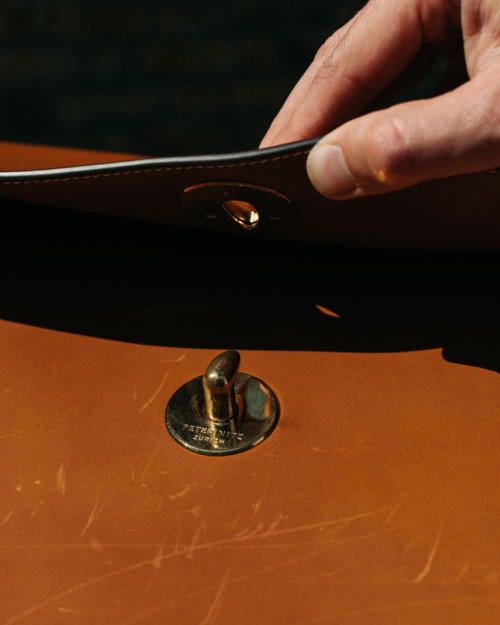 The reason I love Barenia leather is the way it ages. The bright tan gradually softens to a rich brown, and the nicks and scratches it easily acquires get worked into the surface, becoming fainter until they just add to the texture. A little like a calf shoe.
I've seen this happen with a wallet of mine, with a belt and also with the envelope we designed with Equus a couple of years ago.
So I know how this bag will look in a year or two, and I don't panic at the scratches it's got. The same goes for the brass lock, which I wanted uncoated, can leave to tarnish, and then will bring back up to a shine if and when I want.
The way these processes work is not an easy thing to communicate, and that's why so many leather goods are made today with treated surfaces that will never change - but like plastic, have no character either. It's also the reason so few of Peter's clients are Swiss - all most of them want, according to him, is Dior and Chanel.
I don't think I'm exaggerating when I say it's genuinely your role as consumers to show this, talk about this, and spread the word. Educated patrons are the only way such crafts survive.
The bigger question for me in commissioning this bag was not the leather, but whether I would actually carry a briefcase still.
If you're still in the kind of profession where you wear a dark suit to work every day, a black or brown briefcase is a sensible choice. (For most, an attaché case is unfortunately too formal.)
However, if your workplace is becoming more and more informal, a tote bag like the PS bullskin one or a canvas briefcase, like the Filson we covered recently, is probably going to be more appropriate.
And for me? It's unlikely I have a working week similar to any reader; but I also have a need and a desire to wear smart suits more often.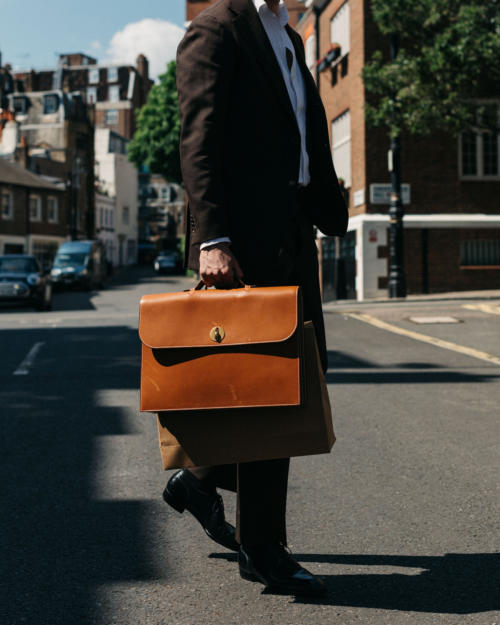 So far I've found I like carrying the briefcase a lot - partly because it's something extra to add to an outfit when ties and handkerchiefs are so much less common.
In fact, this is one of the nice things about summer too, I've found in recent weeks. Sunglasses and hats are functional, necessary accessories, yet also add something decorative to daily wear.
I like carrying the bag with suits and smarter jackets, like the dark-brown Crispaire suit from Dalcuore pictured. It's high contrast, and really adds something extra without those accessories.
But still, I carry other things like my totes far more often, and if I didn't already have every base covered, it wouldn't have made sense.
Peter's work is fine and precise, and incorporates numerous little craft touches - such as one-piece gussets on bags like mine, with one gusset shorter than the other so it always stands up straight.
I'd recommend him to anyone that appreciates hand-sewn leather.
Most of his work is for women, and most of the social feed is of the teaching, but there are some lovely designs hidden in there. He does everything from watch rolls to wallets, handbags to travel bags, and cases for antique guns or cigars.
And of course, if you can get to Zurich - as I couldn't - it's worth seeing the workshop in person. Thank you Paul for doing that in my stead.
Atelier Peter Nitz is at Spiegelgasse 29. www.atelierpeternitz.com
Bags run from SFr4000 (£3300) to SFr8000. My bag was SFr6400. Exotic leathers range from SFr10,000 to 30,000.
Courses and tutorials range widely in time and price. Details on both at those links.