Serge Amoruso leather goods, Paris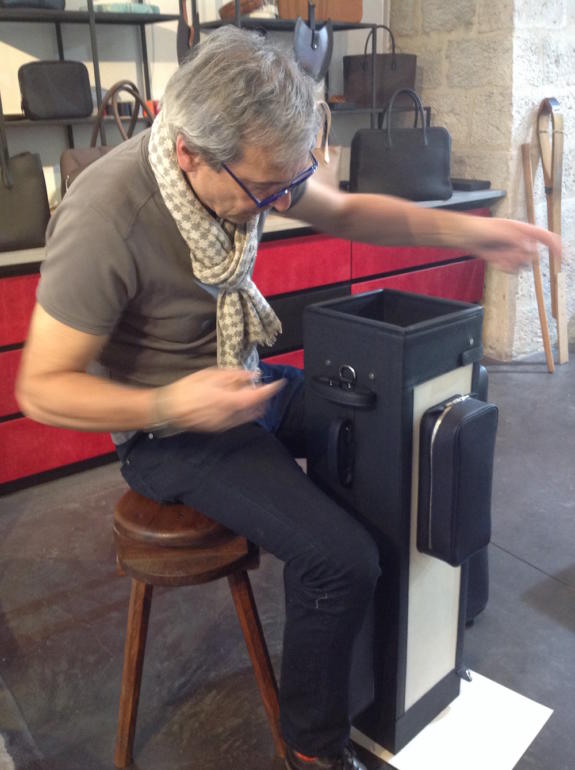 Of the four makers featuring in our Permanent Style trunk show in a few weeks, the one least likely to be familiar to readers is Serge Amoruso.
So, some background. Serge is an award-winning leather worker and designer; born in 1959, he trained at Ecole Grégoire-Ferrandi in Paris and joined Hermès at the age of 18 in the trunk department.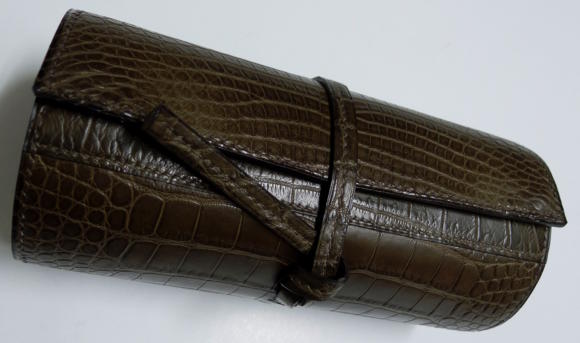 He worked there for 7 years, before becoming a technical instructor for 10 years to teach leather work to disadvantaged young people. At the age of 35 he opened his own shop, and slowly developed a following in France and Japan.
The shop was most recently at 13 Rue Abel, but moved a few years ago into the Viaduc des Arts when it was redeveloped (like Michel Heurtault and Philippe Atienza).
Serge also used to have a corner shop in Printemps Haussmann, after Francois Pinault became a fan.
His only regular foreign trip is to Japan, and his goods are available in some Strasburgo stores there - but otherwise are only in his atelier (not online). The vast majority of work is bespoke.
Serge is known for working with exotic materials, but his love of all types of leather is profound.
"As material, it has almost unlimited potential - as clothing, object, decoration," he says. "Leather is also a sensible material, in that it keeps the memory of each movement, each use. And to do that it has to be tamed with strength and determination, but also sensitivity."
Twenty years ago Serge began working regularly with stingray, using the full skins and saddle-stitching them to create pieces that had rarely been made out of the material.
Although he developed a reputation for this work, he was also always playing with unusual materials such as mammoth ivory, meteorite rock and carbon.
"I like to craft objects by combining materials, to create a contrast - whether it be wood, steel, or leathers. I'm always trying to build a bridge between traditional art and modernity, and this is one way to achieve that," he says.
The quality of the work is second to none, with particularly simple tight lines to the hand-stitching.
Whenever you see one of his pieces, you always seem to discover a slightly different way of doing things - whether it's burnishing the edge of a wallet or turning the corner of a skin.
I'm very excited to be hosting him in London for the first time - at our Permanent Style trunk show in a few weeks.
Please do pop in during the day to the Gaziano & Girling store to say hello - Serge, Michel and the others are very welcoming.
And there are a handful of places left for the evening event, if anyone wants to take them.
To RSVP for the evening, please email me at [email protected].
Serge's average price for a wallet is 1500 euros, and a bag 2500 euros.