Resoling sneakers and trainers: RforPeople and end-of-life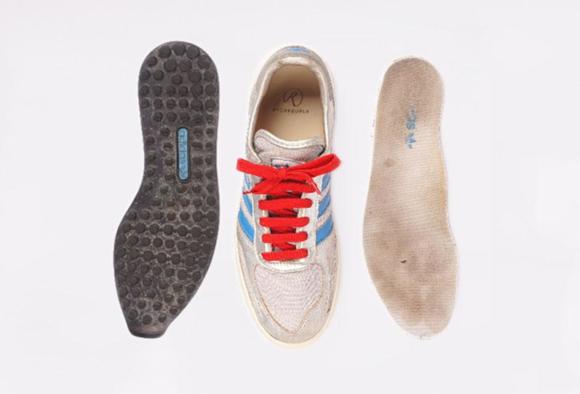 People did different things over lockdown. Talking to Tommaso Melani, owner of Stefano Bemer shoes, it turns out he started resoling trainers.
Stefano Bemer has a talented in-house team of shoemakers. They've made me three pairs of beautiful bespoke shoes over the years. With less to do over lockdown, Tommaso thought it would be interesting to have them take apart a pair of his sneakers.
It was a pair of old Adidas - pictured above. They disassembled them, put them together again, and replaced both the insole and the outsole, both of which were heavily worn down.
That provided the basis for a new service, and eventually a new brand - RforPeople. Tommaso has been on a big sustainability kick in the process, has spoken publicly on the subject, and can talk about everything from Adidas's rubber waste to living wages around Asia.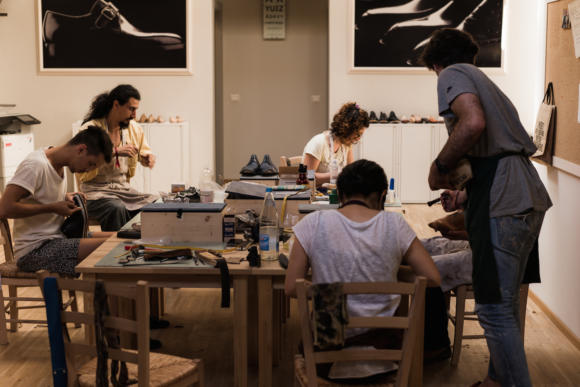 The resoling service for trainers/sneakers I find interesting, and worthy. I had a look for a pair of mine that could be used to trial the service, but unfortunately threw away the last pair of mine that wore through, from Common Projects. Which I guess is a case in point.
Just as interesting, however, was talking to Tommaso about the afterlife of clothing in general.
It's an area that's talked about a lot less than sustainable production, packaging or air miles. And probably for good reason - it's a lot more complicated, and harder to do anything about.
As a consumer, you can look after your clothes well, repair them, give them away rather than throw them away, and buy more second-hand. All of those things reduce the amount that is burnt or goes into landfill.
But as a company, it's hard to offer a really substantive end-of-lifecycle service that can, for example, recycle the raw materials the clothing was made out of.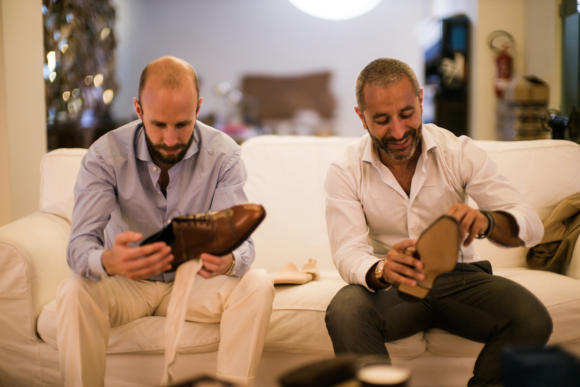 "Industry has got to the point - certainly in Europe - where finding more sustainable raw material is just a phone call away," says Tommaso (above). "And it's not hard to move production to be more local either." That also goes for using renewable energy, reducing water waste, and offsetting carbon production.
"But how do you avoid things going into landfill at the end of their life? You can recycle the rubber from shoe soles, for example - it's used to make tennis courts - but you need to collect a large enough volume, and you need to store it in the meantime, which has its own cost."
Big sneaker brands have the volume to offer a service like this, but usually not the margin. The price of cheaply made shoes does not extend to free shipping for customers to send their shoes back, then people to take them apart at the other end. End-of-life services are just more expensive.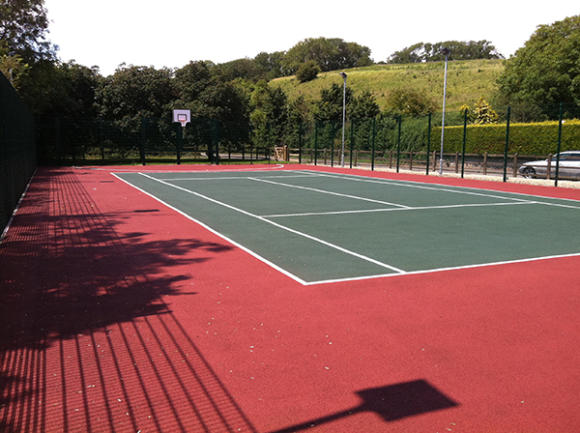 Interestingly, wool and cashmere can apparently be shredded and re-used, but only once. Unlike some plastics and most metals, they become too weak to re-use after one round of recycling.
"The yarn is chopped up, but then often has to be mixed with a synthetic to make it strong enough to use again," says Tommaso. "And after that it's only going to landfill." Plus of course, the synthetic means more plastics.
There's no easy solution to any of this, apart from the points earlier about caring, repairing, and buying more second-hand, less overall. As Tony wrote about recently.
"I find it useful to think about how much we value things," says Tommaso. "The difference is quite stark in our business, because we make bespoke shoes, and now much cheaper clothing as well."
"People value bespoke shoes because they cost so much. It means they care for them, they will resole them multiple times. As a producer we value the workers that make them, and we value the raw material, saving every scrap - because it too is expensive. People just don't value cheaper things in the same way, but I think they can choose to."
The clothes from RforPeople (above) are unlikely to appeal to PS readers, either in terms of style or make.
But Tommaso has done his homework generally, and that means if the resoling service is for you, you don't have to worry about the carbon impact of sending the shoes (all offset), or the location of production, the labour practices and so on.
There is a natural limit to the resoling, and that is the style of the shoes. The team are putting on stitched cup soles, so a trainer with a different sole will look different afterwards. Tommaso has resoled running and hiking shoes of his (below) and likes the results, but it's not a case of reproducing the original shoe.
The last shape is also a limitation. Because the shoes are taken apart, they have to be put on the in-house sneaker last before being resoled.
Still, most PS readers will likely wear some shoes with this sole type, such as my Common Projects that I had to throw away. Or vulcanised canvas shoes, like Doek. The latter will not be revulcanised by RforPeople, but that's a small change compared with athletic shoes.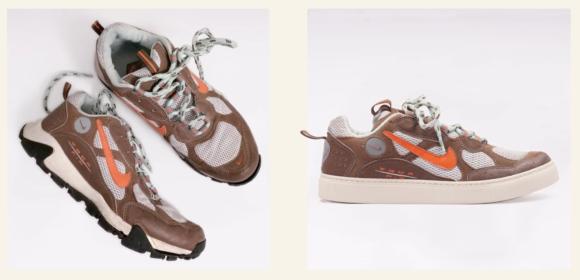 The service costs €390 and includes sanitising the upper, replacing the laces and insole, and repairing the lining, as well as the resoling. The laces use recycled cotton and the sole uses zero environmental-impact EVA rubber. It takes 4-6 weeks.
If readers know of any shoe or clothing repair services anywhere in the world that we haven't covered, please do let us know your experiences in the comments