Hob-nail boots, pince-nez and Rubato denim – at the pop party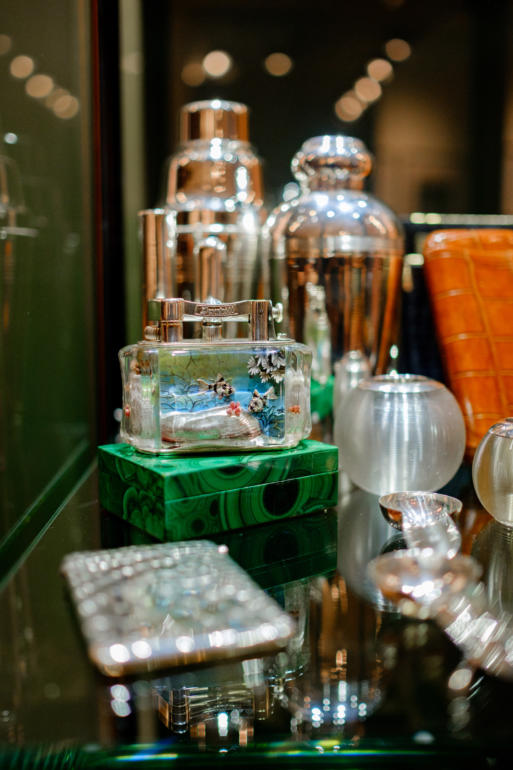 *Note: Contra to my advice here, I ended up switching to size 32 Rubato jeans (my regular size) and that was the right choice. They felt a little right to begin with, but gave a little bit and are now perfect*
The pop-up opening party was lovely last night. Thank you everyone for coming.
It feels like the event has settled into a really nice pattern - part shopping evening, part welcoming of new brands, part simple knees-up for a mix of both readers and friends.
But there's not much more to say other than thank you - so let's talk about some interesting things everyone saw from Jake's, Bentley's, Rubato and Ludovic Lunetier yesterday.
Tim Bent, of Bentley's, admitted that when he went to Paris recently to trawl the markets and see dealers, he came back not with the trunks he was aiming for, but some curiosities he really didn't want to sell.
They included the two pairs of boots below.
The Red Wing-type work boots are from the collection of Douglas Fairbanks Jr. They're remarkably well preserved, given he apparently used to wear his shoes to death.
They were also a perfect fit for me, which made it the more frustrating that they weren't for sale. They're going straight into Tim's collection.
Same goes for the mountain-climbing boots, which had an incredible hob-nail sole.
Look at those nails worked around the sole edge, and then jutting out of the front like a set of horrific teeth. The most impressive thing, when you see them in person, is what hard, aggressive things they are, yet how finely made. Each nail is fitted together perfectly, and the stitching is so fine.
Of course, Tim also has dozens of more standard pieces, including an alligator document case and a stunning layered jewellery box.
The key with these antiques I've found - to my cost - is getting something you will actually use every day, and a jewellery box is something I actually would. Unlike the cigar cases I've tried to turn into phone cases or business-card carriers over the years.
Ludovic, the glasses maker from Brussels, had some work going on to show - both sketching of new bespoke commissions and cutting of horn frames.
Which was helpful, because the first thing everyone asks is where he's based, and where the glasses are made.
It was also good to see his made-to-order frames - three sizes, small, medium and large, based on analysis of his bespoke customers and how their sizing groups together. When you see them set out like that, it seems silly that glasses usually come in dozens of designs, but usually only one size.
However, as with Tim it was hard not to spend time looking at Ludovic's curiosities, like the samples of shell (for which he works with Daniel Bernard, ex-Maison Bonnet) and designs like the pince-nez.
These are obviously pretty niche, but a well-known wearer is Jean Grimbert, previously of Arnys. Apparently he was a neighbour of Ludovic's in Brussels and became a customer, but Ludovic had no idea who he was (not being involved much in menswear) until someone else pointed it out.
Jake's shirts I spent some time trying on, for the first time.
The button-down is a little low for me, but the 'leisure collar' he does, like a camp collar, is very nice (above). It sits a little higher at the back of the neck, which I find helps a lot with the style. If you have a remotely long neck, a camp collar can be quite unflattering.
I fit a 15.5 neck, but the body shape (Jake only does one) was rather too full for me. This means his offering might not be for everyone, but the shirts are well made and very good value - if they do work for you, it's a great option in London in terms of style and value.
That was obvious given the number of customers that came in yesterday to see Jake, and spoke about all the shirts they'd had made. One had had every PS cloth made up.
And again, while I wouldn't wear some of them, it's great having a big splash of colour on one side of the shop, with all Jake's oxford stripes and printed madras jostling for attention.
Finally, I was interested to see Rubato's expansion into denim and shirts.
The jeans are really nice and, perhaps in contrast to the knitwear, very wearable. They have a good medium rise, a slightly tapered leg that isn't slim or full, and come once-washed once, rather than raw.
This means they might not be for denim purists, as they won't fade in the same way as raw or unsanforised jeans. Personally I'd also prefer more regular rivets on the fly. But I think the jeans will have a very broad appeal. The ecru off-white is perfect, the denim is a nice mid- to heavy weight, and I even found myself considering the pure white, despite swearing I'd always prefer ecru.
I found the size 32 waist a bit too tight in the hips, so went up to a 33. These fit better, and I appreciate the slightly higher rise. They do give though, so I'll wait and see whether that was the right decision. I can also bring them in if necessary, of course, but can't let them out.
The other new range is the shirts, which are heavy enough to be overshirts, but you could also tuck in if you wanted to.
The white denim is nice, and the chambray too, if perhaps not that unusual. The smaller pointed collar and chest pockets will be familiar to those who buy from Bryceland's or The Real McCoy's.
My favourite was the olive drab, which is made in a great linen/cotton -a heavy, almost canvas-like material, but cooler than the other shirts because of the linen in the yarn. That's what Carl is wearing above (with the white jeans).
The pop-up continues until Saturday, 10-6pm every day, at The Service, 32 Savile Row. All details here.