The Bureau, Belfast: Big brand mix and exclusive styles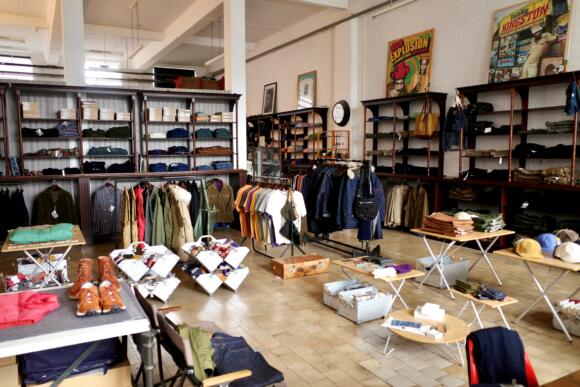 By Manish Puri
If you leave Belfast city centre and head east, past Nuala with the Hula, across the Lagan, and along the Newtonards Road, eventually, in the shadows of Samson and Goliath (the monumental gantry cranes that loom over the shipyards where the Titanic was built) you'll come to a large brick building known as the Portview Trade Centre.
Once home to the largest flax tow spinning mill in the world (just one of several mills that earned the city the appellation Linenopolis), it's here that you'll find a shop whose products in some ways bond this history of cloth and construction: The Bureau.
The Bureau's founders, Michael Hamilton and Paul Craig, first met 40 years ago in that most unlikely cradle of menswear talent, Topman. In 1989 they opened their first shop on their own, and were early champions of a handful of the biggest names in high-end, design-led fashion: Paul Smith, Dries Van Noten, Maison Margiela, Margaret Howell, Stone Island.
The eclecticism of the brands was, in part, an assertion of individuality and open-mindedness in a city riven by sectarian violence. As Michael and Paul wrote themselves: "As teenagers our interest in identity transcended the city and 'The Troubles', instead we sought music, clothes, and culture…The influence of other cultures, the urban city and the great outdoors remain our inspiration."
In 2005, the Bureau moved to a larger space on Howard Street – restoring an original tobacconist and the dining rooms of the old Presbyterian Hostel in the process. The change coincided with a shift from working with some of the (by then) larger labels and a refocus towards smaller, niche companies.
"Around that time, some bigger brands began to move production to cheaper countries. The price was unchanged, but you could feel that the quality wasn't quite at the same level", Michael explains. "We felt that smaller brands offered better quality and value".
In 2011, the Howard Street location was subject to a rent review. "It was after the fallout from the financial crisis in 2008 and the retail outlook was very different," Paul told me. "We were paying for the footfall of customers that we were irrelevant to," adds Michael.
And so, in 2012, The Bureau moved to the Portview Trade Centre (above) where their neighbours include architects, a ceramicist and a children's illustrator. "It's humbling to be around all this talent", Michael notes modestly.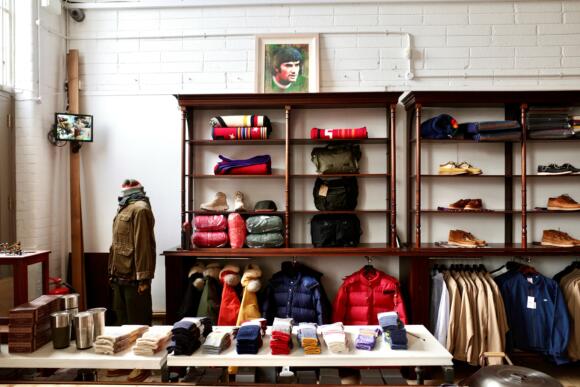 I visited one overcast Saturday morning, pushing open an unassuming wooden door to reveal a stunning and unexpectedly large space with double height ceilings, custom-made mahogany shelving backed up against whitewashed walls, and Pendleton throws draped over camping chairs. The jazz soundtrack set a languorous mood.
I was welcomed by Michael and over cups of coffee regularly topped up by Roger (a Bureau customer since he was 16 and now an employee) we looked at some of their 40-plus brands.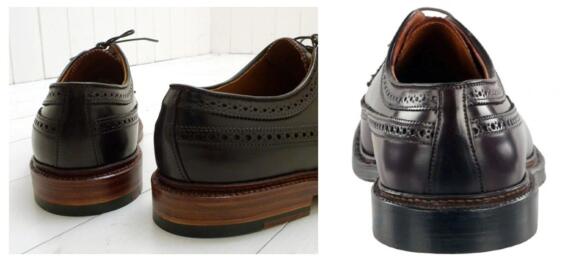 The Bureau's relationship with their core brands often stretches back a decade or more. Indeed one of the questions they ask themselves before stocking a new brand is, "can we see ourselves working with you for the next 10 years?" That personal connection helps foster a more collaborative alliance.
Alden, for example, have produced a variety of exclusive models for The Bureau. Their classic-with-a-twist is the Color 8 cordovan longwing with soles finished in an antique edgetrim (above left) instead of the standard dark (above right). The modification (in part inspired by the paler soles of another of The Bureau's long-time collaborators, Tricker's) lends some contrast and warmth to the deep, rich cordovan, and The Bureau were the first stockist to push for it.
Of the current selection, I also really like the black cordovan blucher with an atypical commando sole – a nod towards Michael's affection for shoes that are "clumpy, heavy and big". The Bureau also has limited stocks of Alden shoes in rare shell cordovan – Whiskey, Cigar and Ravello – but only available instore.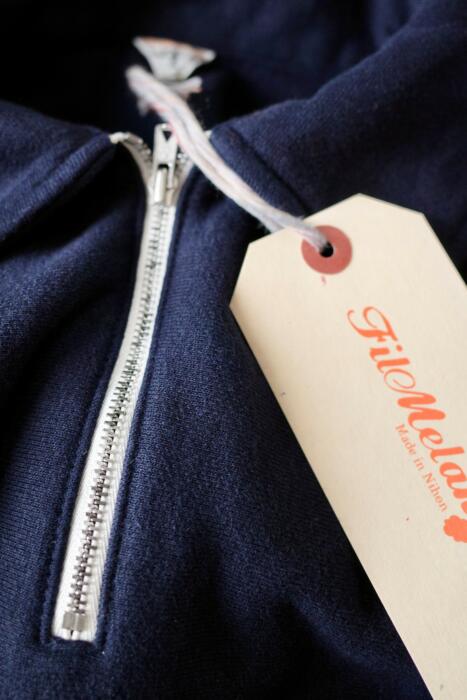 There are a number of Japanese brands that are part of The Bureau's offering: jeans and loopwheel t-shirts from Warehouse & Co, bags from Porter – Yoshida & Co, canvas sneakers from Shoes Like Pottery, and outdoor accessories and apparel from Snow Peak.
One Japanese label that I hadn't come across before (and, apparently, neither had any of the considerable number of menswear accounts I follow on Instagram) was FilMelange who make sweatshirts and loopwheel t-shirts from melange yarns with a crisp, dry handle. I took home a quarter-zip sweatshirt (above), a first for me as I generally don't care for this style. I liked the sporty nature of the cloth, the boxy fit and the two-tone zip – where some teeth have been polished and some left dull.
Among other longstanding brands are Engineered Garments, whom The Bureau have stocked and collaborated with since 2003. "We've made lots of special garments," Michael tells me. "We've even sourced Donegal tweed for them". Because of that history, The Bureau stock one of the most extensive selections of Engineered Garments you'll find anywhere.
Of the other clothes I looked at, I was impressed by the knitwear from the British brand Tender Co; fully fashioned in Scotland, hand linked, often dyed using traditional techniques, and made from a meaty 5-ply Gansey wool.
The Diving Pullover (above) had a raw, almost primitive quality to it. (The knits aren't up on The Bureau's website at the time of writing, but you can see them on the Tender Co website).
While The Bureau's offering has tended towards workwear in recent years, they continue to stock some interesting fashion-forward labels. I liked the selection of items from Parisian atelier Casey Casey. Here, once again, the cloth choices stood out, often tightly woven and structured fabrics that are loosened up and broken in through heavy washing, double-dyeing or hand-finishing.
The Big Blobby Coat (above) for example is fashioned from a deeply textured, black boiled wool and lined with a bone-coloured, crushed paper cotton. As its name suggests, the coat is bold and voluminous; not one for those that like the structured sharpness of a tailored overcoat, but it still comported itself with the "bad-ass swish and drama" of the best coats.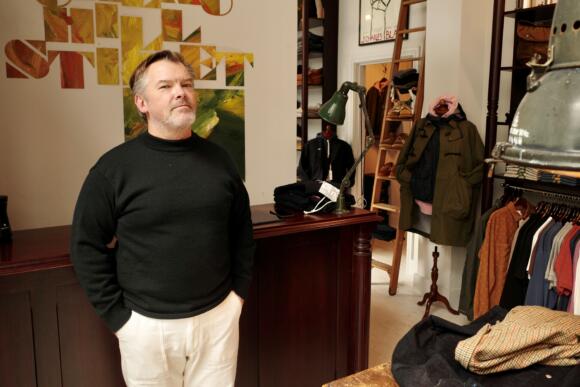 The following day, I squeezed in a quick visit to The Bureau's newest outlet in the Cathedral Quarter – a former warehousing district that has been recast as a cultural area.
While The Bureau's internet presence is strong, Michael told me they try to keep the online experience close to bricks-and-mortar. This means re-measuring all items before they go online (rather than relying on a brand's specs), using their own images (Roger is the resident photographer and Michael's son, Jakob, models frequently), and handling customer service and the fulfilment of orders themselves.
However, at heart, Paul (above) and Michael are retailers and their instincts told them there was an appetite for a more traditional shop setting post-Covid. So, when a space adjacent to Niall McKenna's new Waterman restaurant became available, they returned to the city centre in June 2022, with Paul manning the shop from Wednesday to Sunday.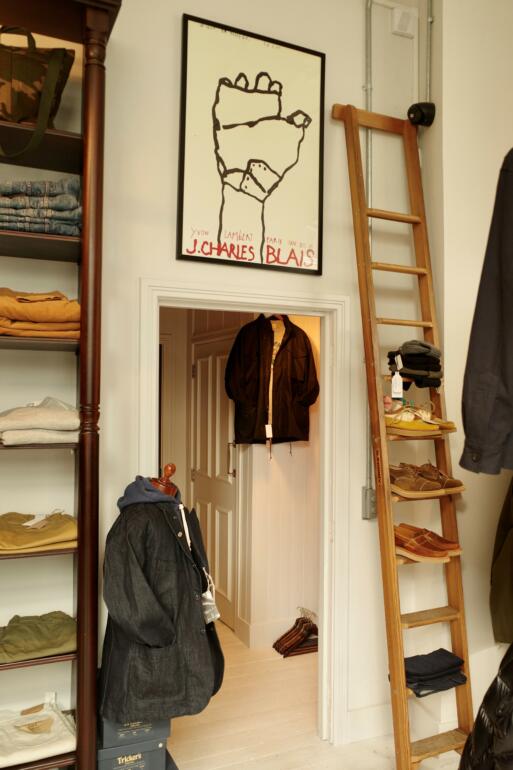 In preparation for my visits to The Bureau I reread Lucas's piece on the state of UK independent menswear: a paean to those who take risks in curating and supporting small and unknown brands - sometimes based on little more than a gut feeling.
After meeting with Michael and Paul - and seeing unusual iterations of much-loved favourites, discovering half a dozen new brands, and trying on a few garments that are outside my usual style - I came away with a deeper appreciation of exactly the type of business that Lucas was so protective of.
Manish is @the_daily_mirror on Instagram
Photos by Manish and courtesy of The Bureau Belfast.