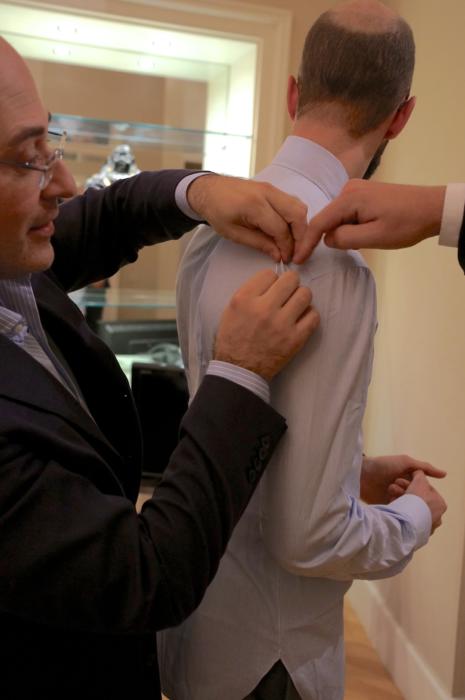 One of the new makers I met in Naples last month was D'Avino, a small shirtmaker run by Fiorenzo Auricchio (above). Fiorenzo trained as a boy under his father, who worked for Gino Borelli – so a pretty decent education – and then set up his own company.
As regular readers will know, I regularly use Satriano Cinque to make my shirts, and I have been more than happy with them. Given the people I have met at the Satriano visits over the past few months, others are clearly happy with them too.
But while Satriano delivers that lovely soft Neapolitan construction, and the most important, functional handwork (collar attachment, sleeve insertion), it is not the ultimate of what Naples can offer. That is reflected in the price: Satriano starts at €180, where Kiton and others are up towards €300. (More on Kiton, run by another Borelli, the lovely Sebastiano, here.)
D'Avino is the ultimate. Everything on the shirt except the long side seams and the edging of collar and cuffs is done by hand. As with Kiton, the side seams are also turned and then stitched by hand again, to give the seam pliancy.
Indeed, in a few small ways D'Avino goes further than Kiton. The placket on the sleeve is entirely constructed and attached by hand; the seam along the back of the yoke is done by hand; the cuff is attached to the sleeve by hand. Fiorenzo puts it at 25 hand operations, where Kiton is 17. I haven't counted my shirts, but I'll take his word for it.
These are all tiny, unnecessary details. They make no functional difference to the shirt. Perhaps attaching the cuff by hand gives it natural curve, as with the collar, but it's tenuous. As with many aspects of a Cifonelli suit (of which more later in the week), the value is in the pure aesthetics, the pleasure of craft for its own sake.
D'Avino shirts run from €250 to €400. The photo at top is of the fitting in Naples – I will post more when I have the final shirt to assess. In the meantime, click on the images below to see close-ups of Fiorenzo's work. The yellow stitches are basting.