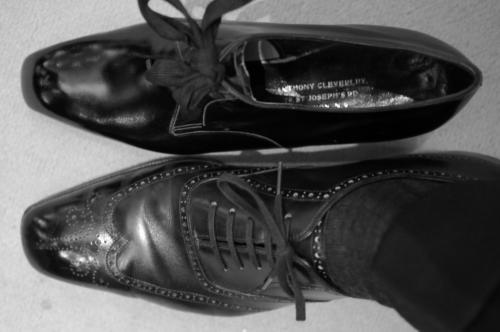 While meeting the impossibly nice Xavier Aubercy last week, we got talking about the archive of shoes owned by Arturo Lopez, a friend and customer of Xavier's grandfather Andre Aubercy.
Lopez was a customer of many shoemakers, and his collection is often used by Aubercy for inspiration. One of those makers was Anthony Cleverley, which gave us the opportunity to compare a pair of original patent slippers he made with the shoes I was wearing – modern bespoke Cleverleys made with Anthony's distinctive elongated toe.
It was a pretty good match, although the thinness of the leather used in the originals was striking. It felt more like paper than leather. The heel, as you can see below, was also rather higher. Note the beautifully smooth and softly curving line down the heel cup and into the heel stack.