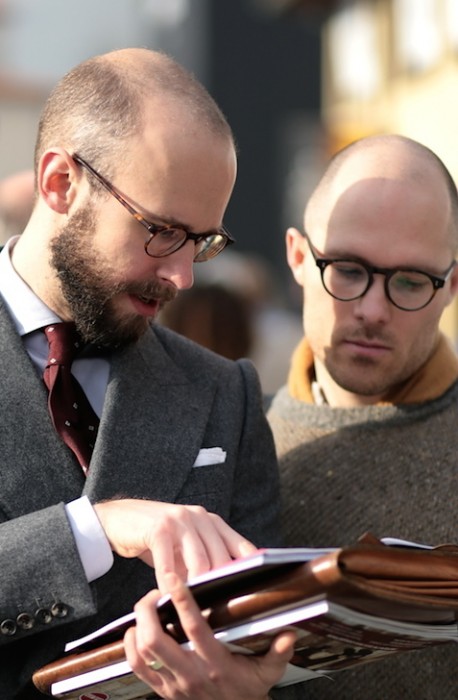 As soon as the storm troopers arrived, you knew it was all over.
Things had looked bad on Wednesday, when half a dozen men in deer masks had stood around in the square, posing. The lycra suits that trooped through at midday were also pretty terrible, but at least they didn't stay long. It was the storm troopers that were the last straw.
This year, some of the brands at Pitti Uomo took advantage of the massed photographers to dress up models and parade them outside. The deer-masked-men were, I hope, one example. There was also an exhibition of 'Pitti people' and a Pitti walk. The self-referential nature of the fair, which accelerated last year when the building was decorated with 'street' photography outside, seemed to be reaching a freakish zenith (or nadir…).
It didn't help that Bread & Butter – the more casual-menswear fair in Berlin – had been cancelled, sending more people to Pitti. The Italian government had also pumped in money (and announced another €36 million for this year). Even first thing on Tuesday morning, the square outside Padiglione Centrale was packed, with bizarre little dances going between photographers trying to get a clear line of sight at Ieluzzi or Rubinacci.
When two storm troopers and Darth Vader turned up to get in on the action, it crossed the line into ridiculous.
And yet. We poke fun at the Pitti circus (the circus is outside, the fair inside), yet it remains the highest concentration of well-dressed men in the world. In even the most ridiculous outfits (outside of film costumes) there is something to like: the colour of a hat, the line of a shoe, the texture of a jacket. There are some fantastically elegant dressers, doing their thing in quiet security.
I'll put together some of my favourite looks next week, and put them on the Pinterest repository of such things. But in the meantime, it's worth saying that the circus has some upsides – particularly compared to the stupidity of the fashion shows.
There were some nice things at London Collections: Men. There was the Rake's opening party, of course, and Anda and her team put together a great event for Savile Row at Apsley House. But the few shows I went to featured less interesting clothing than Pitti, on models that didn't come close to fitting in them, surrounded by hundreds of enthusiastic and presumably blind supporters.
Pitti has a long way to go before it's as bad as that. And inside the show, there is the same lovely line-up of craftsmen and entrepreneurs, trying to communicate the story of the products they love. Perhaps I am a Pitti apologist. Perhaps I am overly fond of the sun, stones and silliness. But Pitti is our show, it's doing well, and I'm happy for that.
(Pictured, with Luke in grey-flannel Edward Sexton suit. The shirt is pale grey, making a nice alternative to white; grey also goes particularly nicely with burgundy.)
Image: Beyond Fabric