Shibumi bespoke checked jacket – Review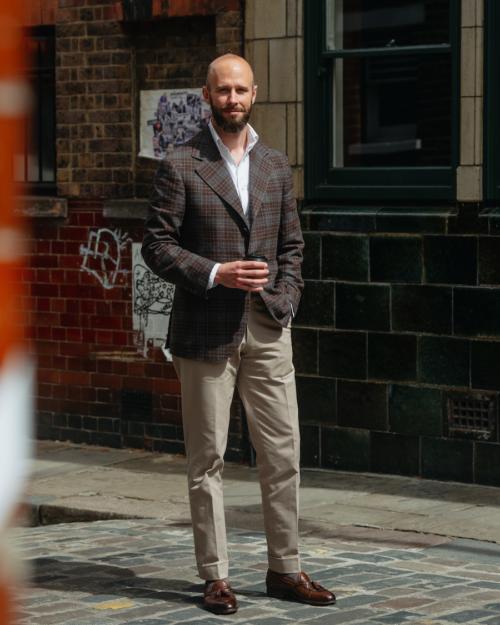 This bespoke jacket was made by Shibumi, the Italian/Japanese company better known for ties and accessories.
Over the past couple of years, founder Benedikt Fries has been working with a small Florentine tailor to offer this bespoke tailoring service, having used the tailor himself for a while.
I thought it was interesting to cover because the tailoring is quite well priced for Florence (jackets €2500, suits €3000) and because it's available around the world - thanks to Benedikt's trunk shows, currently New York, Tokyo, Zurich, Bangkok and Taipei.
However, this availability is only possible because Benedikt takes measurements and conducts fittings himself. So some readers had asked about the service - whether Benedikt, despite not being a trained tailor, could create a good bespoke product in tandem with the cutter in Florence.
I'm pleased to say (it's always nicer to deliver good news) that the answer is yes.
This is a strong, well-made piece of bespoke, and the fit is good. There are a couple of things I would change at a further fitting, and when I see Benedikt again, but they are not major.
I was measured by Benedikt in London. We then had a fitting while visiting the silk printer Adamley, in Macclesfield. And I had a final fitting with the tailor Mario Liguori this past January, in Florence.
The balance and other fundamentals were good from the start, which reassures me when recommending the service. Because while I had one fitting with the tailor, not all others will be able to do so.
So it was good to see that the fit was good before the tailor became involved, and most of the second fitting was concerned with tidying up things like sleeve length, waist suppression and a little pick-up of my right shoulder (which always happens).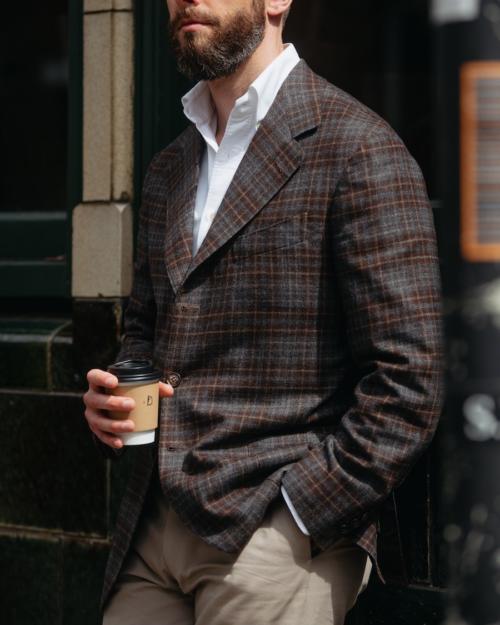 The style is quite typically Florentine in the lapels, gorge and front opening. But it also has very soft, natural shoulders.
This mix reflects a little of the tailor, Mario's, background.
Mario was born in Amalfi, and started work as a tailor in his uncle's shop when he was 15. After a while he followed his uncle to St Petersburg, and worked there briefly before returning to Italy.
In Italy he worked with A Caraceni, as a tailor in their workshop, before going to Florence in the late 1980s and working for Rudolfo Cisternino - brother of the better known Sartoria Piero Cisternino. It was there that he learnt to be a cutter, and worked under Cisternino for 30 years. His wife-to-be also worked in the same atelier.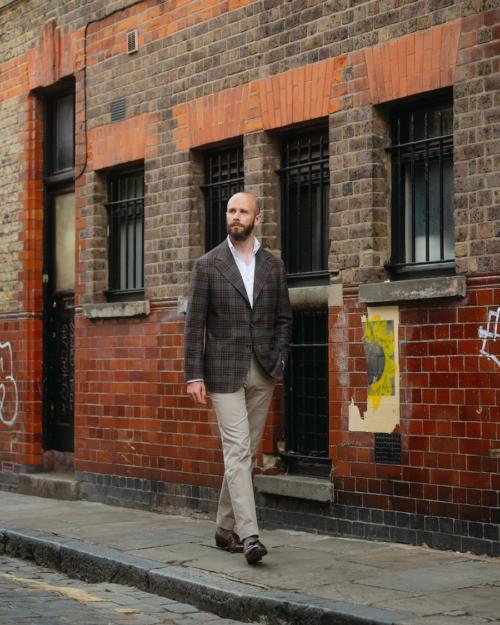 The Cisternino family is quite well-known in Florence, with Piero having won the Italian golden shears in the late 1960s. They originally came from Naples, and they are known for offering two types of shoulder expression: a more padded Florentine one, and the natural Neapolitan.
The style made by Mario and offered by Shibumi is more Neapolitan, and it's an interesting mix: that soft shoulder framing a high-rolled, square-gorged Florentine lapel.
It's not unusual for tailors to mix the two styles, of course. Tailors like Corcos in Florence do so, and so do many new tailoring outfits, in Hong Kong and Korea for example.
However, most of those keep the Florentine extended shoulder, rather than having the usually smaller Neapolitan one. I quite like the effect in a casual sports jacket like this, as the lapel provides some angularity that the shoulder lacks.
But the potential downside is that it makes the jacket look a little squarer, particularly given the short lapels created by that high roll.
The fit of the jacket is really very good.
The impression created by the pictures here, of the clean run from the collar down into the shoulder, and the smooth upper back, are both spot on.
This is a great piece for a first commission, and it's that level of execution that gives me confidence in recommending Benedikt.
One of things that could do with a tweak is the skirt at the back. There isn't quite enough room across my seat (arse) causing the jacket to stick out slightly.
Another small issue is that the waist is a little big on the front of the jacket. If anything that is underrepresented by the photos (see, it works both ways!) and could do with being taken in.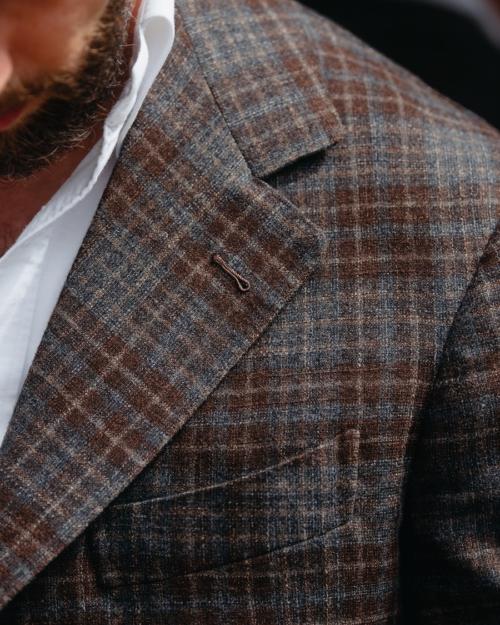 Still, the effect of this is that it makes the jacket very clean at the front, as well as extremely comfortable.
The work is also fine (see the buttonhole close-up) with lots of attention to detail, like the nice pattern matching across the double patch pockets (below).
This isn't Parisian levels - the inbreast pockets are still cut into a separate piece of cloth - but it's more Florentine than Neapolitan.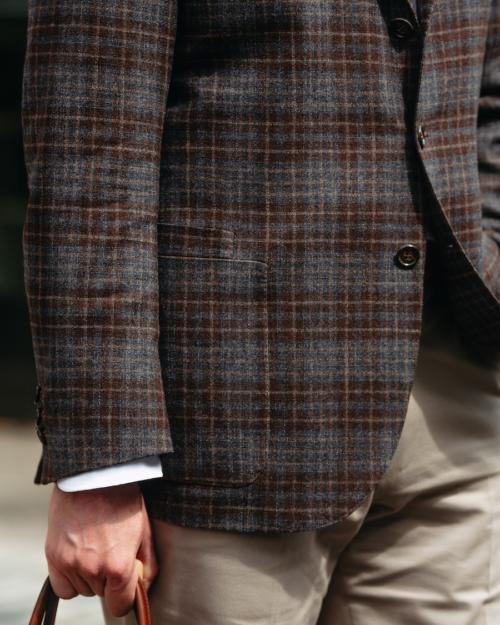 The cloth is from Zegna, a wool/cashmere/silk mix (69029, 86/4/10%) weighing 240/250g.
I've never had a patterned Zegna cloth before, and I find the colours interesting. There is often something colder, perhaps more urban, about the Zegna offerings.
Where a Caccioppoli or Loro Piana would be warmer, more casual, this feels corporate, and perhaps best suited to blue or white shirts, grey or cream trousers.
The pattern has everything in it that you'd want to pick up elsewhere - brown, blue, grey, white - and yet it's best with a fairly narrow range of trousers and accessories.
Here I've worn it with a white PS Oxford button-down shirt, warm-grey cotton trousers from Whitcomb & Shaftesbury, and my much-loved brown Belgravias.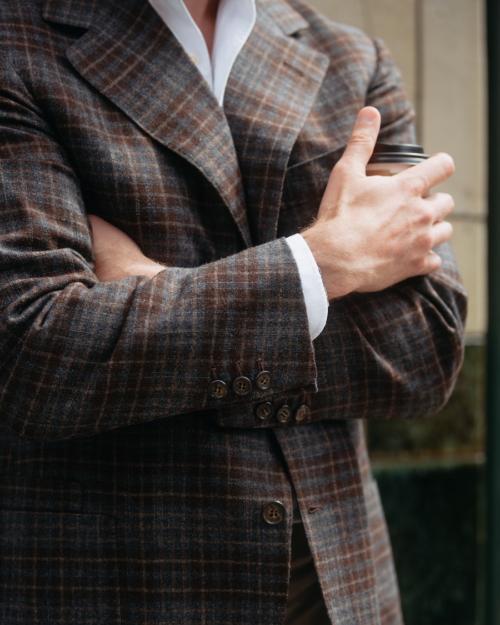 The visit to Adamley printing can be seen here.
Details on Shibumi service and trunk shows here.
Shirt shown in fitting image: PS Everyday Denim.
Photography: Alex Natt @adnatt