Giving to charity: No Man Walks Alone, Covid and Black Lives Matter

Charitable giving: No Man Walks Alone
Runners up: The Anthology, Private White VC
I was a little surprised by the cynicism of around this award. Clearly, people are seeing more brands than me using charity (at least partly) as a form of marketing.
Still, there was a lot of genuine charity work, and votes from readers wishing to recognise that. As promised, all the great work is highlighted at the end of this piece.
I also won't refer to No Man Walks Alone as the winner, even if more people voted for them than anyone else. Everyone deserves recognition.
What I will do is use this article to dig into what I think is a very interesting subject: why brands give to charity, how they decide who to give to, and how they calculate how much to give.
There was no suggestion from readers that NMWA were using their donations for cynical marketing. But they did receive public criticism for other reasons, particularly in reaction to donating to anti-racism movements.
Which leads to other interesting questions: How many brands see it as a risk to publicly support a cause? If they risk that on the one hand, and cynicism on the other, why would they do it - why not just keep all their lovely profits for themselves?
And is this attitude - perhaps exaggerated by political tensions in the US - stopping people from giving, or at least talking about it and so encouraging others to do so?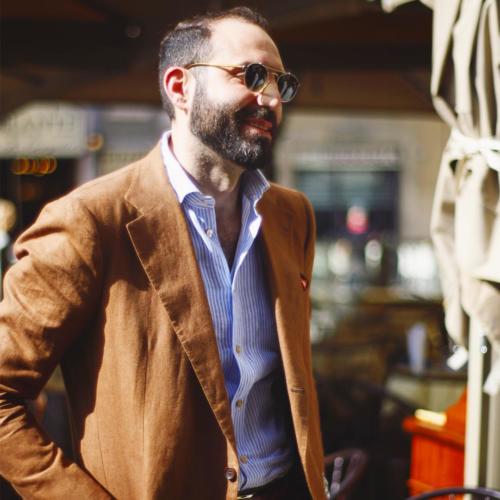 Permanent Style: Hi Greg. To start with, could you give us a quick rundown on the different charitable endeavours that No Man Walks Alone undertook last year?
Greg Lellouche (above): Hey Simon. Sure. So, in March 2020 we decided we wanted to do something to try and help those that were suffering from Covid-19 in the US. At that point, it seemed like the people that were hardest hit were the old and vulnerable, who were having to stay home and couldn't go out to shop or eat.
So we did some research, including talking to people we knew in the area and digging into analysis, and felt that the cause that needed the help most - and would have the most immediate effect - was Meals-on-Wheels. Meal requests had almost doubled in the preceding weeks.
Over two months, we used an offer on the site to raise money with purchases, and donated $25,558 in total to the cause, which paid for over 4,000 meals.
That sounds like a lot of work deciding which charity to give to. Why did you go into so much detail?
We always want to be sure we're giving effectively - in an efficient way, where the money does the most good. I give personally as well, but that's to causes that have affected me. With the company, it's more analytical.
It's also an approach we've used it in the past. For example we donated profits after Hurricane Harvey in Houston in 2017. That displaced a lot of people, and it created real migration too, like Katrina.
But last year also felt different for us. I think it was a point where we decided this should be like a tenet of our company, how we saw ourselves as an organisation. We wanted to make it part of our mission to do good, to advance issues that we thought were worthwhile, and be more of a responsible citizen.
In theory it's hard to see anyone objecting to that, yet you ran into some opposition when you began your next period of giving, after the death of George Floyd in June.
We did, and there was a lot of debate internally about what we should do - which I think reflected what a difficult area this is.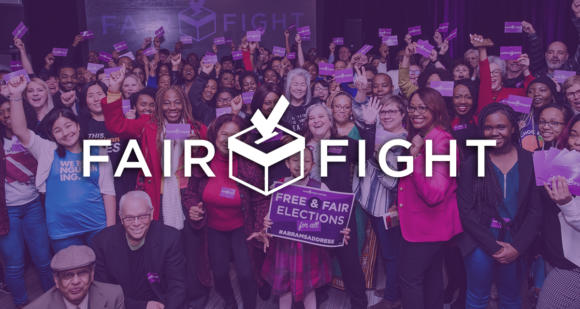 What were the internal debates about?
Mostly about which organisations we should support - and whether they were doing the right things, focusing on the right issues.
So for example we gave money to Fair Fight, which helps support people in their voting rights, and combating voter suppression; that's relatively uncontroversial.
But we also gave to Campaign Zero, which promotes policing reform. Some people - particularly in the public debates around policing in America - feel that this doesn't go far enough, and campaign for defunding of the police. It's a complex area.
One of the things we could all agree on was to approach the problem from multiple angles. So on the one hand we wanted to fund grassroots movements, like Black Lives Matter - which is more a diffuse organisation of movements - as they would make an immediate difference.
But on the other hand we wanted to give to organisations that combat the broader results of inequality, such as the Bail Project, which aims to reduce incarceration and reform the unjust bail system.
The last of the five causes we gave to was the NAACP Legal Defense Fund, which provides legal services to people that have been wrongly accused, or that need attorneys when they've been arrested during protests. That was an organisation that needed immediate help, because of the scale of the protests and subsequent arrests.
How did you deal with the criticism you received on social media?
Well, some of it was more a question of policy, as with the Campaign Zero debate, and whether that went far enough. We had quite a few comments about that on Instagram and Facebook.
But I think the aims of Black Lives Matter are really only debated in bad faith. There's a segment of the population that just reacts negatively to the name, and doesn't understand the movement.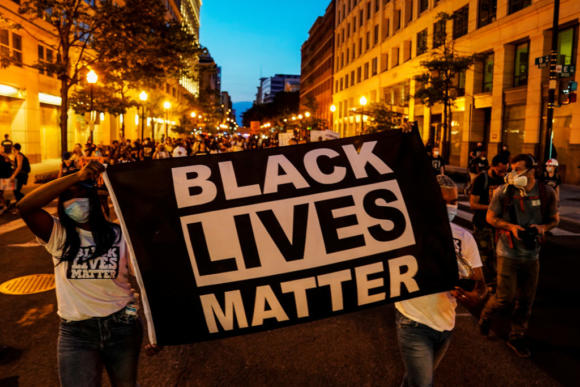 Was it scary, knowing this would provoke controversy? Either because you were likely to lose customers and money, or actually be threatened as some organisations have been?
Not especially - I think it helped how much support we had, and quickly received, from our followers and people that we knew were with us.
We knew we were going to turn off people, and we certainly lost hundreds of followers immediately on Instagram. But that happened as soon as we said anything, even just expressing outrage at the death of George Floyd - so I think it just speaks to the kind of political divisions there are here in the US.
How could you possibly object to someone simply being outraged at that video, showing a man having his neck knelt on for eight minutes by a policeman until he was dead?
The issue in this country at the moment is that there is no nuance. Everything is taken at face value, as a trigger to react one way or the other. It's perfectly possible to be a Trump supporter and be outraged at that act of police violence. And then to have a healthy debate about what to do about it.
Unfortunately there's just no space for that at the moment - politicians have actively tried to divide the country and people against each other. So we knew we'd have a reaction, we knew we'd lose sales.
Were you ever scared that it would undermine the business - either through losing customers, or making such a big ongoing commitment? I'm sure that would scare anyone running a small company.
I don't think we were, no. It helps having a relatively mature business, so you have confidence in your supporters and what you do. But also, this was a year where no one knew whether their business would survive anyway. We didn't know what was going to happen.
I noticed the antiracism project was rather bigger - or broader - than the previous campaigns. Why was that?
We wanted to do something other than just give money this time. We'd realised from previous giving how actions trigger other people into action - you could see that on social media.
So we did a few things such as making a 15% pledge around black brands: by Spring 2022 we will buy at least 15% of our inventory from black-owned brands, and dedicate at least 15% of our marketing efforts to promote them.
We wanted to be more attuned to black designers and how much harder it can be for them to get in the door. The mentoring programme we set up was part of that as well - we know a lot of people that can help designers with marketing, with finding factories, with IP and legal issues. So we wanted to set up a way for them to connect.
How has the mentoring programme been so far?
The response has been surreal, really impressive. We've had over 50 applications, and taken on 10 mentees. There are more details on the website page if anyone wants details - and you can see some of the mentors we have involved as well. [Below]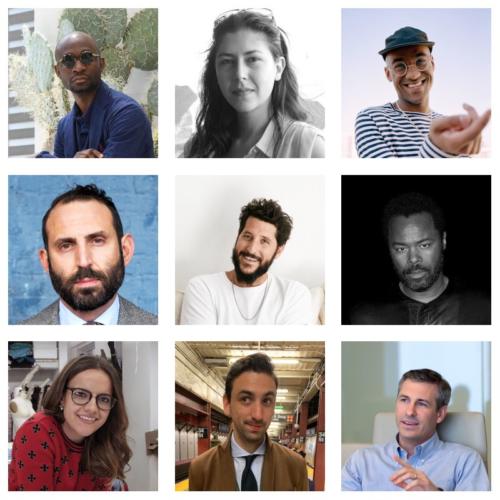 How much does this amount to positive discrimination, do you think, and how do you feel about that?
That's a good question, and it's some of the negative reaction we've had, especially to our mentoring programme: 'That sounds great, but I'm white, why can't I access it?'
I think it comes down to, in our very small way, repairing some of the issues created by the implicit or explicit bias that exists throughout the process of a black designer launching a collection. Whether it's getting into a school, succeeding in that school, getting the right internships, access to the right mentors and so on.
When you talk to black designers, you just realise all of those steps are harder. But it's very hard to convey to someone that hasn't been subjected to it. I think most accusations of reverse racism - as through years of affirmative action too - are usually based on a lack of understanding of that experience.
I really do understand the reaction - the feeling of suddenly encountering your own negative bias, when you haven't faced it before. But there has to be some pushback the other way. We need to find ways to help people right now as well as changing the fundamental, long-term problems.
Moving on to another type of negative reaction, were you surprised how many readers are cynical about philanthropy by brands?
Not really. I think it's very hard not to fall into a cynical mode, and react that way to everything. We're fed so much information, so much greenwashing. Particularly when you see Zara and H&M putting out sustainability papers, when at their heart the business is just not sustainable - there's no way it can be, when you're selling shirts for $4.99.
We're sold at so much these days, particularly in the US, so I understand that reaction. Perhaps the biggest problem is that it just makes people cynical about everything.
It seems to particularly put people off when brands shout loudly about what they're doing. But then, it's by shouting that you raise awareness about an issue, and encourage others to take action too.
Exactly. That was why we wanted to talk so much about our projects - you have a bigger impact, a network effect. So maybe that's one thing that's not fully understood when cynics react to public statements.
For example, the mentoring programme has worked because other people talked about it - in GQ, in Robb Report. Lots of people covered it, and that created the awareness to bring in applicants. We couldn't have done it otherwise unless we hired a big PR agency.
Perhaps it's more about the tone. Simple statements and descriptions of actions, rather than highly produced videos and boasts of lives changed.
Yes, there's probably a lot in that. We've always wanted to keep it simple, like the statement post we originally put out about our approach to racism.
Looking back on it, I think 2020 was a watershed year for us. While we don't want to define ourselves by our philanthropy - the way some brands talk about nothing but sustainability - this is going to a continuous part of who we are.
This is not a one off: we've made a commitment to giving for the long term, and it's now a big part of what makes No Man Walks Alone what it is.
We're going to hold ourselves accountable too, and want customers to do that. We'll report back regularly, and follow-up on all our projects. Whether anyone's watching or not.
Above: some of the current black-owned brands carried by NMWA - Glenn's Denim, Post-Imperial and Norwegian Rain
Other brands whose philanthropy readers wanted to be recognised:
Standard & Strange

Marc Allen

Emma Willis

Tom James / Individualized Shirts

Patagonia

Thursday Boots

Cad & The Dandy / Huntsman

Connolly