Two years ago, when we visited the Joshua Ellis mill near Batley, Yorkshire, I spent a happy couple of hours browsing their archive.
As you might expect, the vast majority were classics: plain or textured cashmeres, houndstooths and herringbones. This is the majority of the market, and what most people expect.
But now and again, there were little collections of really wonderful checks. Unusual - with real personality - but subtle with it.
It was these I spent the longest time poring over, and which resulted in us bringing one of the most beautiful out of obscurity - the dark purple and green cashmere you can see pictured.
It's available on the Joshua Ellis website, from today, in the same way the Escorial has been previously (rather than on the PS site).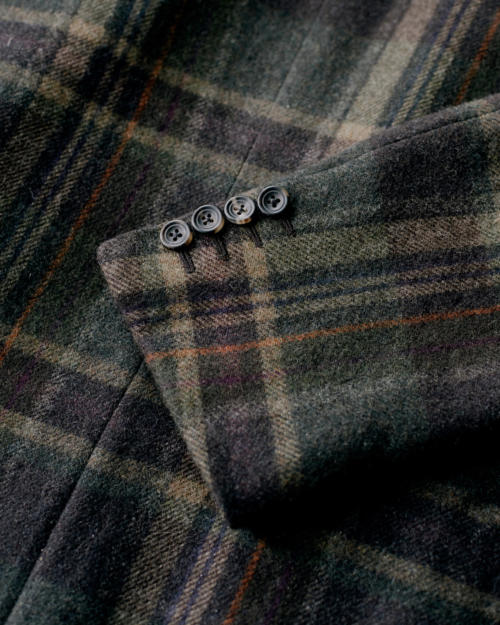 I've always had a soft spot for checks, but in the past I've tended to go for strong ones, or have them made into suits rather than jackets - which makes them stand out rather more.
The key thing I loved about this pattern was how much was going on, yet how subdued the overall impact was. When you say you're going to wear a purple-and-green check, this is not what people expect.
The base of the pattern is a dark green and very dark brown/purple. The latter, in fact, is so dark and mixed in that it's hard to say exactly what shade it is.
The suggestion of purple, though, is reinforced by a faint additional purple stripe (alternating with white in the twill) running horizontally, and a thinner, uniform purple line vertically. These are surrounded by straw-yellow stripes of varying widths. Then there's a white stripe, a couple of faint blues and an orange.
I know from experience how hard something like this is to design, how easy to get the shades or balance of the colours completely wrong, and I bow to the expertise of the Joshua Ellis design team. It's a rich and beautiful pattern.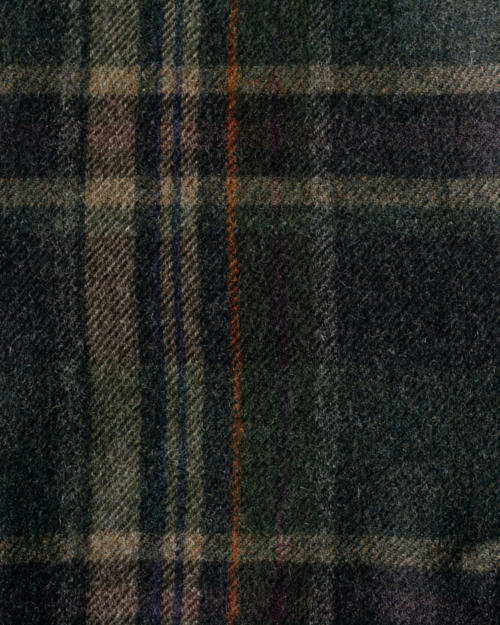 I decided to call it the Permanent Style 'plaid' only partly for the alliteration.
The pattern also has something Ralph Lauren about it - unsurprising perhaps, given Joshua Ellis have worked for Ralph for years - and I think to that extent something American too.
English mills don't usually produce designs like this, and the Italians rarely do either. The English would make it up in tweed, and the colours would be brighter. The Italians would happily make it in cashmere, but the cloth would be light and the colours less rich.
This luxurious take on tartan has more of an uptown American feel, and hence we've used American terminology. It is the PS Plaid.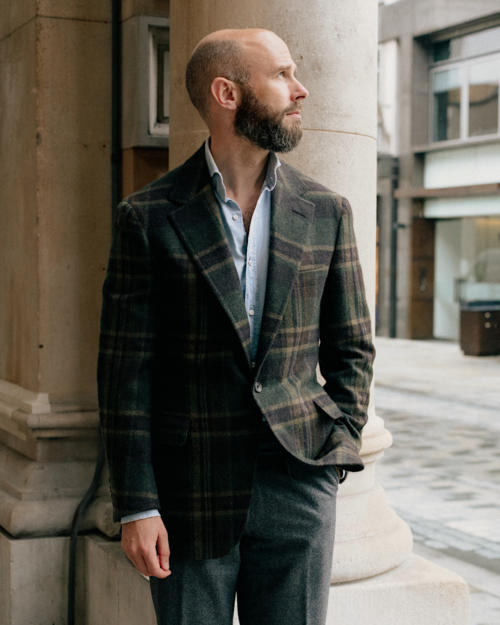 I think it would suit a jacket worn more in the evening too, for these reasons.
I've pictured here during the day, with some of my favourite things - a denim shirt, flannel trousers, suede tassels. Looking at that outfit now, an old red bandana might have looked nice as a pocket square.
Or a purple spot. The fun thing about checks like these is picking up little aspects of the pattern and using them elsewhere. I might not use green in a hank or tie, but certainly a brown or yellow.
However, I do think I'll wear the jacket often in the evening. It would look excellent with a charcoal rollneck, or a cream shirt. Even black. I have tried it with a cream knit, charcoal trousers and black Sagans and it works wonderfully.
Something this luxurious - which must come from the depth of the colours as well as the cashmere - seems to suit dressing up.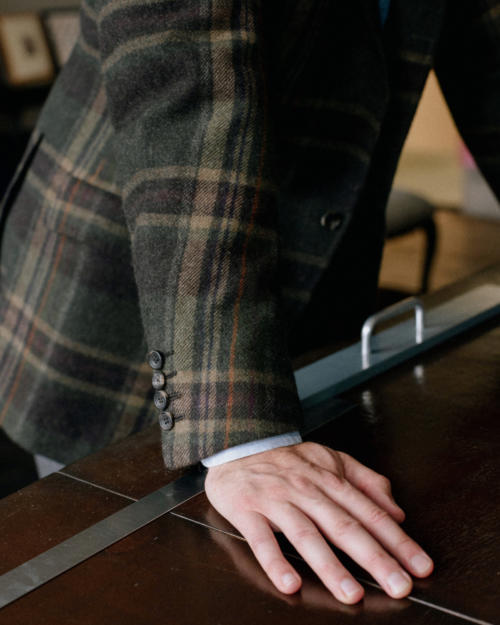 We were keen to produce a fabric that felt as sensuous as the design implied, and to that end decide to use the finest cashmere Joshua Ellis has to offer, with slightly brushed finish.
The finish raises the fibres and gives both more 'cover' to the pattern (fluffiness makes any pattern less pronounced) and a more tactile feel.
This is very understated - we're not talking anything like the milled finish of a flannel - but it does make the cashmere both more indulgent in feel and more subtle in tone, so accentuating both of the things that already drew me to the cloth.
If anything, it reminds me most of this jacket in a vintage cashmere I had a few years ago. Not as heavy, but with the same old-school feel.
The weight is a versatile 350g. So not for warmer months, but I'd certainly wear it nine months of the year in the UK - perhaps with a grey crewneck underneath when it was my outermost layer.
For anyone looking at other Joshua Ellis jacketings, this weight and finish mean the PS Plaid is a unique quality, so not comparable to anything else in the range and not available elsewhere.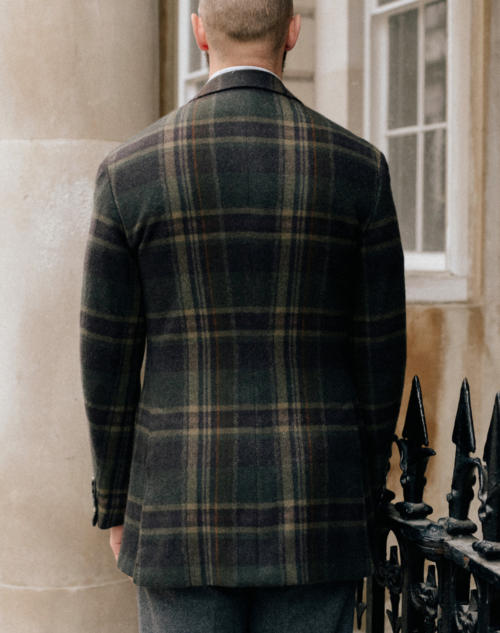 The jacket itself was made by Whitcomb & Shaftesbury, in a softer style they are now doing with an inset shoulder, plus a more generous fit than what I've had from them before.
There are many other things to comment on there though, so I'll do so in a separate post.
The shirt is my old Al Bazar denim, the flannels are from Cerrato and the shoes are my Belgravia tassels from Edward Green. The red handkerchief that would have made a nice addition is here.
Thinking as I write, I reckon a black or navy knit-silk tie would like good with this too. Unlike a regular checked-tweed, there would be nothing old-mannish about the combination.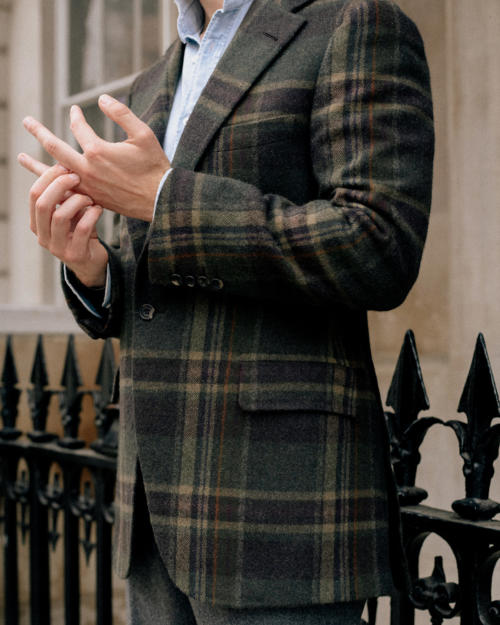 Details on the cloth and on ordering:
The PS Plaid is available through

the Joshua Ellis website

only.

Buy the length you require in units of 1m and 10cm.

In terms of length required, I need 2.1m for a single-breasted jacket, but requirements will vary a lot with your size and desired style. Check with your tailor.

There is a limited number of swatches available, with a small charge that is refundable if you place a full order. Again, on the Joshua Ellis site.

If you want to send the cloth straight to a tailor, that is possible (and saves on shipping twice). Just put them down as the delivery address - with your name included in it - and let them know it's coming, to avoid any confusion.

The cloth costs £175 a metre, including VAT. For jurisdictions outside the UK, there are separate set charges that will show on checkout - but which do not include VAT or duties. Joshua Ellis does offer free shipping worldwide however.

The cloth is regular width, a 350g 100% cashmere twill, woven by Joshua Ellis in the UK.

The check repeats every 6.5 inches horizontally, and 6 inches vertically.
There are no current plans to reweave the Escorial Tweed. The PS Harris Tweed, however, is being rewoven again and should be available again later this year.
Photography: Alex Natt @adnatt