Escorial Tweed is available again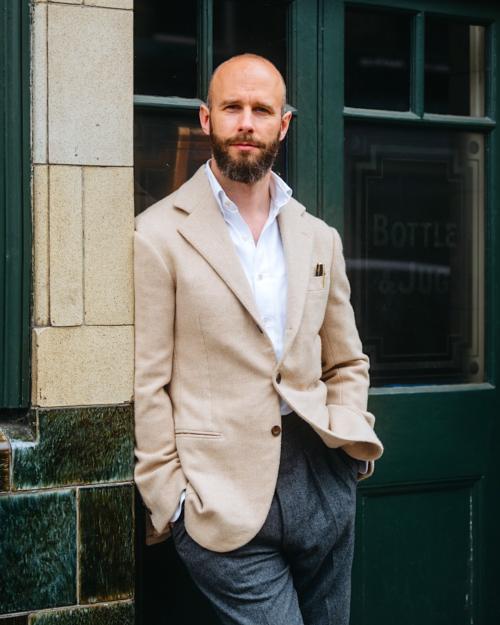 UPDATE: Please note that the tech sheet for tailors, mentioned below, also includes information on the small shrinkage that sometimes occurs with Escorial. If your tailor is unsure on how this will affect the amount you need, please request this sheet from Joshua Ellis. Thank you
I'm proud to say that a new batch of the Escorial Tweed cloth has been finished this week, and is available on the Joshua Ellis website.
It was a bit of a gamble last year, producing a good quantity of such luxurious cloth. I always want to seek out the best there is - and Escorial is certainly that in this category - but it was hard to know how it would be received.
Thankfully, the response was really positive, with some of the colours selling out quickly.
Here again, then, is the full range: the dark brown, the oatmeal, and the olive green, in their rich stretchy loveliness.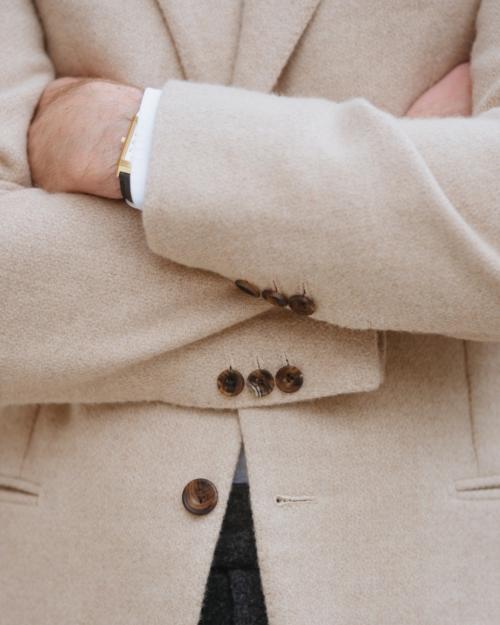 I've photographed my jacket made with the oatmeal cloth, this time, because in the original launch post we only showed the brown made up.
The oatmeal jacket was made by Prologue in Hong Kong, and I think the cloth really suits their soft, wide-shouldered style.
I've said many times before how much I like the oatmeal for smarter looks, and this outfit demonstrates that, with a white oxford shirt, grey trousers and dark-brown shoes. It's smart and luxurious.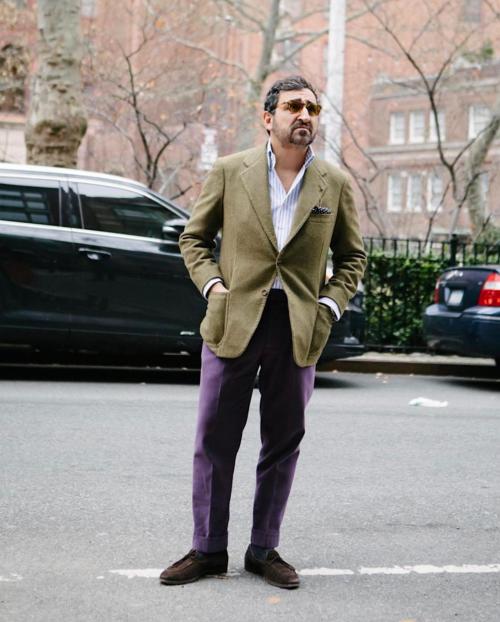 I've also included a shot of filmmaker Gianluca Migliarotti (above) in the green Escorial.
Gianluca has a real penchant for green, and for comfort. This jacket suited him down to a tee, made up by the tailor Ciro Zizolfi that makes all of his clothes, and also made my brown version.
Gianluca has brown-suede shoes too, but otherwise is rather different to me, with his rich purple trousers a nice foil for the variegated green.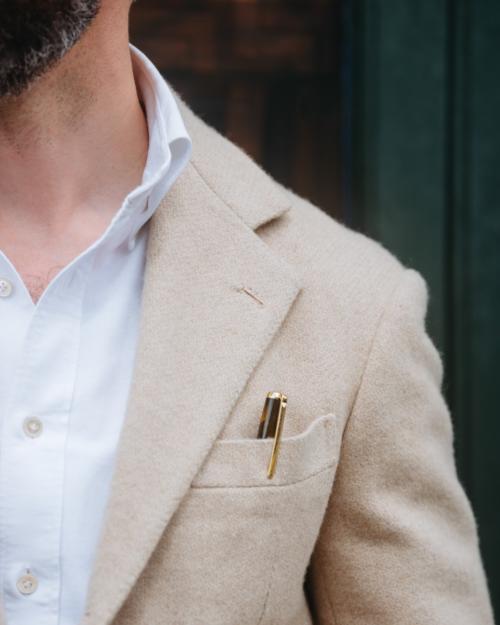 For those that didn't read the rationale for the Escorial Tweed last time, it was designed to fulfil five properties cloths I recommend for sports jackets. Which were:
1. They're muted and subtle, so suitable for professional wear as well as casual;
2. They're dark or light enough to wear with grey trousers (the most popular trouser colour);
3. They have surface detail in either colour or weave, to separate them clearly from the trousers (and add some interest);
4. They don't have big checks or patterns, which makes them versatile enough to work with a plain shirt, and support a brightly patterned one;
5. And they're practical. Not necessarily a hairy tweed but not delicate cashmere either.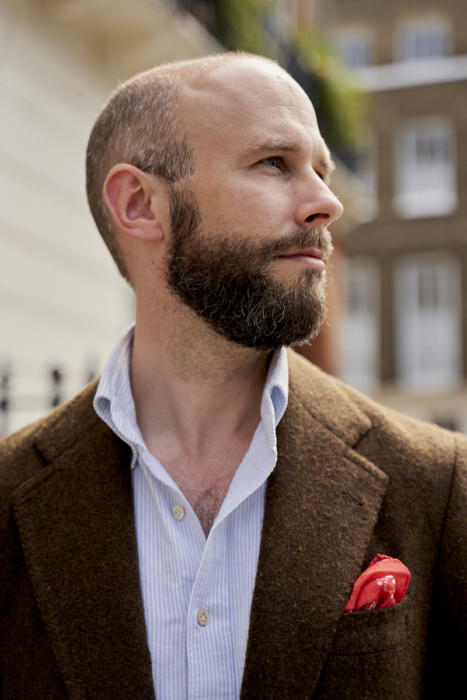 The cloth I designed with Joshua Ellis to fulfil those criteria was made with Escorial yarn - for its luxurious softness, hardiness, and natural stretch.
It was woven with natural variation in the colours, pulling in browns into the oatmeal, reds into the brown, and yellows into the green. It was this variation of natural colours, redolent of Harris Tweed, that led to the name 'Escorial Tweed'.
We also added more texture by using a thicker yarn (three ply) and a weave called a Russian twill - basically a tiny herringbone. One lovely result of this is that the resulting weight (400g, 14oz) exaggerates the properties of the Escorial. It feels even softer and stretchier.
Finally, the three colours were chosen for versatility. They all work in a modern office; they all go with grey trousers; and they're all strong enough to work with other trouser colours they don't match - so beige, green and brown.
Full details on the cloth, and all its properties, are on the original launch post here.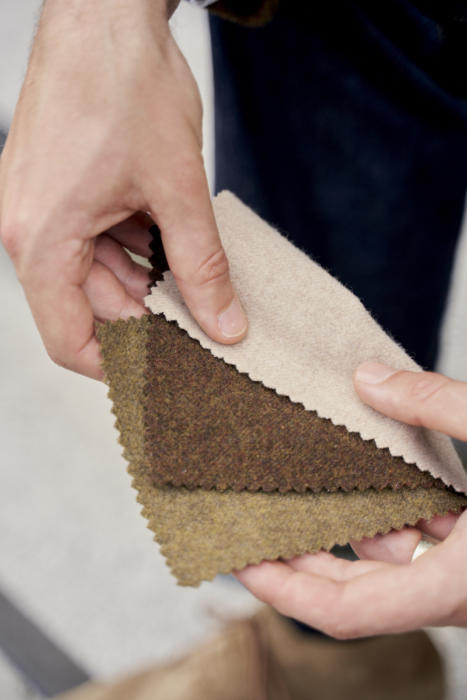 The only downside of using so much Escorial is that cloth is expensive. It costs £175 a metre - and that's with me taking a lower margin than normal retail, as I do with most things we sell.
As with last time, the cloth is being sold and sent out by Joshua Ellis. You can request how much you need in units of 10cm. I need 2.1m for a single-breasted jacket, but it will vary with your size. It's always safest to check with the tailor.
Most buy the cloth and have it sent directly to a tailor. If you do that, please include your name as a reference on the address. You can also request swatches, for a small fee that is refundable on buying a length.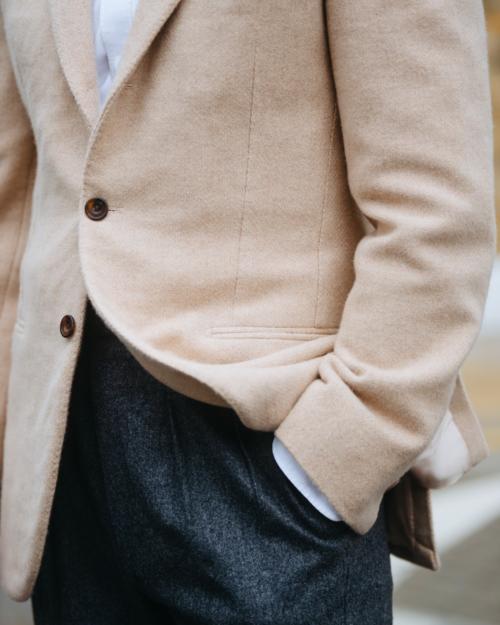 Two quick, technical things that have changed compared to last year.
First, Joshua Ellis's prices are now excluding VAT/duties for customers outside the EU. Those customers will be charged local duties when the cloth arrives in their country.
This removes an idiosyncrasy where charging a landed price meant those in low-duty economies like Hong Kong paid far more.
Second, we received feedback that some tailors found the cloth tricky, often because of its natural stretch. In order to help, Joshua Ellis have created a tech sheet for tailors, which is available for anyone to download from their site.
A printed copy of that information will also be sent out with every length of the cloth. Finally, the price has gone up slightly on last year, purely reflecting the increased cost of the Escorial yarn.
Thanks again, and I hope the Escorial gives you many years of pleasure.
Joshua Ellis information and purchase page here.
Photography:
Oatmeal: Alex Natt
Green: C.Fenimore
Brown: James Holborow