This is going to sound rather cheesy.
Forgive me.
I believe in Permanent Style.
I believe in the value of investing in products made to last.
And I believe in style that lasts decades, even centuries. (Though maybe not forever).
I believe in the people that make the products that are made to last. Who work hard and long, for years and years, to become good enough to deserve to make them.
I believe in the beauty of dressing elegantly. Of dressing simply but intelligently.
Of looking like you are well dressed. And nothing more.
Fashions come and go.
Lately, there have been more people wearing luxury sweatpants, and sportswear to dinner. There has been talk of the cycle turning again.
I don't think these values of style and craft are going anywhere.
There may have been a fashion for suits, tie clips and handkerchiefs in recent years, and we (us; you; the many other blogs, fans and enthusiasts, who are much, much bigger than Permanent Style) may have benefited from it.
But we're still here. Just with fewer tie clips.
The media is still awful, just as it was 10 years when I began writing.
It may even be worse.
Magazines are nothing more than a parade of products, interspersed with unoriginal, sycophantic writing.
Social media is awash with people that define themselves by nothing more than a number, and then sell that number for another number.
But there are good signs.
Identikit department stories are struggling; independent men's stores are opening all over the world.
I believe we (mostly you) have had a hand in this.
Those who make a deliberate effort to know more, to buy better, and to tell others.
Who value a shoe more when it has been worn, and polished, and scratched, and polished, than when it came home in a shiny bag.
Who enjoy (note: enjoy, not fetishise) the roll of a perfect shirt collar.
I'm just as passionate as I was 10 years ago. (And try very hard not to take any of it for granted.)
Passionate about the unique, hand-wrought beauty of a bespoke jacket.
About the subtle sumptuousness of grey flannel, and calf leather, and white linen, and worn denim, and thick cashmere, and chalky printed silk.
I believe in it all.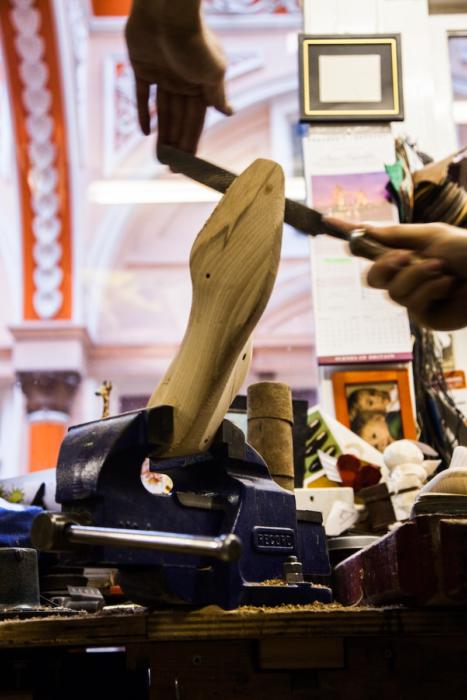 Photography: Andy Barnham, from our book The Finest Menswear in the World
Photos taken from ateliers of (top to bottom): Zilli, Cifonelli, Anderson & Sheppard, Talarico, Breanish Tweed,Anderson & Sheppard, Drake's, Loro Piana, Cleverley