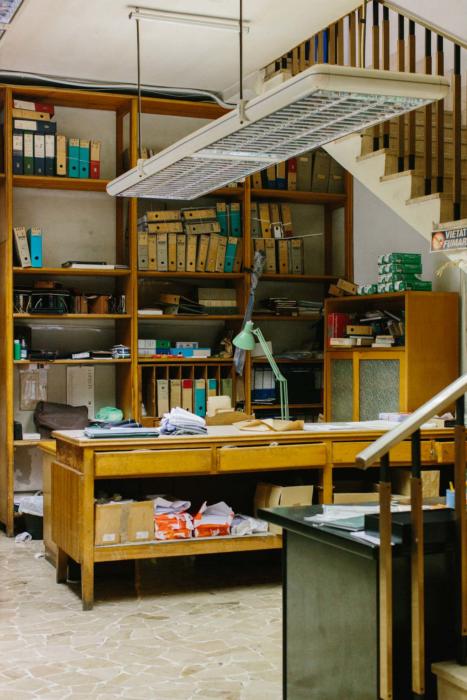 Caccioppoli, the Italian cloth merchant, was Jamie's favourite place to photograph when we visited Naples over the summer.
The aesthetic appeal is not immediately obvious.
The Caccioppoli building is big, taking up most of the city block and covering two floors. If you've never visited a cloth merchant HQ before, it's great to see the stacks of bolts, on shelves ranged up towards the ceiling, and the pattern and colour that thus surrounds you.
But it feels like something that has been pulled out of the 1960s or 1970s.
It is not the pre-War appeal of most old tailors, for example - enhanced by their 1920s fashion plates and preference for antique furniture.
The appeal of Caccioppoli, rather, is of storied, hard-working functionality.
Of a place that has been shifting volumes of heavy goods up and down, in and out, for almost 100 years - and gathered tiny remembrances here and there.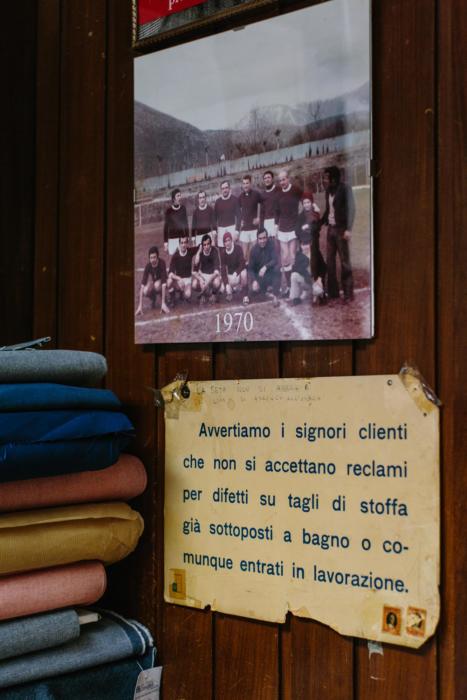 Caccioppoli is a merchant, not a mill. So its primary role is buying cloth from mills, stocking it in volume, and then selling cut lengths to tailors and other customers.
In this traditional role, the prime things valued by its customers are availability, speed of supply, and customer service.
(You can see a breakdown of English and Italian mills and merchants in old posts.)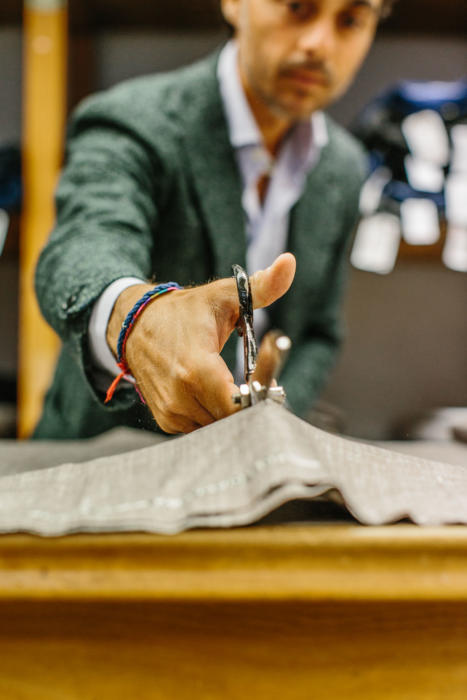 That traditional business model has become disrupted in recent years as more mills sell their own cut lengths, and both mills and merchants seek to become 'brands' that are valued for their design more than anything else.
"Fifty years ago, this whole area of Naples was filled with cloth merchants," says Cosimo Caccioppoli (pictured), the fourth generation of the family.
"We would be full of tailors all day long, coming in to buy lengths for customers.
"There were over a 1000 bespoke tailors in Naples. Now there are more like 200, and we're the last merchant left."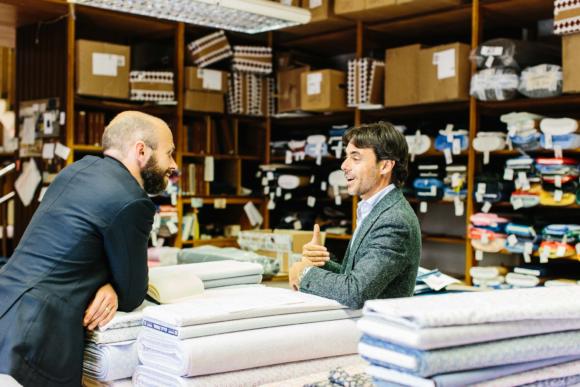 You can see that when there were tailors coming in all day, the merchant's role made sense. The mills up in Biella needed someone local to show off the new cloth, and to supply it.
That is less the case today, and Caccioppoli have become increasingly international as a result - to find those 1000 tailors around the rest of the world instead - and, as mentioned, more design focused.
"Around half of our cloths are exclusive to us," says Cosimo. "Not the standard grey and navy worsteds, but most of the jacketings, the patterns and the fibre mixes."
Those exclusive designs made a big impact about eight years ago, when I saw a Caccioppoli bunch for the first time.
I think it was in Thom Sweeney, and I loved the subtle colours of the wool/linen/silk summer jacketings - browns, greens and blues you never saw in English bunches, with very wearable patterns and colour mixes.
Ironically, English mills have tended to be brighter and starker in their summer jacketing colours than the likes of Caccioppoli: perhaps the English idea of Italian style, but too strong really to wear anywhere.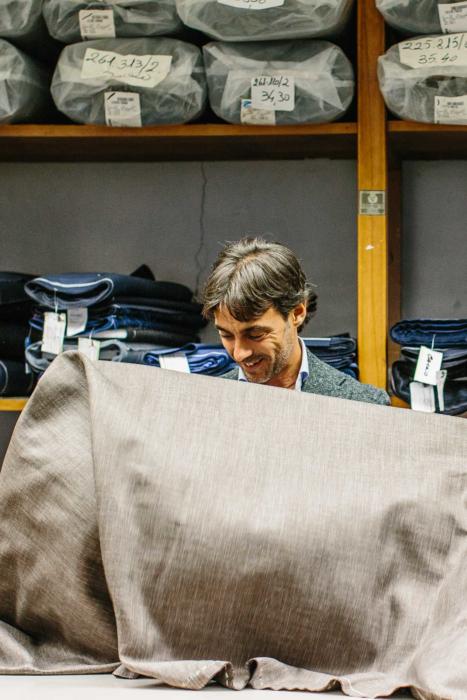 Caccioppoli bunches have become increasingly popular since - initially appearing in the smaller and more contemporary tailors, and now on Savile Row too.
"It has been lovely to see how much business has grown in the UK in the past 10 years," says Cosimo. "It's always been a country where we wanted to be strong - as many Italians do."
Caccioppoli have continued to push on with new design, embracing casentino and boucle cloth in particular (below).
Both are less to my taste, and are generally less wearable, but it's good to have someone always pushing innovation.
As we tour the rest of the building, it's striking how manual everything still is.
In one room on the first floor, several friends of the family are helping to create bunches - putting all the little white stickers on hundreds of swatches.
As with Scabal (see factory visit here) Caccioppoli like doing these kind of things in-house to maintain control. It is, after all, their key form of marketing.)
Of the 20 people that work in the building, 10 are from the Caccioppoli family. They range in age from 32 to 83.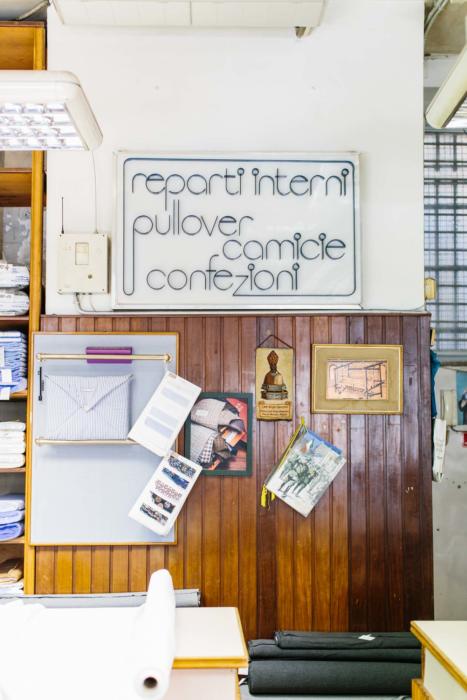 It's also interesting to see how the company has grown and shrunk over the decades. An old sign on the wall declares that they have shirt and pullover departments.
Caccioppoli haven't sold knitwear for a long time, but they did start offering shirting material about 20 years ago, and have a room dedicated to it today.
There is also a shop front to the building that offers ready-to-wear suiting, and even some made-to-measure on the first floor. But this isn't something they are actively trying to grow.
Perhaps most importantly, a casual visitor to Caccioppoli can buy cloth themselves - something we did.
There isn't much vintage around (a merchant is judged, in some ways, by how accurate their stock and sell-through is every season) but you can see the current collections all set out in bolts, which is a very different experience to trying to compare swatches in a bunch.
I bought a brown jacketing - wool/linen/silk with a subtle blue glen check. And some pale-grey cotton for trousers.
Photography: Jamie Ferguson @jkf_man