It's hard not to feel that the future of the suit lies in more practical cloths than the fine worsteds of the past 30 years.
We may move towards a situation where these cloths will be reserved for formal wear, while everyday suits and jackets are made in more hardy tweeds and woollens - suited both functionally and aesthetically to modern lifestyles.
You can see this today in mills pushing more 'performance' materials, and in the collections of people like Ethan Newton at Bryceland's with its super-heavy hopsacks.
And it is, of course, a return to more traditional materials of suits in the first half of the twentieth century. When a labouring man might only have one or two suits, and they had to last.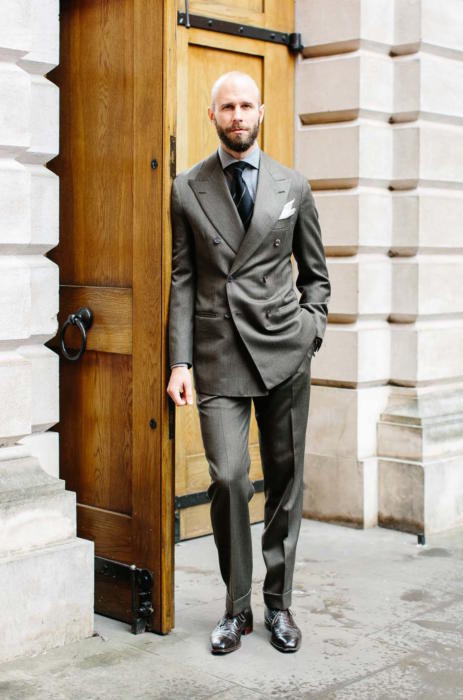 It was with these ideas in mind that I commissioned this suit last year in green/grey covert cloth from Sartoria Vergallo.
Covert is a steeply woven twill cloth made from a tightly spun yarn. It is mostly associated with the classic covert coat, which is top-coat length, with a fly front and short lapel.
The density of the cloth makes it more wind and water resistant than other weaves, and generally harder wearing.
This covert from Vitale Barberis Canonico via Drapers is not coat weight, at 14oz/440 grams. But it is heavier than most suit cloths, and the weave will make it pretty robust.
Certainly better for cycling around town on a Boris Bike than any fine worsted.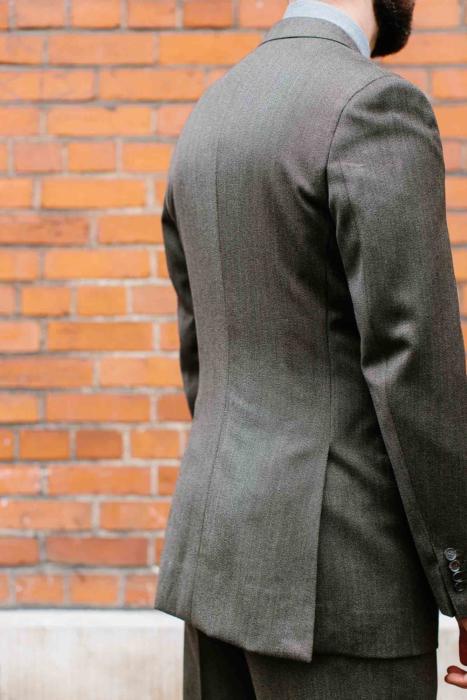 The other reason I was interested in covert cloths was the colour mixes.
Coverts are usually light brown or dark green - fawn or olive - but have at least two colours in the mix, sometimes three.
The proportions of those can make for some very different effects.
This one (8743 in the Salt and Pepper & Covercoat bunch) was picked to be a dark brown/green combination, but it has turned out more green than expected - and that a rather greyed green.
That suits me fine, as it looks rather more urban and might even be wearable in the office. But it should serve as a warning to be careful if picking similar covert cloths from bunches.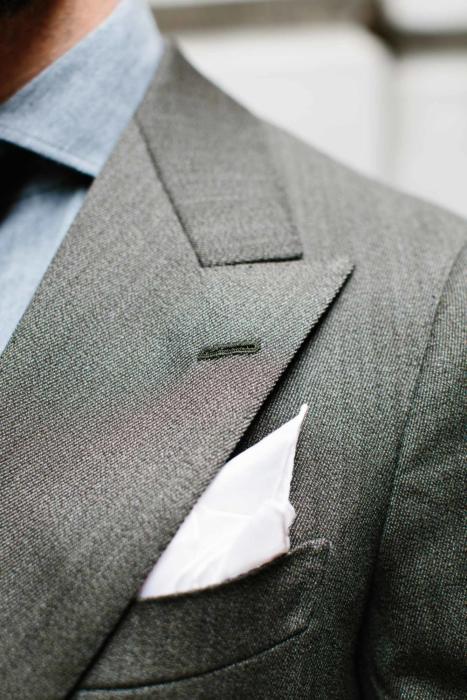 I used Gianni from Sartoria Vergallo because he is always interested in new ideas (see my adjustable half-belt loden coat, and vintage-silk houndstooth with leather undercollar) and because is very good value: two-piece suits start at €2200 still, including VAT.
He does a very natural shoulder option too, which I chose here. Not really Neapolitan, but very soft in the shoulder padding and dropping off immediately down the sleeve.
The finishing isn't of the same level of other top tailors - as can be seen in the lapel buttonhole above - but still decent.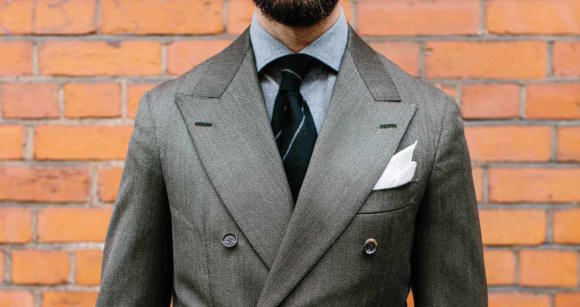 This is actually part of a three-piece suit, as I hope to also wear the waistcoat alone with the trousers (but not with the jacket).
That waistcoat has a self back and central box pleat, which I will show separately at some point.
The jacket may also be casual enough - thanks to its rough material - to be worn on its own.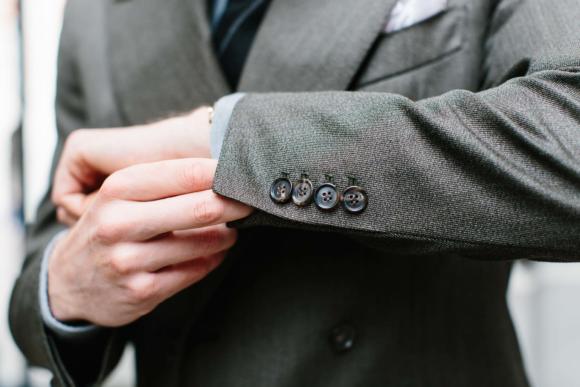 In the images here I've combined the suit with a rather striking (and perhaps more evening-y) combination of grey brushed-cotton shirt and charcoal club-stripe tie. (From Luca Avitabile and Ralph Lauren respectively.)
Readers will be familiar with my liking for grey shirts, given how non-traditional and non-corporate they normally appear.
But a olive covert works equally well with blue shirts, and rather more traditional silk ties.
If the jacket were single breasted, it might even be a nice option for a more casual office - clearly not a business suit, but a big step up from chinos as well.
Dark-brown alligator shoes from Gaziano & Girling.
Photography by Jamie Ferguson @jkf_man